Broker comparison – who is the best? In this article, we are introducing FXFlat.
Only a handful of brokers appear to be constantly developing themselves further. FXFlat is probably one of them. Anyone studying this CFD broker in any greater detail will discover that their toolbox is well-stocked already. Also including a special innovation I will come to later in the text. After more than a year of trading CFDs and stock CFDs at FXFlat, the time appears ripe for a detailed and objective report about the experience.
Browsing through the relevant Facebook trading groups, one comes across the same broker names again and again. Not so with FXFlat, however, with this broker rather tending to lead a niche existence in my perception as a result. But as this "Securities Trading Bank plc" has a lot to offer, one should really take a closer look. Especially to see how effective and sustainable FXFlat is for your own CFD trading at the end of the day, and as a broker overall. What might set it apart from other brokers?
German broker with international connections
The company is based in Ratingen near Düsseldorf and thus comes under the remit of the German Federal Financial Supervisory Authority (BaFin). FXFlat was not already founded in 1997, however, as is variously claimed, but has only been on the market since 2007 as an online brand. The company established in 1997 was Heyder Krüger & Kollegen GmbH (HKK-Invest), an independent asset management and consultancy firm that is still active as an investment intermediary today, and gave rise to FXFlat later.
Structure of the FXFlat securities trading bank
But that is not all there is to it, as FXFlat has also developed the CapTrader brand. Although based at the same German address in Ratingen, this is ultimately a so-called "introducing broker" for Interactive Brokers. Client monies are segregated into Interactive Brokers LLC. accounts in London accordingly (Citibank). The main difference from FXFlat besides the tax aspects this entails and the markedly higher deposit protection under English law (see below) is the product selection. While FXFlat largely specializes in CFD and forex trading – at least so far – CapTrader also lets you trade in shares, options, futures, certificates and warrants.
It is probably worth mentioning at this point that FXFlat is a member of the "CFD Verband e.V." association founded in 2008. Rafael Neustadt, CEO of FXFlat Wertpapierhandelsbank GmbH, doubles up as this association's chief executive at the same time. Renowned names like the FinTech Group Bank, Commerzbank and Flatex, as well as S-Broker, ViTrade and Consors (BNP Paribas), make up the other members. They see their mission in representing the interests of CFD service providers, with the aim of improving the political and regulatory framework conditions for CFD and currency trading in Germany.
Over and beyond this, FXFlat also contributes donations to many social institutions and projects, "Aktion Mensch", HIV associations, the German Red Cross and children's welfare organizations amongst them, for example, something one does not see CFD brokers do every day.
The business model of FXFlat in CFD trading
Neither flesh nor fowl – this is how the business model of the broker from Ratingen could be circumscribed. The reason being that FXFlat, on the one side, understand itself as a pure commission agent, i.e. as an intermediary between the traders and liquidity providers. They are therefore not just a market maker, which would basically count in their favour. But on the other side, the broker is also not propagating an explicit DMA/STP agency model either, referring to its affiliated market makers instead, all of whom are based in Great Britain. There are five of these altogether:
Alpha Capital Markets
Gain Capital
CFH Clearing Ltd.
Intl FCStone Ltd
Phillip Capital
All of these can be found in search engines, are of various sizes, and no less well-known there than IG or Flatex are here. My experiences with the quotations in CFD trading are unequivocal. Neither in the indices, precious metals nor forex market is there any serious difference from brokers officially flying the flag of the DMA/STP agency model, such as the JFD Bank, for example. Even in highly volatile market phases with erratic ups and downs, the quotations are virtually identical in a direct comparison.
The same applies to the order execution. Market orders are correctly filled with a very good average latency of 37 ms (in MT5). The same applies to limit orders, with FXFlat also permitting positive slippage, and no requoting as a standard!
Many trading platforms to choose from at FXFlat
The broker is one of those covering a broad and professional product range for the needs of their clients. All in all, FXFlat offers the seven variants below:
MetaTrader 5
MetaTrader 4
MetaTrader 4 + 5 web traders
MetaTrader 4 + 5 mobile apps
Interestingly enough, many traders are still using MT4 although it is really antiquated. I would recommend the meanwhile established MT5 in any case! This is no mere update version, but a completely new platform in its own right. Although the two hardly differ by the looks of it, the MT5 is much more advanced under the bonnet, while also offering a number of special innovations one simply cannot do without these days.
The MT5 is principally seen as much faster in the order execution. Physical shares and futures can also be traded on this platform, besides CFDs, which is impossible with the MT4. In addition to which the MT5 enables more time units, more and better graphical objects and displays, smaller features like an economic calendar, and an up-to-date 64-bit version.
It should also be mentioned in passing that the licence fee charged by Metaquote for the MT5 can be as high as USD 50,000. This also helps to explain why some brokers are not offering this platform.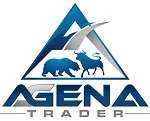 An interesting offer is the highly professional AgenaTrader, an undisputedly outstanding trading software. Especially as FXFlat clients can use it free of charge. A licence key for using it is e-mailed upon request. Anyone who has never come across the AgenaTrader before can look forward to a detailed video with instructions for connecting the software and broker. In addition to which FXFlat offers an online manual, explanations of further functions, and a link to the AgenaTrader customer support.
On the downside, the AgenaTrader is "only" available in a "Mercury" version, which even precedes the basic version. This obviously means that the software is lacking a number of rather important functions, for example the Stock EOD Screener (which is only available in the most expensive Andromeda version anyway), the ForexPad, back-testing, time and indicator alarms, and several minor features besides. The offer is still very tempting, nonetheless.
Add-on support for CFD trading at FXFlat
Using MT4 or MT5 for CFD trading just by themselves would hardly make sense, however. Which is why FXFlat offers its own add-on package, "MetaTrader Plus", free to download and use. This includes many useful features, e.g. a mini terminal facilitating one-click trading and allowing SL, TP, and trailing stops to be pre-set for every order.
Also very useful are the margin, trade size and risk calculators, a sentiment trader, and an alarm manager. The latter is somewhat more comprehensive and can be used for rule-based alarms. It not only supports technical indicator, news, or sentiment alarms, but also their sending by tweet, text message or e-mail.
FXFlat additionally advertises a "MetaTrader Signal Server" on their website. This is principally nothing else but social trading where the trades of another trader are automatically copied to your own MT terminal, realizable in the latter by registering with the respective signal provider. FXFlat offers ample information on this, which interested parties are well-advised to study carefully.
Also to be mentioned is the "Forex Screener", available for free to FXFlat clients from W&L Empire. The name is a bit misleading as the screener is just as able to scan indices, German and US stocks, commodities, and cryptocurrencies for many specific criteria. These can be technical criteria such as SMA, Pivot Points etc., but also specific triggers like Gaps or Three White Soldiers. The list is very long.
StereoTrader – who could ask for more?
The jewel in the FXFlat service crown is the StereoTrader, however. While other forex brokers will only offer this virtually indispensable add-on from a specific minimum deposit (Tickmill) or for a monthly licence fee of € 29.90 (JFD Bank), the software is totally free of charge at FXFlat without any further requirements whatsoever.
This add-on, which can also be used as an expert advisor, professionalizes the CFD trading with MT4 and/or MT5 to perfection. Especially because MetaTrader will basically remain relatively cumbersome and slow even if the various other add-ons are used. Whereas StereoTrader not only speeds up the trading, but also offers a broad range of meaningful features on top.
The add-on is superimposed on MetaTrader after download and installation. The basic MetaTrader functions continue to be available, but all the trading happens in StereoTrader now. This enables many intelligent and strategic orders directly in the chart. The functional scope includes back-testing, historic trading, comprehensive trade statistics in real time and many other smart settings, right down to selectable colour layouts for the charts. Unparalleled is the limit pullback order, furnishing the programmer Dirk Hilger with an absolutely unique selling point!
Various other features can be integrated in StereoTrader in addition to that, for example including a real (although chargeable) Market Profile, Oliver Schwab's (also chargeable) Sport Strategy, trailing stop tracing, dual time unit display in charts, candle time stamps, and a lot more besides.
Anyone interested in professional CFD trading and free use of StereoTrader will not be able to get around FXFlat for this reason alone in my view. Especially as no broker I currently know of has any other advantages to offer that would be able to come anywhere near this.
Satisfactory product range with room for improvement
FXFlat can basically offer a satisfactory portfolio of tradeable securities. My overview here relates to MT5, which can be used to trade the following CFD products:
17 indices, also including a "DAX mini" ("micro lot" trading)
6 forex major pairs
20 forex minor pairs
11 forex major and minor spots
6 commodities (WTI, Brent, gold + mini spot, silver + mini spot)
FGBL
51 German stock CFDs
93 US stock CFDs
7 cryptocurrencies
While the most important securities get plenty of coverage, one cannot help being struck by the small proportion of tradable stock CFDs. It would be desirable for FXFlat to step up their game here. The broker uses the London-based, multilateral Chi-X Europe Limited trading system as a reference market for quoting German shares. Behind this are the Japanese banking group Nomura Holdings along with important players such as BNP, Credit Suisse, Goldman Sachs, Morgan Stanley, UBS, Société Générale, plus several others. The reference market for US shares is the NYSE and/or NASDAQ.

The spreads may be larger than with Tradegate in parts and/or at times. But given the leverage, and not least of all the other trading costs (see below), trading with stock CFDs is highly attractive here.
In addition to which the broker is currently also causing a stir with other news. Just as I'm writing this article, FXFlat announces that real Eurex futures can now also be traded using MT5 (and the StereoTrader prepared for this!) from 01/05/2019. This is also only possible with MT5, alas, and not MT4.
To make up for that, the Düsseldorfers are offering free real-time courses as tick-by-tick data, and not just snapshots. Hedging futures will also be possible as MT5 is designed for this, even if the superimposed StereoTrader trades in futures mode (without hedging) by default. This because anyone seeing Hedging as a good idea can customize the add-on accordingly in the settings. A DoM (depth of market) is included. The trading costs and margin requirements, of which more below, are relatively impressive.
Futures were heretofore only tradable via the British accounts at CapTrader or Interactive Brokers, respectively. FXFlat has hence actually merely expanded the service to its German portfolio. An attractive aspect for interested parties.
Trading costs at FXFlat for CFD, futures & stock CFD trading
This is the point where FXFlat becomes a high flyer for every trader. The spreads are highly competitive and only make up 0.9 points in the DAX, 1 point in the Dow Jones and UK100, and 0.4 points in the US500, for example. The spreads are also on the lower side for FX pairs, merely amounting to ca. 8 pips in the fifth and/or third decimal place for the EUR/USD and USD/JPY major pairs, respectively, with gold coming to roughly 30 cents. That is a very good average.
This is only the core spread, naturally. But thinking that there will also be commissions to be considered would be mistaken. FXFlat neither charges commissions for indices or other CFDs, nor in the forex trading. All CFD trades are completely free of charge. Even stock CFDs can be traded without the minimum commission customary virtually everywhere else! The only fee charged here as a commission amounts to 0.09 % of the traded CFD volume's round turn (!), equalling a mere 90 cent for every € 1,000. This makes FXFlat more economical than any other broker I know of.
Apart from this, FXFlat also passes dividend payments for stock CFD long positions on to the trader. The payout is 100 % of the gross dividend with German shares, and 85 % with US shares. Be warned: the account will be charged accordingly for stock CFD short positions!
The financing fees remain within the customary bounds. An additional 2.5 % are charged for overnight CFD positions, based on the Libor.
The costs for Eurex futures trading are brutally competitive. Every Eurex contract will only set you back € 1.90 in commissions, including all the other fees (exchange fees, clearing, order routing). Telephone orders and order changes are free of charge to boot. Real-time rates are also free of charge from a minimum commission turnover of € 20.00 per month. And if this minimum turnover is not reached, FXFlat will only charge the difference to the trading account.
The intraday margin for the FDAS only runs to € 2,500, but the overnight margin is € 25,000. The Mini-Dax can be traded from a € 500 margin already (€ 5,000 overnight).
Legal aspects at the CFD broker FXFlat
The deposit guarantee for FXFlat accounts held in Germany amounts to 90 % for securities transactions, but € 20,000 maximum. Anyone expecting more should consider opening an account at the British offshoot of the FXFlat securities trading bank, "CapTrader". The deposit guarantee runs to GBP 50,000 there.
The same applies to the flat rate withholding tax. FXFlat will not deduct this immediately after every winning trade, but only at the end of the month if all the trades have resulted in a profit overall. This is not without interest. The profits and losses of previous months will be taken into account accordingly.
Whereas traders using a British CapTrader account will need to pay their taxes themselves at the end of the year.
The leverages in the CFD trading naturally meet the requirements of the latest ESMA regulations:
for indices and precious metals – 1:20
for forex major pairs – 1:30
for forex minor pairs – 1:20
for stock CFDs – 1:5
for cryptocurrencies – 1:2
Accordingly, there is also no margin call for retail accounts at FXFlat. And there is a margin close if the capital falls below 50 % of the minimum margin required for open positions. This involves the position with the highest losses being closed first, and then all the others until the capital exceeds 50 % of the margin again, as a minimum.
Opening an account and making deposits
The German-language support is swift, competent, and target-oriented. Mail requests are answered virtually immediately, and gladly also by a FXFlat employee's return call on occasions. One should not be scared off by the pleasant personal contact here as the focus is on solving the problem. I have never had any marketing calls with FXFlat. If they cannot reach you, the answer will usually be e-mailed directly.
The webinar and seminar offer is truly comprehensive. There are webinars on most days, some with interesting live trading sessions held by well-known luminaries such as Dirk Hilger, the programmer of StereoTrader, Jens Klatt, Mario Lüddemann, Thorsten Helbig, André Stagge as a representative of VTAD (German Association of Technical Analysts), and many others. One can register for them on the website under "Training".
The service is rounded off by an extensive video collection on all kinds of themes, and with recordings of live trading sessions. All the videos can also be found on the FXFlat YouTube channel.
FXFlat are additionally also present, and approachable, at many official events, especially the "World of Trading" fair.
Conclusion based on my personal experience with FXFlat
Coming from Cologne, one is principally hard put to find anything positive to say about things from Düsseldorf. But this calls for an exception.
After over a year of practical experience, FXFlat has proven to be a dependable and competent partner for CFD trading. The broker is very inexpensive in comparison when it comes to the trading costs, including the advantageous core spreads, offers a sufficiently broad range of products, and extensive upskilling options. The execution quality is of a very high standard and the quotations cannot be faulted.
Only the rather small range of tradable stock CFDs could prove to be a bit of a downer. But to make up for it, the range of high-quality add-ons like StereoTrader, the Forex Screener and AgenaTrader in the Mercury version, all of them available for free, after all, is virtually unbeatable. This makes FXFlat a sustainable and highly effective broker as an overall package. The best broker to be based in Germany in my eyes, and thus highly recommended.
Read more: