Software comparison – which is the best? In this article we introduce AgenaTrader.
AgenaTrader at a glance
AgenaTrader is a leading trading platform that meets all your needs as a trader. In addition to charting, broker integration, and a large number of add-ons, AgenaTrader allows you to program your own trading systems and has its own social trading network – TradersYards. The platform's most important features are:
Multi-brokerage capability
Full automation with AgenaScript – C#
Drag & drop order connections
High-performance real-time scanner
More than 150 indicators
Signal Builder using drag and drop
One-click strategy
Integrated risk and money management

There are two versions of AgenaTrader: 
AgenaTrader – Basic
The basic version of AgenaTrader offers a wide range of features.
Charting and technical analysis
The basic version of the software is ideal for charting. With its multi-time frame view, you only need to enter one instrument or symbol and will automatically open four charts in different time frames that can be modified individually.
With AgenaTrader, you can trade directly from the chart, which is particularly useful for fans of price action trading. Like chart trading, the QuickTrader is an extremely helpful tool that facilitates quick order and strategy entries directly in the chart. Using the QuickTrader, you can control DOM behavior in the chart. If Level 2 data is available, horizontal bars are also shown, which display volume in numerical form. The platform offers a large number of drawing objects and allows you to change their properties and create templates. There are over 150 indicators, and with the help of the unique "dynamic indicators" feature, you have the option to display these indicators in the chart only when needed. This means you don't have to remove indicators or select them anew from the list.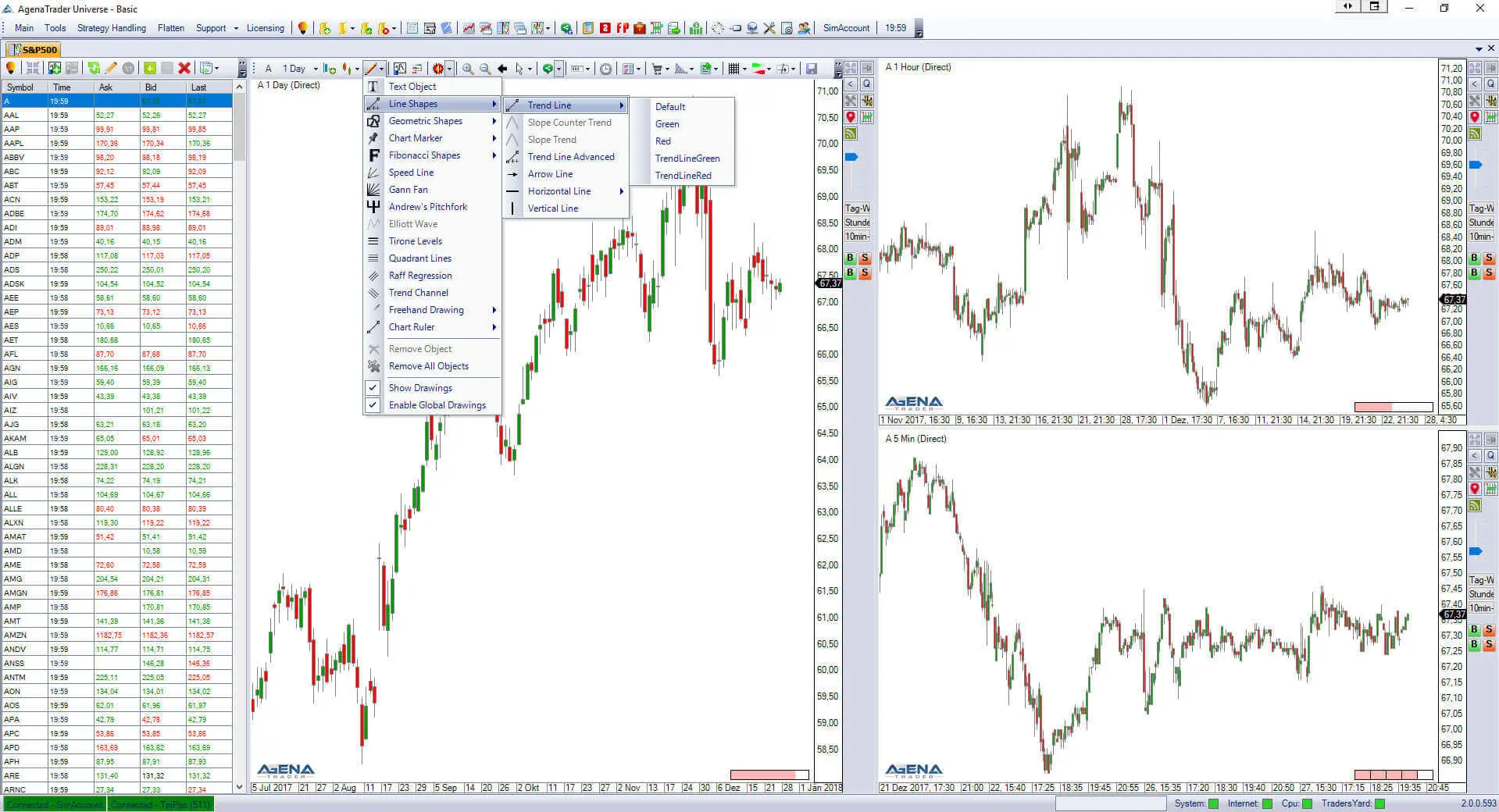 Trading
The platform provides order connection and order template functionality. With the help of the AgenaTrader software, you can depict even complex order constructs. It supports OCO, if-done, and ORO orders. In addition, the order constructs can be saved as easily accessible templates. You can also display the DOM, which is essential for orderbook trading and also provides the fastest method to place, change, or delete orders when scalping. A Time & Sales list is available, and the AgenaTrader software can be connected to numerous brokers and data feeds. The following brokers are currently compatible:
The brokers CAP Trader, FX Flat, FXCM, and XTB offer free or sponsored AgenaTrader licenses. The data feeds are:
Scanner & Info Center
The basic version of AgenaTrader comes with a simple scanner. Using this tool, you can run real-time scans of hundreds of securities in different time frames. In addition to predefined filtering criteria, you can program your own scans. You can view the real-time behavior (e.g. bid, ask, and volume) of different symbols or add an indicator to the various columns. The Info Center contains a collection of useful info tabs that can be optimally arranged in your workstation to enhance your trading experience. The Info Center also provides an excellent overview of all defined alerts and important economic data and news. You can set these alerts to receive notifications and never miss a trading opportunity again.
C# & Visual Studio
Using AgenaScript, you can program fully automated strategies and indicators. AgenaScript is a programming language that is fully integrated into the AgenaTrader platform. Its syntax is derived from C#. In order to simplify development, it includes an interface with Visual Studio, which offers the tremendous advantage of a powerful, standardized programming environment. Convenient debugging functionality, sophisticated Intelisense, and many other features help traders program even more efficiently.
Cost of the AgenaTrader basic version
The basic version of AgenaTrader meets all the needs of professional trading. The price of 890 EUR represents a good value for your money. You can also purchase the software on an instalment plan, with following plans available: 
On instalment: 24 months for a one-time down payment of 150 EUR and a rental price of 39 EUR.
On instalment: 12 months with a one-time down payment of 200 EUR and a rental price of 69 EUR
Three months for a rental price of 129 EUR.
One month for a rental price of 49 EUR.
AgenaTrader – Andromeda
Andromeda is AgenaTrader's platinum version. It contains all the functionality of the AgenaTrader basic version and much more. AgenaTrader takes semi and fully automated trading to the next level. It offers great features for automatic trade management as well as risk and money management.
Automated trading
The Andromeda version comes with a Signal Builder and Strategy Builder in addition to an excellent backtesting tool. Using the Signal Builder ("ConditionEscort"), you can easily create your own trading strategies via drag and drop without programming knowledge. Because no programming is involved, you can let your imagination run wild. The Strategy Builder ("SetupEscort") helps you add stop loss, trailing stop, and take profit rules to your signals. AgenaTrader's semi-automation feature then handles trade management in line with your ideas and setup. The backtesting tool is excellent and was developed in cooperation with the renowned University of Aachen. You can use it to validate signals and run comprehensive analyses of traders.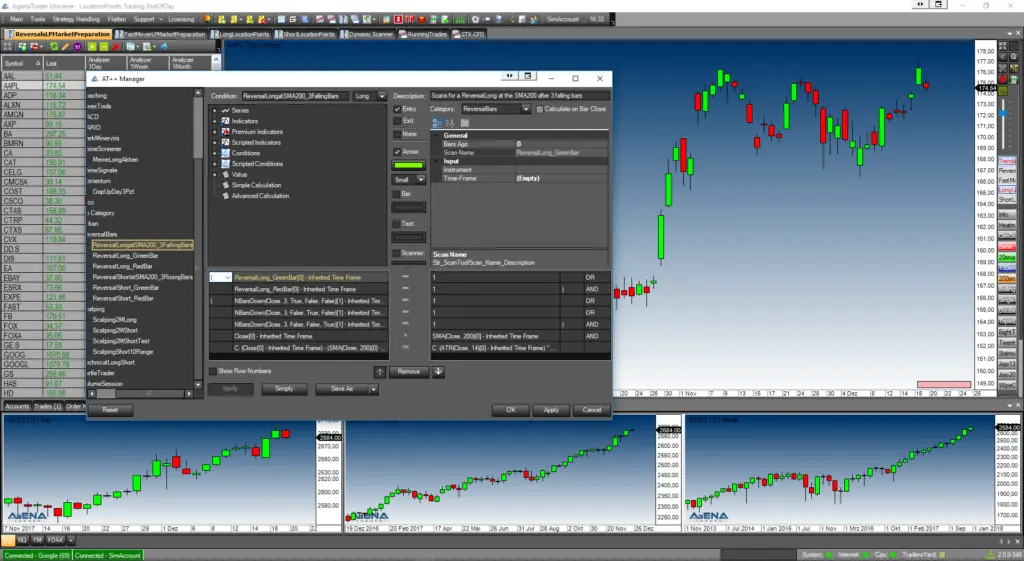 Risk and money management, trading diary
In my opinion, the integrated tool for risk and money management is one of the most useful features of Andromeda. It allows you to fully control risk for every trade. It calculates position size automatically and constantly takes risk and deployed capital into account. An additional highlight is the trading diary, which automatically records all trades with their risk and money management parameters. It thus gives you a foundation for greater stability and success in trading. The trading diary is very user-friendly and features a logical structure that enables quick, effective overviews for trade analysis. It also contains the most important analytical ratios.
Advanced charting
The ListChartGroups and TabChartGroups help you focus fully on the market. A ListChartGroup is a "chart container" with a real-time scanner and a charting area. Here you can select one to four charts with different time frames that are connected to the scanner list. A TabChartGroup is a chart container that simultaneously opens charts for hundreds of instruments in different time frames so you can visually analyze a wide variety of symbols in a very short time. With this feature, you can, for example, efficiently create lists for long and short trades.
Newsfeed reader and financial calendar
These two tools always keep you up to date on current market events. From analyst opinions and profit warnings to important economic data, you receive near-time news about almost every security traded on the official exchanges. Using the financial calendar, you can enter the most important dates into the trading platform as time alerts and display a marker in the chart to ensure you never miss an important date again. This is particularly practical in chart-based trading, as traders are often so engrossed in the chart that they quickly lose track of the time. In addition to important economic and dividend dates, the financial calendar displays holidays. 
Advanced scanner and end-of-day market scanner
The advanced scanner allows you to scan hundreds of securities in real-time. When one of the signals is generated, the corresponding symbol is highlighted. By clicking the signal, you can display the related strategy and risk management in the chart. With the help of the end-of-day market scanner, you can screen over 7,000 US stocks based on user-defined selection criteria and numerous data components. You can also save the settings in templates for further use. The screener works with a large selection of fundamental data.
Cost of the AgenaTrader Andromeda version
Andromeda contains many outstanding additional features that are highly useful and helpful for trading. The price of 1.390 euros also represents a good value for your money. You also have the option of an instalment plan. The same time periods apply as in the basic version:
On instalment: 24 months with a one-time down payment of 225 EUR and a rental fee of 59 EUR.
On instalment: 12 months with a one-time down payment of 300 EUR and a rental fee of 99 EUR.
Three months for a rental fee of 239 EUR.
One month for a rental fee of 89 EUR.
Add-ons and indicators
With the help of these add-ons, you can expand the trading platform to include a variety of important tools.
AgenaTrader Notifier – 9.90 EUR a month
AgenaTraderNotifier is the mobile app for the AgenaTrader software. It informs you of executed positions, generated trading signals, indicator, price, and time alerts. It also shows the status of AgenaTrader's connection to your broker and data feed. It is connected to the AgenaTrader Blog System, so you always have up-to-date market reports and trade analyses at your fingertips.
 
BORN'S ELLIOTT WELLEN – 390 EUR or on a rental basis (three months for 69 EUR or one month for 29 EUR).
In addition to the standard charting tools that simplify BORN-style trading with Elliott waves and Fibonaccis, the BORN package contains independently developed indicators that provide simple, fast, and reliable trading signals, such as the BORN Oscillator and the blue BORN bar.
COMMITMENT OF TRADERS INSTITUTIONAL ADD-ON – 1,200 EUR or on a rental basis (24 months with a one-time payment of 300 EUR and a rental fee of 49 EUR, 12 months with a one-time payment of 400 EUR and a rental fee of 139 EUR, one month for rental fee of 59 EUR)  
The Commitment of Traders Report is a valuable publication issued on a weekly basis by the CFTC, the regulatory authority of the US futures markets. With this add-on, you can work and create your own trading signals with legacy and disaggregated COT data. You can display COT data not only for futures but also for CFDs and forex.
COT MASTER CLASS – 699 EUR
This add-on contains the complete trading environment used by day trading coach Martin Goersch for his own trading. All of the workstations come with fully automatic screeners that immediately alert you to possible trading opportunities.
GABEL'S DOWHOW FIBO PRO – 899 EUR
This add-on takes traders back to the roots of stock exchange trading. The constant interplay between supply and demand in the orderbook – which is subsequently visible in the chart – leads to price movements and corrections and ultimately culminates in a trend. The natural behavior of all markets is reflected in Charles Dow's basic principles, from which the add-on, DowHow Fibo Pro, takes its name. It combines Dow Theory expertise with Fibonacci rules.
LOCATIONPOINT® – 1,190 EUR
Location Point® Trading builds on a wealth of trading experience and verifiable knowledge of how markets behave at salient points in the chart. It is a highly efficient trading style with a clear set of rules that leaves very little room for interpretation and thus encourages trader compliance.
MARKTTECHNIK STANDARD ADD-ON – 190 EUR or on a rental basis (three months for a rental fee of 69 EUR, one month for 29 EUR)
The Markttechnik add-on for the AgenaTrader platform was optimized over a period of two years with great attention to detail. The result is an all-round solution with enhanced trend recognition that deserves the label "state of the art." It is a powerful tool for every trader.
MARKTTECHNIK PROFESSIONAL ADD-ON – 590 EUR or on a rental basis (three months for a rental fee of 96 EUR, one month for a rental fee of 39 EUR)
The Markttechnik add-on for the AgenaTrader was optimized over a period of two years. The result is an all-round solution with enhanced trend recognition that deserves the label "state of the art." 
MT-ON LIVE SIGNAL – 1,590 EUR
With this add-on, you can see the market from the perspective of technical traders and trade accordingly.
MT-ON LIVE SIGNAL PRO – 2,280 EUR
The professional version of the MT ON Live Signal add-on contains all the functions of the standard version plus many useful additional features.
MT-ON LIVE SIGNAL PRO CRV ADD-IN – 199 EUR
The CRV add-in is an independent indicator that works not only via AT++ but also with manual trading and strategies. If AgenaTrader ever reconnects or restarts, all your data are saved! There are no limits to the number of targets or target positions – they can even be situated outside the visible section of the chart. The CRV indicator offers a quick and effective overview of possible profits in relation to risk – in live, tick-by-tick trading!
MT-ON LIVE SIGNAL PRO DAY LINES DOMINO ADD-IN – 199 EUR
As its name – "Day Lines Domino" – implies, this add-on is based on specific day lines (combinations) that can trigger a domino effect and make especially lucrative trades possible. The chart shows the relevant day lines, including date and price. In addition, with the ON Day Lines Domino Signal Condition, traders can display signals in the scanner. They thus see the open (and, in default mode, trend-compliant) high and low prices of the day, which are particularly relevant in technical analysis.
 
RELATIVE CURRENCY STRENGTH – 90 EUR
The Relative Currency Strength (RCS) Indicator is a technical analysis tool for the forex market that calculates the current and historical strength and weakness of currencies. The RCS can be used in all time frames and provides valuable information on which currency is currently under- or overvalued relative to other currencies. It generates a variety of signals and provides helpful insights into currency markets.
RIMES RANGE BAR SNIPER – 1,790 EUR
This add-on, developed by Martin Rimes, generates entry, exit, and stop loss signals based on momentum and trend trading.
SEASONALITY STANDARD ADD-ON – 649 EUR
With the Seasonality Standard add-on, you can analyze seasonal patterns for any asset class. Seasonality can be calculated for every financial instrument available in AgenaTrader.
STEVE NISON'S CANDLESTICKS – 206 EUR
This add-on automatically identifies Steve Nison's popular candlesticks.
UMLAND ADD-ON – 490 EUR or on a rental basis (three months for a rental price of 85 EUR, one month for 35 EUR)
With this add-on by Carsten Umland, you can trade the CoT report.
VOLUME ADD-ON – 390 EUR
With the newly developed AgenaTrader volume package, you can receive extensive volume information about a security. In addition to the twelve advanced indicators with their wide range of functions, the development team has defined eight conditions for volume signals. They have also created a dedicated workstation to make analysis and work with the volume package components more effective.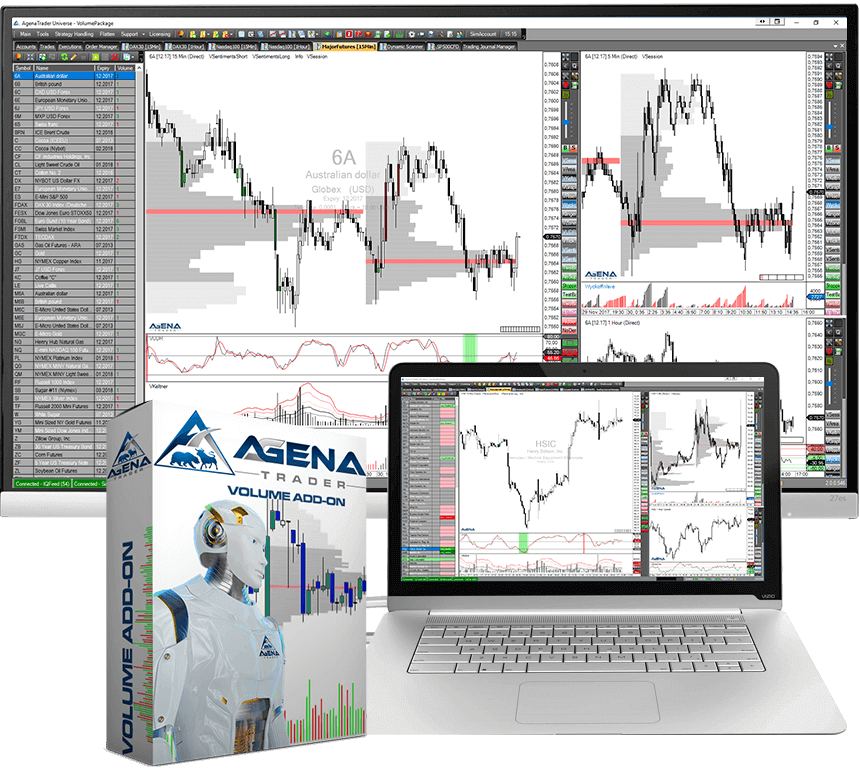 Add-ins
With the help of the following add-ins, you can expand the functionality of the AgenaTrader software:
CHARTGALLERY – 199 EUR
With the Chart Gallery, you have complete freedom over the use of charts and chart groups. There are no longer any limits to the number of charts you can display in a row in a container or to chart arrangement, size, etc.
CORRELATION MATRIX – 199 EUR
This add-in provides various correlation functions – e.g. calculation of correlations between individual instruments or entire instrument lists in any time frame or in real-time; calculation of correlation coefficients for any asset class plus their historical development. You also have the option to combine different asset classes.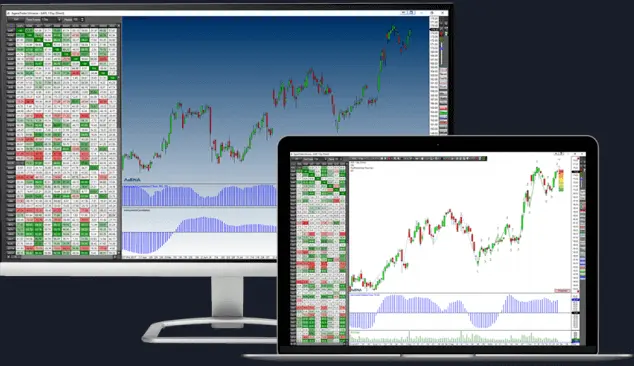 DYNAMIC SCANNER – 249 EUR
Semi-automatic trading is one of the many features of this add-in: you can manage all entries from a single tab and automatically display generated signals in charts or chart groups at every workstation.
TRADING JOURNAL PRO – 249 EUR
This add-in has several new features designed to improve the integrated trading journal, including trade comparisons with benchmarks and more extensive statistics and analyses.
TradersYard
TradersYard is AgenaTrader's social trading platform. It allows you to share data, charts, trading analyses, and trading setups with friends and followers. There are also various groups and leader boards, as well as voice, webcam, and screen-sharing capability. There's a simple registration process to join.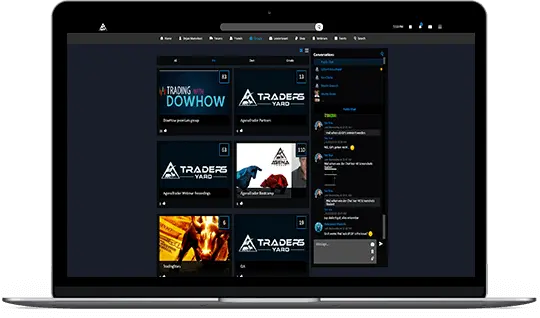 Conclusion
The AgenaTrader software fulfills all the criteria of a good trading program. Its charting features are well suited for automated trading. With the Signal Builder and the integrated risk and money management capability, it offers two tools not found in many other trading programs. An additional advantage is the large number of brokers that can be connected to the software.
Read similar articles