Broker comparison: which one is the best? This article introduces Interactive Brokers.
Interactive Brokers (IB) is a leading securities firm and one of the largest online brokers for international stocks, ETFs, futures, CFDs, options, commodities, and currencies/forex. In this article, we'll take a closer look at Interactive Brokers and show the many opportunities this pioneer of electronic trading offers traders and investors.
The history of Interactive Brokers
The predecessor of Interactive Brokers (IB) was Timber Hill, an American stockbroker founded by Thomas Peterffy in 1977.
Timber Hill was the first broker to work with handheld (portable) computers on the trading floor of the American Stock Exchange. Timber Hill's business grew rapidly. It expanded to other exchanges and began offering futures and options trading.

Timber Hill Deutschland GmbH was founded in 1990. It focused on fully electronic trading on the Deutsche Terminbörse (DTB), which later became Eurex.
In 1993, Interactive Brokers Inc. and Timber Hill began jointly developing the Trader Workstation (TWS).
In 1997, Timber Hill traded just under 5% of the daily volume in listed equity derivatives worldwide (approx. 15,000 transactions)
In 2000, on average, more than 6% of the daily global volume of exchange-traded equity options and equity futures was traded across the Timber Hill/IB network. One year later, in 2001, the company changed its name from Timber Hill Group LLC to Interactive Brokers Group LLC.
In 2003, the companies in the Interactive Brokers Group transacted approximately 12% of exchange-listed equity and index options worldwide.
Interactive Brokers Group, Inc. went public on May 3, 2007, selling 40,000,000 shares at a price of USD 30.01 per share. The free float represented an interest of roughly 10% in Interactive Brokers Group LLC. The stock is listed on the Nasdaq under the ticker symbol IBKR.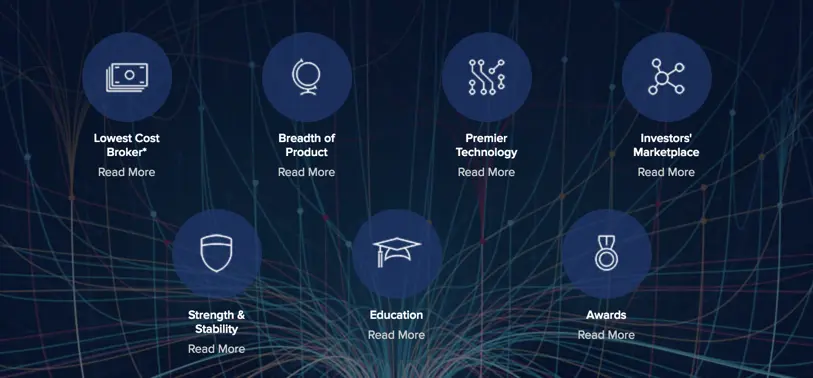 In 2009, Interactive Brokers was ranked the No. 1 low-cost broker for the fifth year in a row. That year it released the iTWS trading app for the iPhone.
In 2010, TAG statistics showed that IBKR continued to outperform the industry average in US stock and options price improvement. The TAG statistics were the result of an independent analysis by IHS Markit of all market transactions of 100 shares or more between January and June.
In 2011, Interactive Brokers became the largest U.S. online broker as measured by Daily Average Revenue Trades.
In 2012, Interactive Brokers introduced the TWS Mosaic interface, which is part of the Trader Workstation.
In 2017, IB was named best online broker in Barron's annual ranking for the fifth year in a row.
Today, IB has more than 1,400 employees worldwide, handles more than 1,000,000 daily transactions, and has equity capital of USD 5 billion.
Thanks to IB's extremely conservative business policy, it was not directly impacted by the financial crisis. It systematically avoided risky exposure to subprime loans and CDOs.
The company has been profitable for years, even during the financial crisis.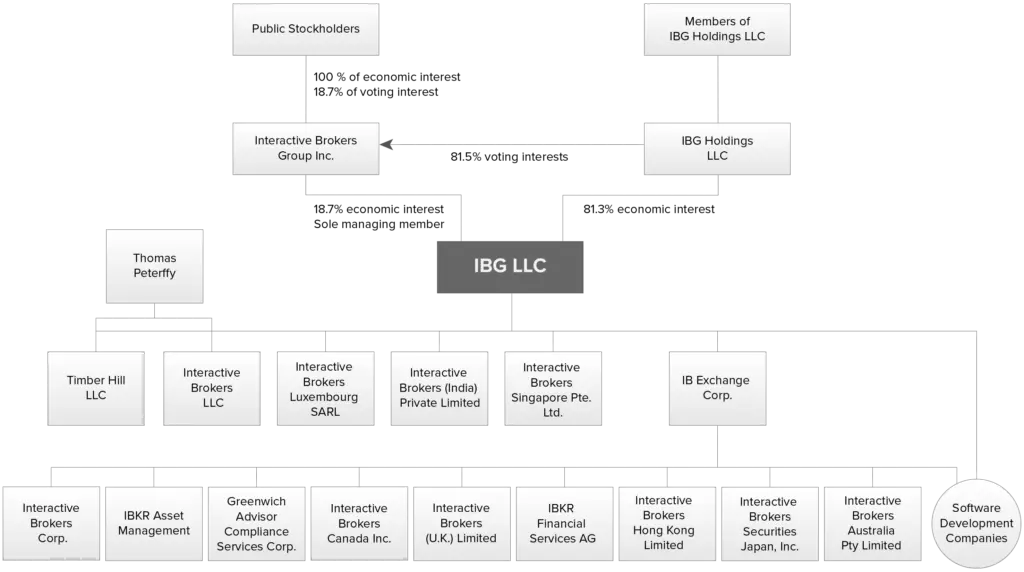 Performance of Interactive Brokers stock
Interactive Brokers has been listed on the Nasdaq since 2007. Its ticker symbol is IBKR. In 2018, its stock reached an all-time high of USD 80.32.
Interactive Brokers worldwide
Interactive Brokers is headquartered in Greenwich, Connecticut, USA.
The company has more than 1,400 employees at locations in the United States, Switzerland, Canada, Hong Kong, United Kingdom, Australia, Hungary, Russia, Japan, India, China, and Estonia.
Interactive Brokers offers support in German, but has no subsidiary in Germany.
What markets can you trade?
Interactive Brokers provides direct market access to stocks, options, futures, forex, fixed income, ETFs, and CFDs from a single IB Universal Account™.
You can trade on more than 125 international stock exchanges in 31 countries worldwide.
This includes all the major stock exchanges in North America, Europe, Australia, and Asia.
The following products are tradable:
ETFs
EFPs
Options
Warrants
Commodities
Structured products (certificates)
Investment funds
Hedge funds
Robo portfolios
You can trade stock and ETFs in 26 countries.
For futures, commodities, and future options, Interactive Brokers provides access to more than 35 markets worldwide.
Options can be traded in more than 15 countries.
IB offers CFDs on all of the major indexes, currencies, and stocks. Share CFDs are currently available for 7,250 stocks from the Americas, Europe, and the Asia Pacific region.
Forex traders can choose from around 100 currency pairs.
IB provides direct market access to US treasuries; more than 38,000 corporate bonds from the US, Canada, and Europe; roughly 1.4 million US municipal bonds; non-US bonds from Asia and Europe; euro-denominated government bonds; and fixed income futures and fixed income options. In addition, IB offers more than 33,000 certificates of deposit (CDs).
You can trade all warrants and structured products from the common issuers.
IB provides access to more than 11,000 funds from over 240 fund families worldwide.
Clients identified as Accredited Investors or Qualified Purchasers under SEC regulations can view the information about independent hedge funds that is available through the online Hedge Fund Marketplace. The minimum investment in a fund is USD 25,000.
The robo portfolios include more than 60 actively and passively managed portfolios with annual management fees ranging from 0.08% to 1.5%. There is a USD 5,000 minimum investment.
Is Interactive Brokers an ECN/STP broker?
Interactive Brokers is an ECN/STP broker.
What is the minimum deposit?
There is no minimum deposit.
How is Interactive Brokers regulated?
Interactive Brokers (UK) Limited is authorized and regulated by the Financial Conduct Authority (FCA). Its FCA reference number is 208159.
Interactive Brokers LLC is regulated by the US Securities and Exchange Commission (SEC), the Financial Industry Regulatory Authority (FINRA), and the Commodity Futures Trading Commission (CFTC). It is a member of the SIPC clearing system.
Is there deposit insurance?
Yes, there is deposit insurance.
All client accounts are segregated accounts – that is, they are held separately from the broker's accounts. If the broker goes bankrupt, clients can still dispose of their money.
In addition, client funds and investments are protected in three ways:
1. Client deposits are held in segregated accounts that are administered separately from IB's own capital. Claims against IB may not be extended to client funds.
2. In the unlikely event that IB goes bankrupt, client funds and financial instruments are protected by the US Securities Investor Protection Corporation (SIPC). The maximum coverage is USD 500,000 per client, which includes a maximum of USD 250,000 for cash deposits. In addition, IB holds a policy with Lloyd's of London that provides protection of USD 30 million per client (including USD 900,000 for cash deposits), with an aggregate limit of USD 150 million per claim.
3. If clients hold metals, cash positions, or positions in non-US index options or non-US index futures, they may choose to apply to the British Financial Services Compensation Scheme (FSCS). This covers up to GBP 50,000 per client. However, if compensation proceedings are ongoing or have been concluded with the SIPC, The FSCS may reject compensation proceedings.
How do I register for a demo account?
You can easily register for a demo account on IB's website: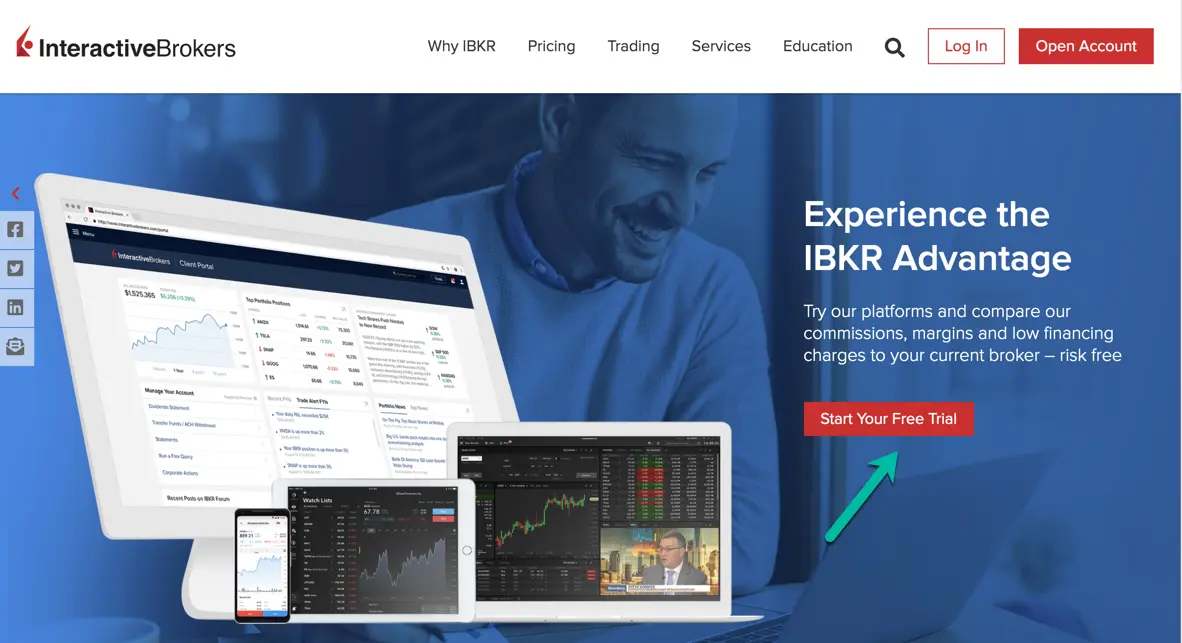 How do I open an account?
You can open an account quickly and easily online.
You must provide the following information:
Full name and proof of identity
Street address with proof of residence
Date and country of birth
Nationality
Tax domicile and tax identification number
Name and address of employer
Information on assets and income
Information on the source of assets and funds
Investment goals and experience
Bank account numbers or third-party broker account numbers for deposit purposes
Information about other account users, if applicable
What are the conditions and spreads at Interactive Brokers?
Interactive Brokers offers tight spreads, good conditions, and substantial liquidity. In forex trading, for example, this is a result of its practice of combining quotation streams from 17 of the world's largest foreign exchange dealers, which constitute more than 60% of the market share in the global interbank market. Consequently, it can offer quotes with 1/10 pip precision.
There are two different commission models for exchange-traded products such as shares, ETFs, warrants, futures, and options:
Tiered
Here your commissions decrease with an increase in trading volume.
Fixed
Here Interactive Brokers charges a low fixed-rate commission per share or a set percentage of trade value.
You can trade US stocks for as little as USD 0.005 per share. The minimum commission is USD 1.00.
For German stock, the commission amounts to 0.10% of transaction volume, with a minimum commission per order of EUR 4.00. Stock trading in other countries is also inexpensive and is usually 0.10% of volume.
For options, commissions depend on routing and contract volume.

For example, for contract volumes ≤ 10,000, the following commissions are charged for US options purchased through the SmartRouting system:
If the premium < USD 0.05, the commission is USD 0.25 per contract.
If the premium is between USD 0.05 and USD 0.10, the commission is USD 0.50 per contract.
If the premium is ≥ 0.10 USD, the commission is 0.70 USD per contract.
You can trade German stock options for EUR 1.10 per contract. The commission for options on the DAX is EUR 1.70.
For US futures and futures options, the commission is USD 0.85 per contract. If your monthly trading volume is more than 1,000 contracts, the commission per contract decreases significantly.
For German futures, the commission is EUR 2.00 per contract.
Forex commissions depend on your monthly trading volume.

You can trade Index CFDs for as little of 0.005% per trade. The same applies to CFDs on the Germany 30 Index (IBDE30).
For CFDs on European shares, commission range from 0.02% to 0.05% per trade. Commissions for US share CFDs range from USD 0.003 to USD 0.005 per share.
When trading CFDs on forex, you pay the same commission as you would for forex spot trading.
Contract interest is calculated on a daily basis for all open CFD positions that are held at the close of a trading session. It is applied in the form of a mixed rate on nominal amounts.

Go here for a detailed overview of trading commissions at Interactive Brokers.
How high is the leverage and what are the margin requirements?
Effective August 1, 2018, the European Securities and Markets Authority (ESMA) set minimum initial margin levels. IBKR (UK) is required to liquidate open positions if the qualifying equity in your CFD account (cash and unrealized P/L of CFD positions) falls below 50% of the initial margin requirements for all CFD positions. In addition, IBKR (UK) establishes its own maintenance margin requirements ("IB Margins") based on the historical volatility of the underlying as well as on other factors that are explained below. With respect to retail investors, IBKR (UK) applies IB Margins if they are higher than those prescribed by the ESMA. In compliance with the 50% close-out rule, IB Margins are twice as high as the minimum margin requirement.
The margin requirement for share CFDs is 20% for retail clients. There are no margin calls.
For the major indexes, the minimum is 5%, for all other indexes 10%.
The margin for major currency pairs is 3.33%. The non-major currency pairs can be traded with a margin of 5%. For exotic currency pairs, the margin is between 10% and 15%.
The margin requirement for Dax futures, for example, is EUR 13,491. The overnight margin requirement is EUR 26,983. Depending on the volatility, though, this requirement may be adjusted and can thus be higher on certain days.
For EUR/USD, the spread is as low as 0.01 pips.
There is no charge for the account maintenance and all account-related services. Nor are there additional costs if you trade securities by telephone.
Is withholding tax charged automatically?
Withholding tax is not charged, which means that almost all of your capital, including all income and profits, is available for profitable reinvestment. One exception is the direct withholding tax on dividend distributions.
You declare your accrued capital gains when you file your personal income tax return the following year.
Can German tax residents submit an application for exemption from German withholding tax on capital gains (Freistellungsauftrag)?
This step isn't necessary because the brokerage account is held in the United Kingdom. This gives German tax residents the unique advantage of not having to pay the German flat-rate withholding tax on capital gains (Abgeltungssteuer) until they file their tax returns the following year. Hence, Interactive Brokers does not require instructions to exempt the client from German withholding tax.
What is the Hedge Fund Marketplace?
Interactive Brokers' Hedge Fund Marketplace is an online version of traditional capital introduction programs. It allows hedge funds that use IB as their principal prime broker to market their funds to IB clients who are Accredited Investors or Qualified Purchasers, as well as to other funds that already market their funds to IB clients at the Hedge Fund Marketplace.
What experiences have people had with Interactive Brokers?
Traders and investors have had positive experiences with Interactive Brokers.
Interactive Brokers offers its clients excellent support in various languages and has a highly skilled team.
Every broker on its order desk has at least 20 years of trading experience.
IB offers first-class service when it comes to pricing, execution, and account management.
Customers receive a comprehensive all-inclusive package, including an extensive education center.
How can I contact Interactive Brokers?
Interactive Brokers can be contacted by phone, chat, or e-mail.
The trade desk can also be contacted at any time.
Is there a Wiki entry for Interactive Brokers?
Yes, there's a Wikipedia entry for Interactive Brokers. You can find it here.
How do I make deposits and withdrawals?
Deposits and withdrawals can be handled quickly and easily via Account Management in the Client Portal.
To make a deposit, you must first complete a deposit notification in Account Management. Only afterward can you deposit funds.
As a rule, it takes two working days to credit deposits to your brokerage account.
When you withdraw money for the first time, you need to store information about your bank account. After that, you can make withdrawals at any time.
It usually takes one to three working days for money to be transferred from IB to your bank account.
What trading tools are available at Interactive Brokers?
IB uses the Trader Workstation (TWS).
The TWS offers many options for analyzing the performance of stocks, currencies, options, futures, etc.
You can look at company profiles and display and analyze fundamentals, balance sheet information, and key data. You can also access historical price data and view order books and times & sales. News can be displayed in real time via the RSS feed.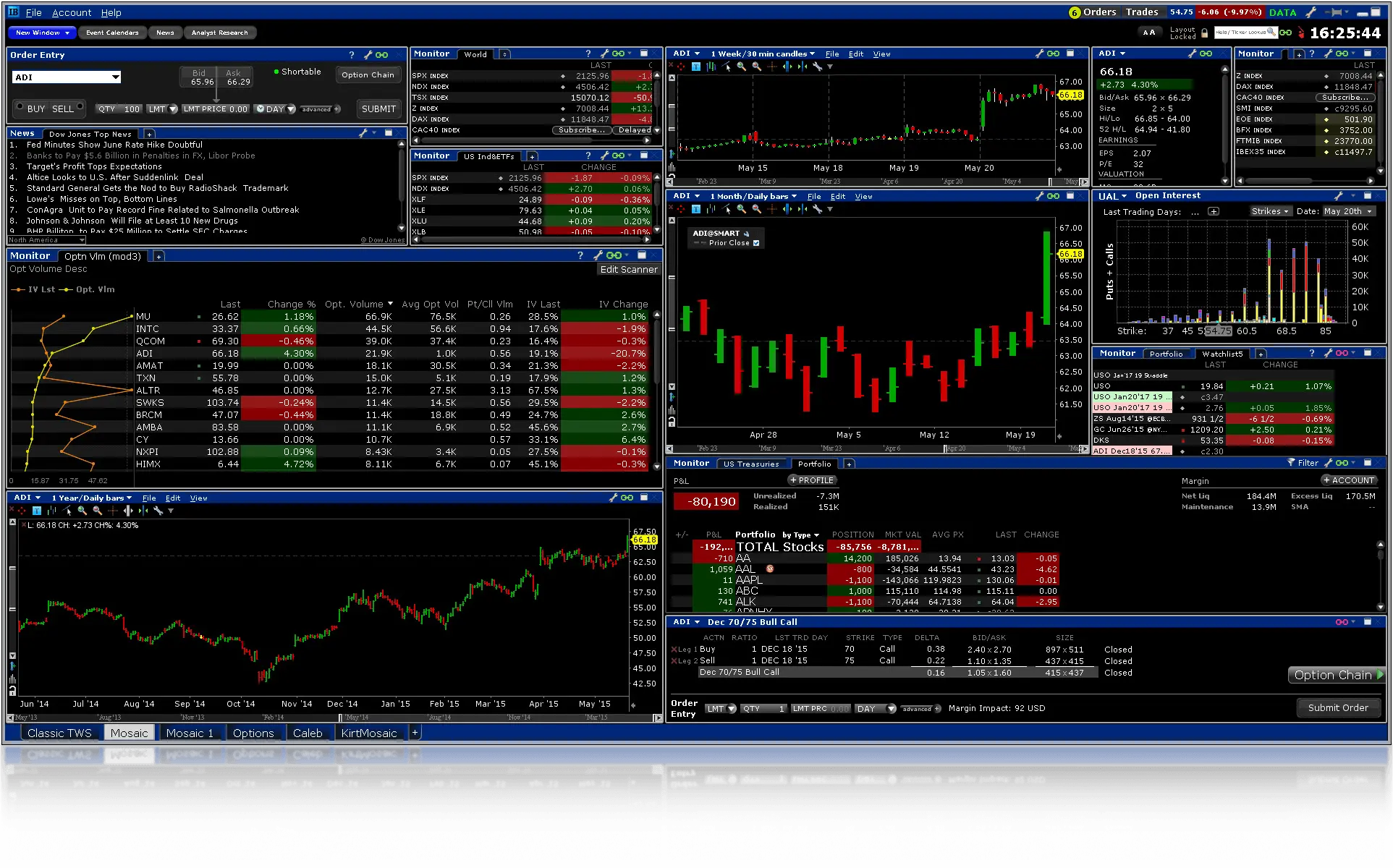 In addition, the TWS includes a variety of trading tools:
ChartTrader
The ChartTrader allows you to trade directly from a real-time chart and to customize your chart according to your own needs with the help of more than 70 technical indicators.
BookTrader
The BookTrader is just the right tool for investors who wish to enter and transmit orders quickly. With just a few clicks, you can transmit an order directly to the order book of the respective stock exchange.
BasketTrader
With the BasketTrader, you can create your own basket/index of securities that you want to trade simultaneously. You can change the securities in the basket/index at any time. The BasketTrader is thus the ideal tool for all investors who regularly make basket trades.
FXTrader
The FXTrader is the optimal tool for highly active forex traders. With just one click, you can trade your desired currencies at lightning speed. Using the FXTrader, you can keep track of up to 16 currency pairs and quickly place, modify, or cancel orders.
OptionTrader
Thanks to its clear interface, the OptionTrader is suitable for both beginners and professionals. It clearly displays all the available option contracts for an underlying and has a variety of modules to perform risk and portfolio analysis.
Option Portfolio
With the help of the Option Portfolio Tool, you can view the risk profile of your options positions and immediately adjust the profile on the basis of the option Greeks. In addition, you can achieve your Delta, Gamma, Vega or Theta objective by describing this objective and specifying conditions.
Read more: Online training course for the Trader Workstation (TWS)
Is API software also available?
IB also offers a proprietary application programming interface (API) that allows you to create your own automated, rule-based trading software in your preferred programming language/protocol.
The languages include:
Java – the most popular API technology
C++ (POSIX compliant)
Python
.NET (C#) – you can use the C# library with any language supported by .NET
C++ (MFC)
ActiveX – you can integrate the ActiveX Control into other programs such as Excel and Matlab
DDE – you can use this as a foundation for the sample Excel application or any other DDE-compatible program
What is Interactive Brokers' iBot?
iBot is for hands-free traders on the go, as well as for experienced desktop traders who prefer a text or voice interface.
You get the exact information you need and can place orders using your own words and phrasing. iBot understands plain-language text and voice commands and provides immediate results without the need for special syntax or financial jargon.
Options trading with the Trader Workstation (TWS)
Interactive Brokers offers a range of powerful tools for valuing and trading options.
The Options Analytics tool analyzes key options pricing criteria – price, time, and implied volatility – and visualizes the impact on premiums. It can also display the respective risk scenarios – Delta, Gamma, Theta, and Vega – for call and put options for the current time period through expiration.
In the Options Portfolio, IB's algorithm analyzes the risk/return profile of multiple options trading strategies to find a low-cost trading solution. It can thus be used to adjust the portfolio's risk profile using risk-sensitivity ratios (Greeks).
The Options Portfolio is available for American stocks and indexes. It can be integrated into the IB Risk Navigator, an advanced risk management platform, and shows how trading the algorithm's solution will your affect your overall risk summary.
With access to real-time options market data, the algorithm of the Options Portfolio finds the most cost-effective solution to achieve the desired objectives, taking both commissions and premium decay into account. To ensure the solution list remains relevant when the market changes, the algorithm constantly scans the market and presents the best solution list every 30 seconds. Query criteria can be altered at any time. The solution list is then automatically updated with the revised constraints.
With the Option Strategy Lab, you can create and submit simple and complex multi-leg option orders based on your own price and volatility forecasts. You enter your own price or volatility forecasts for an underlying and display a list of trading strategies. Then you can filter the results according to various criteria such as premium, delta, strike price, and/or expiry.
For each strategy, you can see the potential P&L and the risk/return ratio in the scanner results. It is also possible to graphically display and compare the P&L of up to five strategies in the Performance Comparison chart. A more detailed view of the P&L performance of the selected strategy is available in the Performance Detail chart. In addition, you can modify leg details and order parameters and submit an order directly from the lab.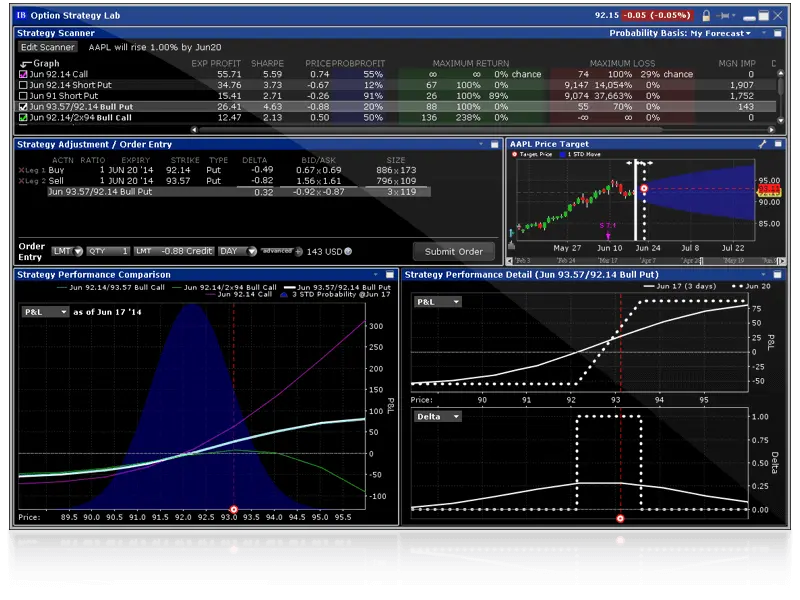 You can use the Probability Lab to redefine the price and volatility outlook for an underlying stock or ETF and identify potentially profitable options strategies based on this view.
With just a few mouse clicks, you can calculate, visualize, and adjust the profit potential of complex combination trades.
What is the IBIS Research Platform?
The IBIS Research Platform offers a range of subscriptions for news and market analysis.
An add-on to the TWS, it is a comprehensive research platform for news and fundamental data. Separate data services are also available. The platform includes subscriptions to a number of free research services. The services are open to all demo users and do not require an application to be approved or an account to be funded.
Does Interactive Brokers offer training courses?
Interactive Brokers offers a comprehensive program of training courses. In the Traders' Academy, for example, you can find a wealth of information about IB products and services. The educational offerings include:
An education center
Webinars
Video tutorials
Apps, tools & widgets
The Traders' Glossary
The education center helps traders better understand IB's available tools and features. It covers a total of 36 free courses on a wide range of products, tools, and topics.
The courses teach traders about technical analysis, fundamental analysis, the various TWS tools, and much more.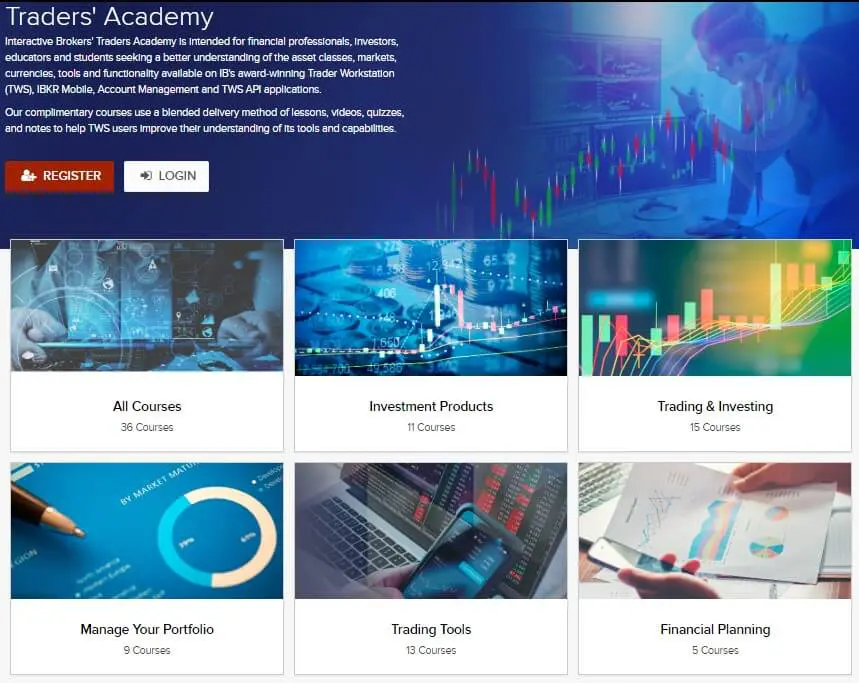 In the webinars, instructors explain IB technologies, trading topics, and international markets. They also field questions. Some of the webinars are live, others are recorded. A large selection of recorded webinars is available.
The Interactive Brokers video tutorials also offer various courses and tours. The short tutorials, courses, and interactive tours help you to get up to speed quickly with the Trader Workstation, the TWS trading tools, and Account Management features, as well as to explore stocks, options, futures, and forex trading.
The education center also provides various tools, such as the Traders' Calendar App, the Options Calculator App, and the Probability Lab.
The Traders' Glossary is a comprehensive users' guide offering simple and easily understandable explanations of the most important terms.
Where can I find the Interactive Brokers App?

The Interactive Brokers app is called IBKR Mobile and is available in the Apple Store and in Google Play.
It combines all the features you need to manage and trade your account on the go.
In the palm of your hand, you have access to more than 125 markets worldwide. The app also includes powerful trading tools such as option spread tables, an order entry wheel, and much more. All order types are supported.
With over 50 data sources and access to institutional-level research, IBKR Mobile provides the same market-moving information as the desktop TWS trading platform.
Additional advantages of IBKR Mobile are:
You can monitor your portfolio and open orders at all times
You can trade all shares, options, futures, currencies, and more
You can view streaming prices and charts in real time
You can use the Market Scanner to filter markets and stocks according to specific criteria
You can set personal price alerts
In addition, with IBKR Mobile, you can pre-authorize large purchases in a secure fashion.
Classification as a Professional Client
Under the regulations of the Financial Conduct Authority (FCA), clients may be classified as either retail or professional. With respect to the Markets in Financial Instruments Directive (MIFID), Interactive Brokers UK may classify clients as elective professional clients if a "qualitative test," or the results thereof, permit such a classification. At least two of the following conditions must be met:
The client has carried out transactions, in significant size, on the relevant market at an average frequency of 10 per quarter over the previous year. "Relevant market" refers to the market on which the financial instrument is traded for which the client desires Professional Client status.
The client has cash deposits and financial instruments exceeding 500,000 euros.
The client has worked in the financial markets for at least one year in a position that requires knowledge of the transaction or security services envisaged.
How high is the activity fee at Interactive Brokers?
Interactive Brokers does not charge an account maintenance fee for accounts that meet the following criteria:
Commissions paid in a calendar month exceed USD 10, or
The average account balance exceeds USD 100,000 in a calendar month
If the account does not meet these criteria, IB charges an activity fee of USD 10. Accrued monthly commissions are deducted from the USD 10 activity fee.
How do you switch depositories at Interactive Brokers?
Interactive Brokers clients can switch depositories for their positions. This means that they can transfer a position in, say, a Canadian cannabis stock to IB and register it at the Toronto Stock Exchange. IB offers direct access to more than 125 stock exchanges worldwide, and its clients can thus switch stock exchanges quickly and easily – in the above example, to the Canadian stock exchange. The security's currency will change (e.g. from EUR to CAD) and, with it, the displayed market value, but the securities are still tradable.
What awards has Interactive Brokers won as a brokerage house?
Interactive Brokers has received numerous awards. It has frequently been ranked "best online broker" and recognized for "highest customer satisfaction." A selection:
Barrons – Best Online Broker
Kiplinger – No. 1 for "Mobile App," "Best for Active Traders," "Best for Margin Traders," and "Best for Mutual Fund Investors"
CardRates – Top Low-Cost Broker Award
Stockbrokers.com – No. 1 for "Commissions and Fees," No. 1 for "Active Trading," No. 1 for "Professional Trading," "Best Broker for International Trading," four out of five stars "Overall"
Investopedia – "Best Overall," "Best for Low Cost," "Best for International Trading," "Best for Options Trading," "Best for Day Trading," and "Best for Penny Stocks"
Benzinga – "Best for Forex Traders," "Best for Professional Traders," "Best for Frequent Traders"
ForexBrokers.com – No. 1 for "Professionals," "Best in Class: Offering of Investments," four out of five stars "Overall"
Fund Technology and WSL Awards – "Best Broker-Dealer Futures"
BrokerChooser – "Best Online Broker"
NerdWallet Award – "Best for Active Investors" in the "Best Broker for Stock Trading" category
Investor's Business Daily Awards – No. 1 for "Low Commissions and Fees," No. 1 for "Mobile Trading Platforms/Apps," No. 1 for "Range of Products," and No. 1 for "Website Security"
HFM Technology Awards – "Best Application for Mobile / Remote Working"
HFM European Hedge Fund Services Awards – "Best Prime Broker – Technology"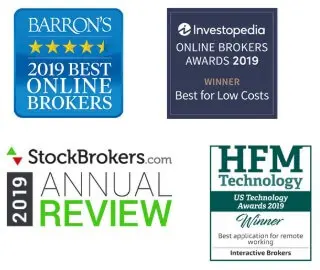 Interactive Brokers: Summary
Trading costs are inexpensive in all areas (stock, forex, futures, options, ETFs). Basically, no other broker can really compete with Interactive Brokers.
In addition, Interactive Brokers has a strong financial position and is one of the few brokers with a BBB+ rating from Standard & Poor's.
Interactive Brokers provides deposit insurance of USD 500,000 per client.
Its many awards confirm that Interactive Brokers is one of the best online brokers with a unique universe of tradable markets.
The IB trading platform is extremely robust. Accounts at IB can also be integrated into many other trading platforms, so clients can choose the platform that best suits them.
The IB app is easy to use and enables clients to trade on the go and keep an eye on their portfolio at all times.
Thanks to IB's many years of experience, the support team is highly skilled and has an enormous amount of expertise.
If you have any questions about this article or would like additional information, please use the comment function below.
Read more: