The S&P 500 Index Futures is the world's most traded stock index.
In this article we make a S&P 500 price forexcast and long-term prediction. We would like to give an assessment of the further price development of the S&P 500 Index Futures. We look at the long term chart for the S&P 500, which is the quarterly chart with logarithmic scale. The basis of our analysis is the Price Action and Technical Chart Analysis.
The charts used are from TradingView and the prices are from the CME.
S&P 500 Quarterly Chart
In the quarterly chart, which show price action from 1998 until second quarter of 2020, we can see, that the long term support was broken in the first quarter of 2020. The market is now testing resistance at this most important trendline.

Major support is the low of 2018 at 2.316,75, which was only shortly broken in the first quarter of 2020.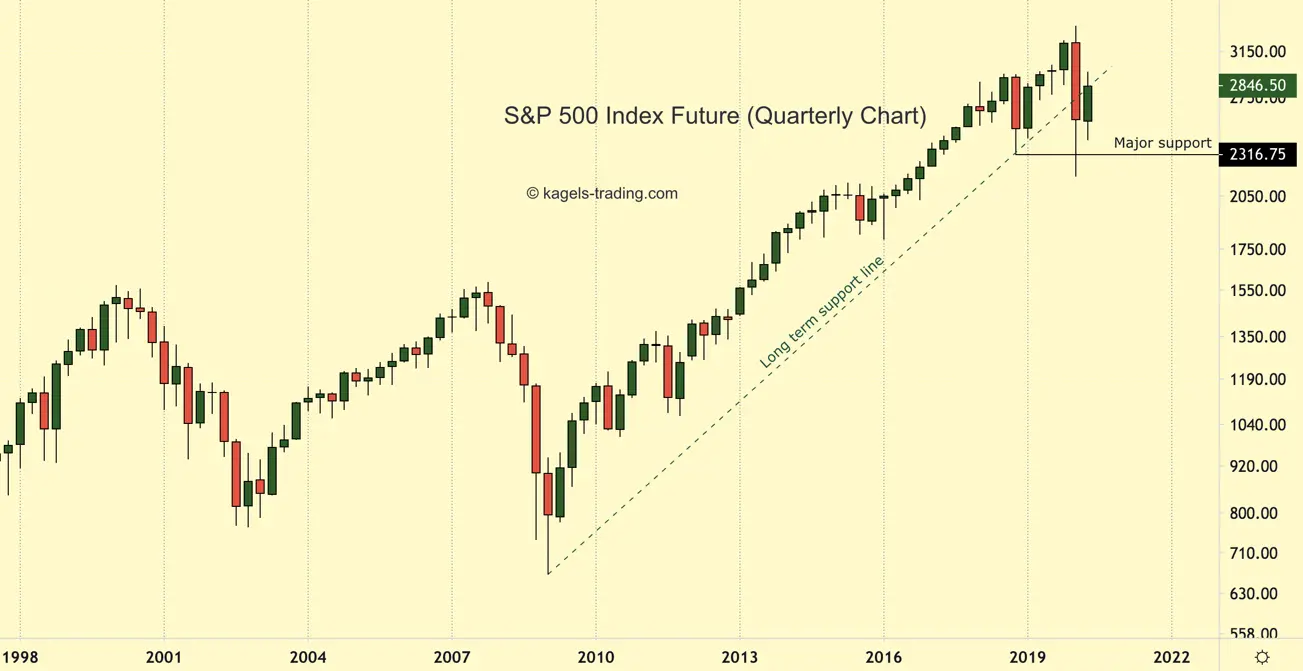 S&P 500 price forecast and long-term prediction
The S&P 500 has broken the long term support line. The long term uptrend is broken and prices are now moving sideways in big trading range.
We expect to see S&P 500 to stay in the consolidation between major support at 2.316,75 and major resistance at 3.000 points.
The quarterly chart is looking neutral.
What is the current price of S&P 500 Index Futures?
The current price of S&P 500 Index Futures you can see here.
About S&P 500
S&P 500 — short for Standard and Poor's 500, is a United States stock market index based on the market capitalizations of the top 500 companies that have common stock listed on the New York Stock Exchange or NASDAQ. With its headquarters in New York City and dating back to 1860, Standard and Poor's has offices in 23 countries and maintains the SP 500 index. Over $1.25 trillion USD is indexed to Standard and Poor's portfolio of indices, which includes the S&P 500. The S&P 500 index seeks to reflect the status of the whole stock market by tracking the return and volatility of the 500 most commonly held large cap company stocks on the NYSE, capturing approximately 80% of total market capitalization. The 500 companies comprising the SP500 span all major industries and are selected based on their market capitalization, liquidity, ability to be traded, as well as other factors. Additionally, the importance of the SP500 is highlighted by its use as an economic indicator of the health of the United States economy. (Source: TradingView)
*This price prediction is based on the data collected from various sources. This should not be considered as an investing parameter and user should do their own research before investing.
Do you think our predictions are accurate? What are your thoughts on the methods used to reach our conclusions? Let us know in the comments below.