Broker comparison – who is the best? In this article, we are introducing JFD Bank.
The retail market for CFD trading is still huge and the number of CFD brokers accordingly high. Not least of all because of the recent ESMA regulations, these brokers are hence forced to fight for the clients' favour. 
JFD Bank (previously JFD Broker) now refers to itself as a "game changer" and wants to "also lead the way in future with innovation and by setting an example" . It has thus distinguished itself as both a CFD and forex broker so far, as well as a service provider in the equity sector. Read this article to find out why this is so and what is behind it all.
Who is JFD Bank anyway?
I am happy to admit it: I've known JFD up close for years. Before and also during which there were real accounts with brokers such as Consors, Comdirect, FXCM, Onvista and markets.com.
Plus a number of Demo accounts, for example with Flatex, Admiral Markets, WHSelfInvest, DEGIRO, as well as a few others. They all have their little perks and downsides, but are more or less the same. Not so JFD. Just taking an initial look at their self-presentation, it strikes one that this broker is slightly out of the ordinary.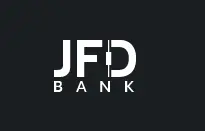 JFD is actually a large group of companies that is referred to as "JFD Bank" of late and consists of three parts. One of them is the "JFD Group Ltd.", which is based in Cyprus and licenced and regulated by the "Cyprus Securities and Exchange Commission" (CySEC) there. It handles the CFD transactions in the European economic area (EEA), plus many other services over and beyond that.
The second part of the group is "JFD Overseas Ltd.", based in Vanuatu, where it is licenced and regulated by the "Vanuatu Financial Services Commission" (VFSC) for all clients outside the EEA.
And finally the group also includes the "JFD Bank AG", which is based in Munich and consequently licenced and regulated by the "German Federal Financial Supervisory Authority" (BaFin). This JFD Bank AG deserves a little more attention as it equips JFD with something of a unique selling point as a broker. But I will return to this later on.
It is also worth mentioning that JFD today has customers in over 130 countries with a range from Europe to South-East Asia, making it one of the 20 largest online brokers worldwide ( source: Finance Magnets- QIR1 2016).
Established from ideological conviction
The acronym 'JFD' is designed to reflect the broker's motto: 'just fair & direct'. Today's group was established in 2011 by a handful of professional traders who wanted to do everything differently. The focus of this was apparently on the frequently bemoaned lack of transparency in CFD trading. The founders set out to not only make retail trading as transparent as possible, but also fair, as it were. 
Which is why JFD was on the market as a DMA/STP construct right from the start. As such, the broker itself is not a market maker with an own dealing desk, but acts as a pure mediator between the CFD trader and a large interbank pool that additionally guarantees a high liquidity. This allows JFD to consistently exclude every conflict of interest besetting market makers. Orders are directly forwarded to the best price quotations from the liquidity pool, without detour through the broker. The revenues are meanwhile merely generated from the commissions. 
To underpin this principle, JFD advertises a so-called "post-trade execution report" that the broker provides its clients with as the only one in the world. This lists all the information about a trader's every trade upon request, also including information on the exact times (latencies), slippage and execution prices, besides the server log files, liquidity providers and order matching and/or execution.
According to JFD, a majority of the forex and CFD brokers only claim to offer their services in a DMA/STP agency model without this really being the case. To challenge this, it calls upon every trader to ask their broker for this post-trade transparency. And if they cannot deliver, traders shouldn't waste their time and money on them. Unable to tell whether this is actually  true, I will just have to leave it at that here. But it certainly throws down the gauntlet for the other DMA/STP brokers to fly the flag of transparency.
The interbank pool is said to comprise over 20 liquidity providers. These include tier 1 banks ( i.e. banks with the highest core capital, which are also leading in most bank product categories. They essentially include J.P Morgan, GoldmanSachs and Citi-Bank these days), as well as non-banks and MTFs (multi-lateral trading facilities). With its "access to non-traditional liquidity", JFD can even draw on "dark pools" as a prime broker.
The wide range surprises with a game-changer product
JFD Bank has a broad range to offer nowadays, providing virtually every trader with investment opportunities. The following assets are available for CFD trading:
Since the beginning of 2019, it has also been possible to physically trade more than 600 stocks from Germany, the USA, the Netherlands, France and Spain. There is an attractive feature here. After the recently completed takeover of the German Acon Bank, JFD is one of the brokers which offers completely free stock trading. A real game changer! There are no other holding costs, fees, restrictions or requirements on position size or number of trades – nothing. Sounds unbelievable, but it really is.
Just the spreads need to be paid, of course. JFD relies on the price quotations of the CBOE (Chicago Board Options Exchange) for this. While bid and ask will often only be 1 cent apart, especially with many liquid DAX stocks, the spread is not fixed and can diverge further than would be the case with Tradegate, for example, and others. But a spread expansion by 2 or sometimes up to 4 cents is totally acceptable, especially given the zero-fee model and that the shares are permanently and physically acquired along with all the rights, including dividend pay-outs (minus taxes)! 
Account transfers are not possible at this point in time, but are apparently to be enabled soon. The only relative disadvantage is that physical shares can only be traded during the main trading hours of the exchange in question, same as stock CFDs. Off-market trading is thus impossible.
The leverages of the respective CFD products are naturally also based on the 2018 ESMA regulations at JFD:
Indexes & precious metals: 1:20
Forex major pairs: 1:30
Forex minor pairs: 1:20
Stock CFDs: 1:5
Cryptocurrencies: 1:2
Micro-lot trading is possible for indexes, currency pairs and precious metals. Currency pairs can be traded from a contract size of only 0.01, indexes and precious metals from 0.10.
According to Christian Kämmerer, the "Head of German-Speaking Markets", option trading could possibly also be added to the JFD group portfolio soon.
Trading costs – is JFD Bank still inexpensive?
Many brokers like to include their commissions in the spread. JFD uses a so-called 'core spread'. This makes a lot of sense and particularly affects the effectiveness of stop loss and take profit orders. The spreads are meanwhile highly competitive. The core spread in the DAX is 0.9 points, and in the Dow Jones 0.9 points (2 points before official hours).
With the FX pairs, JFD appears unbeatable as a forex broker in this respect. The spread here rages between 0 and 4 pips (5th decimal place) for EUR/USD. For USD/JPY it comes to ca. 3 pips in the third decimal place. The average spread for gold amounts to ca. 24 euro cents. Which is rather impressive. 
Commissions naturally become due as well. But they are no major cost factor either. One fifth of the lot size is charged for indexes and commodities, amounting to 0.20 euros (round turn) for a CFD contract. Adding this to the spread we still end up with a mere 1.1 points in the DAX.
With the FX pairs, 5.50 euros become due per CFD contract as a commission (and 0.56 euros per 0.10 micro-lot). This equals a totally reasonable 5 to 6 pips as well. The same applies to precious metals. 
A small drop of bitterness emerges with the stock CFDs, however, where the broker charges 0.05 % of the order volume for European shares or a minimum fee of 5 euros per half turn, respectively. US stocks will set you back 2 cents per share or a minimum fee of USD 5.00, meaning that a massive 10 euros and/or USD become due for the acquisition and sale as a minimum.  This may still be in line with the common price models of other brokers, too, but then there are also those like FXFlat, for example, who charge markedly lower commissions (0.09 % of the order volume and/or 4 cents per US-share, but without minimum fee).
It would be nice if JFD would also decide to significantly adjust the prices downward in this attractive area and leave the competition (almost) completely behind forever. Especially considering that JFD would have every opportunity to do so after taking over the Acon Bank.  The physical share trading is completely free of charge, after all, which makes a 10 euro commission for trading stock CFDs questionable, to say the least.
In all other respects, the dividends will be largely passed on to the trader in the case of stock CFDs held in long positions. The paid out proportion amounts to 75 – 90 % of the dividend with JFD, depending on the country. Please note: dividends will be withdrawn from the account accordingly with short positions!
A look at the other CFD holding costs reveals nothing spectacular. If a position is held overnight, the so-called Swap becomes due, with JFD charging 3% ± 3-month Libor all the way through. This is slightly above the market average, which amounts to 2.5 %. The 0.5 % surcharge should hardly make a difference, however, and should thus not be begrudged the broker. 
All-in-all and measured by the other features such as the post-trade transparency, free physical share trading, and broad offer of CFDs, JFD is not too expensive in any case. Compared to other brokers, it may not appear 'significantly'  cheaper, but splitting the trading costs into a low core spread and relatively customary commissions alone leads to a significant benefit for the CFD trading.
Various trading platforms catering to all tastes
When it comes to the provided Trading platforms, JFD is anything but stingy. The options principally cover all the standards for virtually every trader
MetaTrader 4+ desktop version
MetaTrader 5+ desktop version
MetaTrader 4+ and 5+ browser versions
Mobile trading app for MetaTrader 4+ and 5+
'Guidants' both for web browser and as a mobile app
It is worthwhile to look at the differences between MT4+ and MT5+ before choosing either one. In my opinion, traders should do away with the nowadays rather antiquated MT4 and always go for the MT5, which is said to ensure a faster order execution, amongst other aspects. 
Although the user interface has remained virtually the same apart from some minor details, the 5+ version not only offers a number of improvements in the graphic display, but also comes equipped with additional indicators such as Elliott waves, for example, and is of interest for programmers wishing to include their own strategies or indicators.
The essential feature is the much greater number of tradable underlying assets, however. Especially the trading of physical shares makes a quantity difference here. Anyone wanting to trade them will not get around MT5 anyway. The Metaquote license for the MT5 costs up to USD 50,000 extra, by the way. This alone should make the provision of this platform a distinguishing feature for any broker.
Anyone hell bent on CFD trading with the browser or smartphone is also served well here. I am no friend of this, with the major exception of 'Guidants'. The website is most of all distinguished by a great number of social trading tools, a very good news portal, and many an expert access. With the option of logging into the JFD account via Guidants and trading there, the trading is meaningfully combined with the aforementioned and many other features, offering a very good added value.
Although other brokers such as Consors, Vitrade or WHSelfInvest cooperate with Guidants, the strong integration of JFD is not all that surprising, given that Guidants is a 100 % subsidiary of BörseGo AG, whose founder and CEO, Thomas Waibel, also sits in the supervisory board of JFD at the same time. But that can only be an advantage in the end.
Many add-ons helping to improve the CFD trading
Attentive readers will have noticed the "+" behind MT4 and MT5. The reason for this are various add-ons for the respective platform. Virtually every broker offers such add-ons in some form or other. But as far as I can tell, JFD actually does come up with the most extensive and smartest package.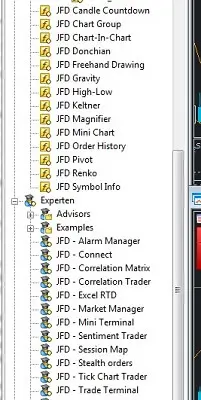 One of the most important is surely the 'Market depth' mini-terminal. This permits market orders to be executed with a single click, which is impossible with the conventional MetaTrader. In addition to which stop losses and take profits can be pre-set for the order directly in the little extra window. 
Just as interesting is the 'Stealth order', which principally only earmarks orders from the platform. Only once the price level is reached will the add-on turn it into a market order. 
Apart from this, there is also a 'Sentiment Trader', a 'Correlation Trader', an 'Alarm Manager' and many other useful features. But the little helpers appearing in MetaTrader's navigation area under "Experts" are not the only highlights. One should also pay attention to the add-ons in the 'Indicators' section.
To be found there, for example, is a self-explanatory 'Candle Countdown', 'Freehand Drawing' to draw in the charts, a 'High-Low' display, Renko candles, und last but not least a Pivot tool. JFD offers these tools for free in the package, which can be downloaded from the website and installed via the EXE file.
StereoTrader as a professionalizing add-on
Traders who largely want to spare themselves the add-ons and see everything at a glance, can opt for StereoTrader in 'My JFD' as a special feature. This outstanding tool directly builds on the MetaTrader and professionalizes CFD trading on the very highest level. Besides the easy 1-click order placement with all the pre-sets for stop loss, take profit and trailing, it also enables strategic orders, grid orders, intelligent orders and much more. In addition to which many further settings can be provided for the trading here, right through to the colour scheme of the chart displays.
The special features include the option of automated CFD trading, back testing, and the unique limit pullback order, available nowhere else. JFD is currently offering Stereotrader for a licence fee of 29.90 euros a month. The subscription has no fixed term and can by cancelled monthly. 
JFD Bank and speed
Speed is everything, as the Flash Boys taught us already. JFD is hence advertising the use of fibreglass connections to the low latency network of the Equinix Financial eXchange in New York and London, promising executions in "often less than 100 ms". Latency times always also depend on other factors, naturally. My latencies range between 90 and 120 ms, i.e. are just about still acceptable. This may not be all that comfortable, but I cannot complain about the execution quality, even in highly volatile markets, in any way. Orders are executed outstandingly, often even with positive slippage. Requotes are unheard of at JFD!
For anyone interested in (much) faster connections, JFD offers VPS servers with ultrashort latencies from third party providers cooperating with the broker. JFD Live clients can thus enjoy a 50 % discount at the provider "Fozzy", for example, or 10 % off per month at "MyTradeHost".
Opening an account and capitalization
Opening an account could not be easier. Guided through four input screens, you enter the relevant data about your person, financial circumstances, and own experience. To conclude the process, you can upload a copy of your ID card and a utility (electricity, telephone) bill for identification, or mail or fax them as an alternative.
If you want to go for the option of trading US shares, you will need to download and complete the usual W-8BEN form for this.
Upon successful verification at JFD, you will be sent an e-mail the next working day with the login details for the selected MetaTrader platform as well as "My JFD" on the broker's website, where you can manage your account, buy a Stereotrader license, and a lot more besides. The mail also includes a link for selecting the desired payment method.
Where the payment options are concerned, JFD has finally caught up. No longer the only payment option, bank transfers have been supplemented by "Sofort", Skrill, Safecharge and Visa/Mastercard. But watch it: except for free bank transfers or using "Sofort", money transfers via online payment providers are always linked with fees one should check out beforehand. In addition to which any amounts paid in will also be paid out to the same account again because of the Anti-Money Laundering Act.
Financial parachutes at JFD bank
Reserve liability has been prohibited in Germany for private traders ever since the 2017 BaFin regulation anyway. Thanks to the ESMA regulation, this has also come to apply to all brokers in the EU, i.e. also Cyprus. JFD had abolished margin calls some time before that anyhow.
The margin close out rules are also based on the ESMA requirements. The margin will hence be called as soon as the 100 % margin is attacked. The close out, i.e. closing of the position with the highest loss or all positions, as the case may be, comes into effect when the margin falls to 50 %. 
The deposit guarantee limit for segregated client funds in Germany or the UK that are not invested in open positions still amounts to 20,000 euros, as far as I know. The basis for this is JFD's membership in the ICF, the Cypriot investor compensation fund. 
This may be largely sufficient for retail traders. But especially in view of the physical share trading, this limit does appear rather low. The volumes here should be markedly above this on average. JFD's voluntary membership in the deposit guarantee fund of the Association of German Banks would be a wonderful thing. But upon enquiry, JFD told me that "further account protections are currently being reviewed". One can therefore still hope for an expansion of the deposit guarantee.
Support and upskilling at JFD
The broker definitely has a lot to offer here. The German-language support is available by telephone or live chat 24/5. Mail enquiries will usually elicit a response very quickly and proactively. One of my enquiries about an execution problem (the only one so far) led to a credit without asking.
To support its clients in the CFD trading, JFD also offers many webinars, seminars, live streams, and live trading events provided by experts, which can be used every day. An overview of these is available on the JFD website. Their own YouTube channel features recordings of past events as well as extensive training material. Apart from which JFD is also attending most fairs these days, and can be contacted there.
Conclusions drawn from my experiences with JFD broker
Anyone wishing to succeed with their CFD trading will need the partner with the best conditions. Which JFD doubtlessly comes equipped with. The broker may not be the be all and end all, as there are certainly still a number of things that could be somewhat improved from a trader's perspective, notably including the fees for stock CFD trading and the slightly skimpy deposit guarantee. 
This is counterbalanced by great advantages, however, which clearly set JFD apart in comparison with the vast majority of competitors:
100 % DMA/STP agency model, no conflicts of interest at all
Post-trade transparency
Low core spreads with very reasonable commissions
Very large selection of CFD products
Physical share trading
Many platforms with a great number of useful add-ons
Positive slippages and no requotes
First-class support and many upskilling options provided by experts
The size of the JFD group reflects the broker's competence and professionality
JFD is thus one of the very few brokers where I feel in safe hands, based on my personal experience. The trading is fun thanks to the broad range, the communication is always very uncomplicated, target-oriented, and personal. Anyone interested in serious CFD and stock trading will not get around this broker in my opinion. The motto "just fair & direct" seems also justified insofar. Therefore a clear recommendation for JFD at this juncture.
Further reading: