In this article and technical analysis we would like to a provide relatively reliable Bitcoin price forecast and long term prediction. We would like to give an assessment of the further price development of Bitcoin.
We look at the long term charts for BTC/USD, which are the yearly, quarterly and monthly charts with logarithmic scale. The basis of our analysis is Price Action and Technical Chart Analysis.
The charts used are from TradingView and the prices are from Bitstamp.
BTC/USD Yearly Chart (12-month-chart) in long term Uptrend
In the yearly chart of BTC/USD , we see a long-term upward trend with a low in 2011 at $2,22 and the all-time high at $19,666 in 2017. In the last two years bitcoin prices are moving in the price range of the year 2017.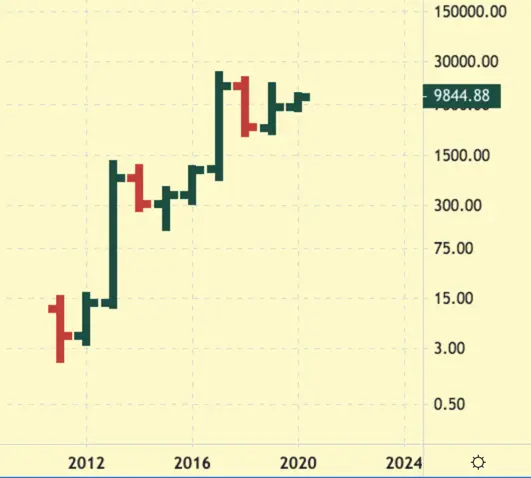 Important highs and lows
| | |
| --- | --- |
| Highs | Lows |
| $1163 – November 30, 2013 | $2,22 – Oktober 11, 2011 |
| $19,666 – December 17, 2017 | $152.40 – Januar 14, 2015 |
| $17,234.99 – Januar 06, 2018 | $3122.28 – December 15, 2018 |
| $13,880 – June 26, 2019 | $3322.19 – Januar 29, 2019 |
Long term price movement showing more price potential
If we consider the stable and intact upward trend with strong upward momentum since the low in 2012, the probability speaks for a further increase in Bitcoin prices. The next price target could therefore be the 2019 high at $13,880.
This positive assessment would become obsolete at the latest when the low for 2019 at $3322.19 is undershot.
Next let's take a look on the quarterly chart.
BTC/USD Quarterly Chart (3-month chart)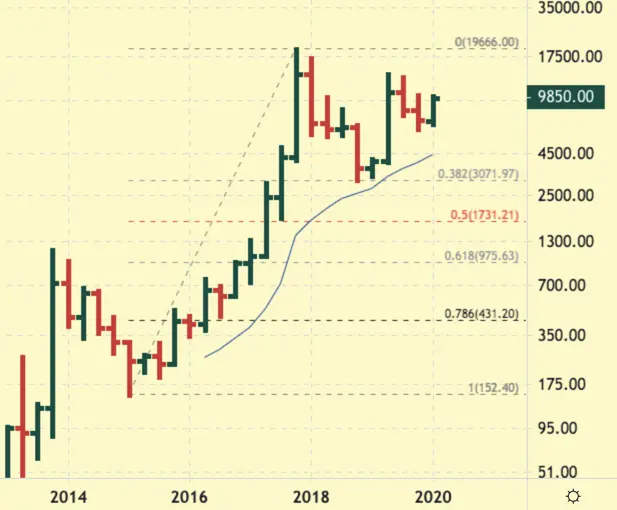 In this quarterly chart for BTC/USD we can see more details of the price movement. We have included a 20 period moving average (blue line) and the Fibonacci retracements in relation to the rise from $152,40 (low of the year 2015) to $19,666 (high of 2017).
Important highs and lows
| | |
| --- | --- |
| Highs | Lows |
| $17,234.99 – Januar 06, 2018 | $3122.28 – December 15, 2018 |
| $13,880 – June 26, 2019 | $6425.00 – December 18, 2019 |
The correction from the alltime high to the low of 2018 at $3122.28 was very close to the 38.2 % Fibonacci retracement at $3071.97.
The 20 period moving average was still rising and containing the price action.
From the correction low in 2018 we have seen a further price increase until June 2019.
Price action shows more upward potential
In the 3-month chart shown here, we also see a still intact uptrend with higher lows. The probability speaks for a further rise in the Bitcoin price, whereby the next price target could be the 2019 high at $13.880.
Only a price drop below the low for December 2019 at $6425.00 would neutralize the positive chart picture and possibly open further downward potential until the 2018 low at $3122.28.
Let us continue our review with a look at the monthly chart.
BTC/USD Monthly Chart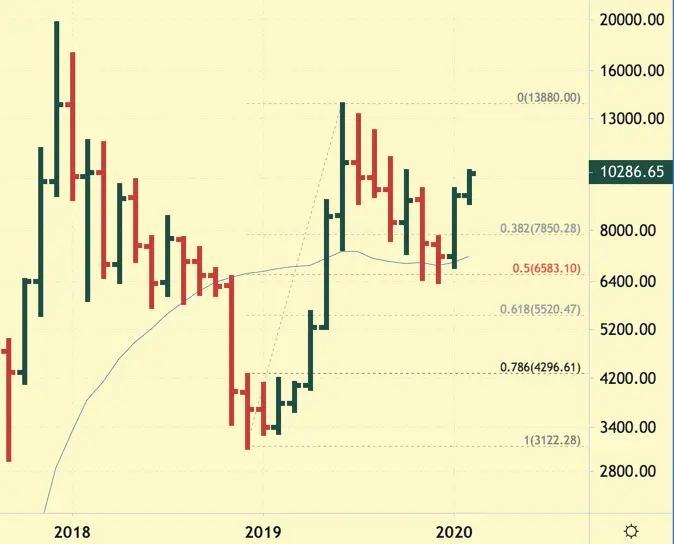 Starting from the correction low in December 2018 at $3,122.28, BTC/USD was able to regain significant ground by June 2019 and reached a local high at 13880. Starting from this high, BTC/USD fell back significantly and corrected the previous rise by slightly more than 50%, as can be seen in the monthly chart shown.
The low in December 2019 was 6425, the 50% Fibonacci retracement we see at $6,583.10. From this local low, BTC/USD is moving upwards again and is currently trading above the psychologically important $10,000 mark.
The 20-period moving average shown on the chart is also moving through the correction low range.
Bitcoin price prediction and longterm forecast February 2020
The long term uptrend in Bitcoin/US Dollar looks stable and the next major price target could well be the all-time high at $19,666. Before that, however, the crypto currency must reach the last local high at $13,880. At this point we will see, if we could expect BTC/USD to show more upward potential.
From a chartist perspective, the probability that this could happen is relatively high. Here at the high in 2019, it will then finally become clear whether BTC/USD can develop the strength to break through to the historical high.
What is the current price of Bitcoin (BTC) ?
You could check the current price of Bitcoin (BTC) here.
About Bitcoin
Bitcoin is the original cryptocurrency released in 2009 as open-source software. It is a digital currency predicated on cryptographically secure transactions, a proof-of-work consensus model, and a decentralized, P2P distributed ledger network. Bitcoin's distributed ledger is the first blockchain — a shared and distributed timestamped ledger of data blocks connected through a chain of cryptographic hashes — and solved the double spend problem that had plagued previous iterations of digital currencies.
*This price prediction is based on the data collected from various sources. This should not be considered as an investing parameter and user should do their own research before investing.
Do you think our predictions are accurate? What are your thoughts on the methods used to reach our conclusions? Let us know in the comments below.
Disclaimer: This article is not trading advice and should not be construed as such. Always consult a trained financial professional before investing in cryptocurrencies, as the market is particularly volatile.