What is IC Markets?
IC Markets is one of the globally engaged true ECN forex brokers and offers trading solutions for interested traders, day traders and scalpers. IC Markets caters to experienced forex traders as much as beginners.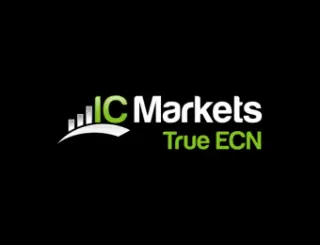 In this context, IC Markets provides all its clients with a series of technically sophisticated platforms enabling various securities to be traded. The trading platforms are most of all distinguished by short latencies and above-average liquidity.
The unique feature of IC Markets is that online traders can affect the pricing and liquidity, something only investment banks and well-heeled private clients used to be able to do in the past, effectively meaning that the company is revolutionizing online forex trading.
The IC Markets management can meanwhile draw on a broad range of experience with Asian, European, and North American forex, CFD and stock markets. Tapping this experience enables IC Markets to provide its clients with optimal technological solutions and the highest liquidity to be had in the market.
Main office of IC Markets in Sydney
The IC Markets forex broker was established in the year 2007 in Sydney, Australia. The company was founded by a professional team from the financial industry after decisively contributing to the development of one of the most successful CFD and forex providers.
The vision of IC Markets
The vision of IC Markets is "to create the best and most transparent trading experience for retail and institutional clients alike, allowing traders to focus more on their trading."
When IC Markets was founded in 2007, the main objective was to "bridge the gap between retail and institutional clients by offering a trading solution previously only available to Investment banks and high net worth individuals".
With its IC Markets True ECN account, the company provides an extraordinary technology that will be discussed in greater detail below. In addition to which the Australian forex and CFD broker is focussed on the permanent innovation and improvement of cutting-edge technologies for its clients.
IC Markets was created by traders for traders, then, and is thus designed to offer all parties interested in the stock market optimal spreads and an outstanding service. Where the elaboration of a company philosophy is concerned, the following pointers can be found on the IC Markets website.
Integrity and trust
Honesty and fairness
Transparency
Commitments and responsibility
Reliability
Flexibility
Constant innovation
Strong corporate governance
Website structure
There are also a number of aspects to be mentioned about the structure of the website. The website structure selected by IC Markets facilitates a fast overview of the various topic areas.
Traders who want to get going immediately and not lose any time will find all the information required to start with the respective product in the "Quickstart" tab.
But if you want to delve into the background of the offered products and trading platforms in greater detail, you can find all the necessary information clearly structured in the "Trading" and "Partnerships" tabs.
The general focus is meanwhile on a high usability for the user, with uncomplicated navigation from one page to the next.
What do I stand to gain from using IC Markets?
IC Markets grew into the world's largest MetaTrader 4 and true ECN broker by offering its clients optimal trading conditions and spreads. So let us take a closer look now at some aspects that could lead clients to expect a leading edge from IC Markets.
As already mentioned earlier, the ability to offer traders the best spreads at all times is part and parcel of the IC Markets company philosophy. IC Markets ensures this by always providing the best technologies and maintaining partnerships with the largest liquidity providers. To be able to offer its clients ideal trading conditions at all times, IC Markets keeps on adding further liquidity to the trading environment.
The forex broker runs enterprise grade hardware on servers in its NY4 and LD5 data centers in New York and London, respectively, where its trader servers are also collocated with the data server of their pricing providers. These interconnections help to ensure very short latencies and the fastest execution of trades for all traders.
IC Markets got together with the largest companies in the area of trading technologies to be able to provide its traders with the ultimate trading experience and cutting-edge trading tools. These tools also include an optimal market depth ("Depth of Market – DoM"), inbuilt spread monitoring, ladder trading and automated trade closing with custom order templates. In addition to which the trading applications have also been optimized for iPhone and Android to enable ideal mobile trading.
Unrivalled customer service
Another objective of IC Markets resides in offering its clients the best possible support. The team of experts at IC Markets is thus vested with wide-ranging experience in the financial industry, enabling a quick grasp of their clients' concerns. The staff of the online currency broker is meanwhile available 24/7 and always happy to answer any questions clients may have.
Cutting-edge trading tools
MT4 add-ons, e.g. a module for one-click trading, for the market depth, spread monitor and trading risk, ensure that clients gather expedient trading experience and are able to trade more successfully.
Superior trading platforms
The MetaTrader 4, MetaTrader 5 and cTrader platforms are three of the best in the market at this point in time. IC Markets now enables its client to access the true ECN trading environment while using the aforementioned trading platforms simultaneously.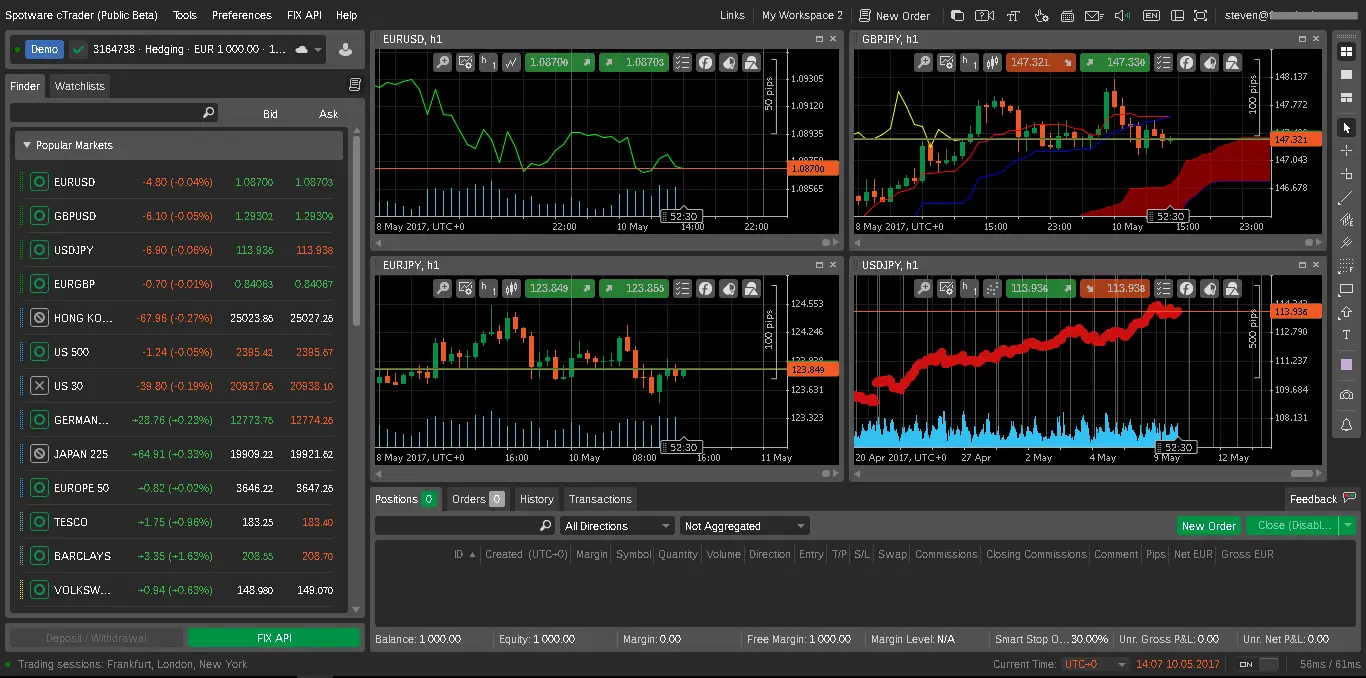 The values of trust and transparency are written large at IC Markets and number amongst their key features. And with the company being a true ECN broker, there are also no forex requotes, price manipulations or restrictions.
Another advantage IC Markets can offer you is the true ECN trading environment, which means that traders are no longer bound by trade restrictions. It even enables trades to be executed within the spread. Scalping, hedging, and automated trading are also possible.
ECN trade volumes can principally be selected from 1 micro-lot (1,000 of the base currency) up to 250 lots (25 million of the base currency). The prices are meanwhile continuously updated and ranked to enable larger transactions to be executed in real time without difficulties by way of various liquidity providers. This helps to guarantee the optimal price, regardless of the size of the placed trade.
How is IC Markets regulated?
IC Markets hews to the given legal framework conditions and regulations, as well as the statutory requirements and standards of Australia. Compliance with these is therefore a top priority on an executive and management level. The forex broker closely cooperates with the Australian banks Westpac and National Australia Bank (NAB). Money invested by clients will only be used for the intended purposes.
The regulatory authorities are the so-called ASIC (Australian Securities and Investment Commission) and FSA (Financial Services Authority of Seychelles), who monitor compliance with all regulations. The Australian Securities and Investment Commission is tasked with ensuring that the financial market is equitable and transparent. It is an independent institution of the government agency.
In addition to this, IC Markets deploys an independent auditor in the company who monitors its compliance with regulatory requirements and operative processes at all times.
Which markets can be traded?
IC Markets offer a range of different markets to enable optimal trading options for its users around the clock. Here follows a manageable list of markets available to choose from at IC Markets.
In the forex market, clients can trade around the clock on five days a week, benefiting from the tightest spreads, superior execution, and a deep interbank liquidity for more than 60 currency pairs.
With the CFDs available at IC Markets, clients can open positions at the largest stock markets. Given spreads starting from 0.5 pips at 16 indices, traders can gain an ideal perspective on the stock market. In addition to which trades cost no commissions. On offer are 17 tradable indices from around the world.
More than 19 different commodities can be traded at IC Markets, be it energy, agricultural commodities, or metals. The prices are tight and lot sizes flexible, so that traders can be offered a good product.
IC Markets enables over 120 stocks & ETFs to be traded at the ASX, NASDAQ & NYSE. There is a portfolio for this including the most popular companies and ETFs, so that the best trading options are available to all traders.
There are also more than six bonds to choose from for trading, giving traders an opportunity to bet on interest rates and market's risk sentiment. The bonds available for traders to choose from are issued by countries around the world, including Japan, Europe, Great Britain, and the USA.
The most popular and major cryptocurrencies can also be traded at IC market, short or long. Customers can trade around the clock on five days a week here as well, while benefiting from the best possible support. Given that the trading takes place at an ASIC-regulated broker, the counterparty risk can also be eliminated.
Futures rank amongst the most popular forms of CFD. Users can choose from four global futures for trading, including the ICE Dollar and CBOE VIX index. The futures offered by IC Markets are only available on the MetaTrader 4 trading platform.
Which account models are available?
All the account types on offer include the true ECN service and a large range of products. The platforms are equally suitable for novices and more advanced traders. Going for the True ECN account model makes sense, according to IC Markets, and that for several reasons.
First of all, True ECN accounts offer some of the tightest spreads. The average spread for EUR/USD runs to 0.1 pips, while the commission is also relatively low at USD 3.50.
As the True ECN account can tap a large number of liquidity sources, including over 50 different banks, it is practically designed for Day traders, scalpers and expert advisors. The MetaTrader 4 & 5 and true ECN servers are located in New York, and thus very near the liquidity partners, eliminating unnecessary latencies. The MetaTrader 4 & 5 true ECN trading platforms are the preferred choice for active day traders and scalpers the world over.
The illustration below compares the various account models directly, highlighting the respective benefits.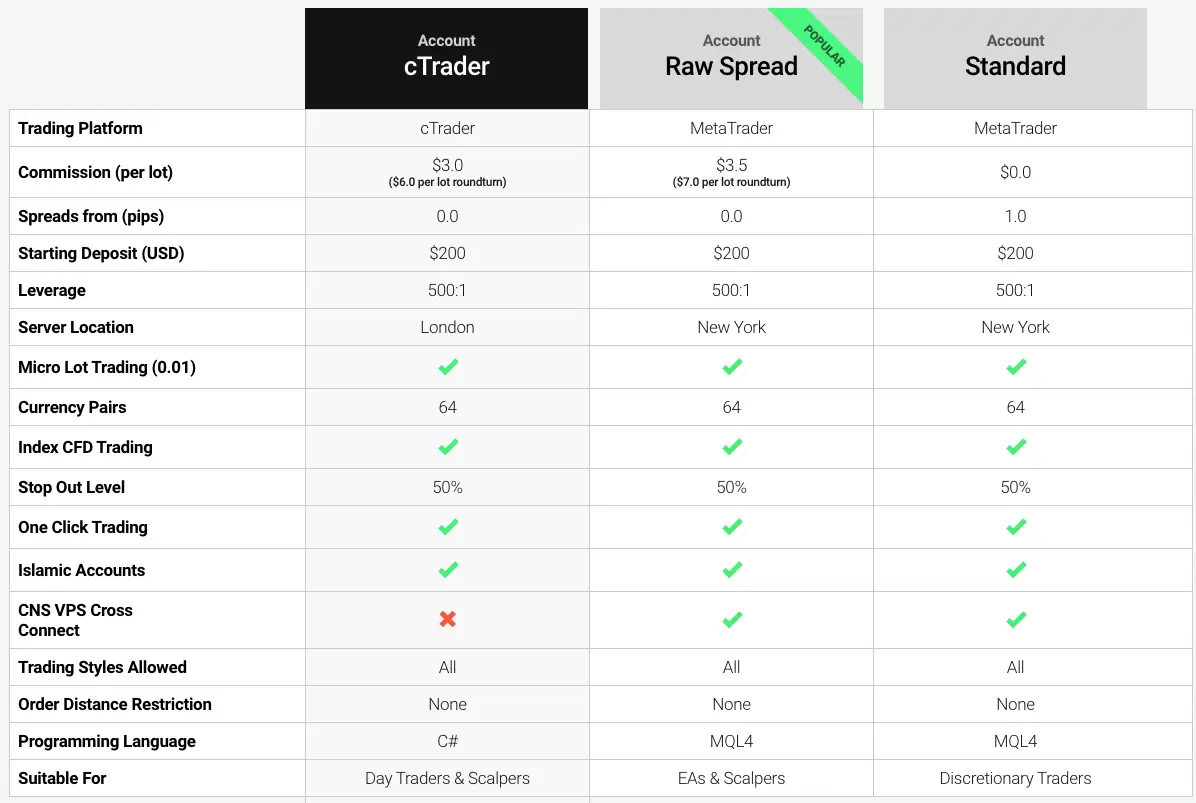 Advantages of a True ECN account
So what do the benefits of a True ECN account actually look like in detail?
True ECN connectivity enables IC Markets to offer its clients market-leading prices and conditions via the MetaTrader 4 & 5 trading platforms.
In addition, the true ECN connectivity enables trading with institutional liquidity, provided by global investment banks, hedge funds and dark pool liquidity providers.
The high diversification resulting from up to 50 different liquidity providers makes IC Markets particularly popular amongst high-volume traders.
As we already know, the servers of the IC Markets trader platforms are located in the Equinix NY4 computer centre in New York, where over 600 trading forms, exchanges and trading venues are also based.
MT4 and MT5 are meanwhile crosslinked with the IC Markets ECN, enabling very short latencies while executing trades at speed.
The latency here is under 1 ms to the VPS providers, most of whom are directly collocated in the data centre.
The cTrader ECN account
cTrader was specifically developed for use in a true ECN environment.
As already mentioned earlier, IC Markets can boast some of the tightest spreads of all the brokers in the world.
The cTrader trading platform has no minimum spread, in addition to which the spreads for EUR/USD often come to 0.0 pips. Taking the 24/5-trading into account, the average spread for EUR/USD is 0.1 pips. This is the tightest spread in comparison to all the brokers worldwide at this moment in time.
The diversified liquidity mix of up to 50 different providers furthermore enables constant liquidity for the customer, and helps to keep the spreads tight, especially in highly volatile situations (e.g. when important news are published).
Video about cTrader:
The Standard account
The MetaTrader Standard account also offers a very fast execution speed and spreads from as little as 1 pip.
With a Standard account, things are kept simple. You are able to enjoy the benefits of true ECN connectivity with an "all-inclusive spread" and no commissions.
How is money paid in or out?
IC Markets offer over 14 different payment options in 10 different currencies. Client funds paid into trading accounts are held in segregated accounts at the National Australia Bank (NAB) and Westpac Banking Corporation (Westpac), both of them AA-rated Australian Banks. Electronic payments are processed using SSL encryption technology to be able to provide clients with a high level of security. All the information provided for this purpose will be treated confidentially. While IC Markets does not charge any additional fees for deposits or withdrawals, transactions involving a number of international banks can be subject to fees.
Credit/debit card withdrawals are also processed free of charge as a matter of principle, but may take 3-5 business days to be credited to your card. Withdrawals requested as international transfers are subject to a processing fee of 20 AUD or currency equivalent, which will be deducted from the withdrawn amount.
Trading conditions
Thanks to the true ECN system, IC markets can offer the most aggressive trading conditions when it comes to pricing and flexibility. The latter are ideal for traders attaching vital importance to the best execution quality and low spreads.
The great number of different banks and liquidity sources and short latencies of the servers mean that you will always be trading at the optimal price. The spreads available on the MT4, MT5 and cTrader true ECN platforms can be as low as 0.0 pips in parts.
The entire trading process is automated to enable a very fast execution of trades at the expected price. The true ECN broker promises an ideal market depth and 100 % execution.
IC Markets permits leverages of up to 1:500 in the forex market. In Germany, new regulations have been in force since the beginning of 2018 (1 : 30 maximum leverage for forex majors, more on this in the section "What is the permitted leverage at IC Markets?").
This enables positions to be funded with relatively small amounts, significantly boosting any profits, while losses can also exceed your original deposit.
IC Markets offers 60 different currency pairs and four metals on all its trading platforms. The Australian forex broker is able to offer some of the best pricing in the industry by aggregating quotes from over 25 different banks.
Long and short swap rates are available for all the currency pairs and metals on offer.
IC Markets ensures that the opening times of markets are apparent. The trading hours of the various markets are available for viewing at all times.
Opening a free IC Markets demo account
IC Markets also offers interested parties the option of opening a demo account and trying out the trading platforms there. Opening this demo account is completely free of charge and offers all the account types, trading platforms and products for testing.
After registering for a demo account on the website, specific optional settings are available to choose from.
These include the selected trading platform (MT4, MT5, cTrader), account type (True ECN, Standard), currency (AUD, USD, EUR, GBP, CHF, NZD, JPY, SGD, CAD, HKD), leverage (from 1:1 to 1:20) and amount of the initial deposit, for example.
The second step will then also involve requests for financial background information such as the annual income and work status.
In the end you will need to prove your identity (e.g. using your ID card or passport) and current place of residence to finally activate your demo account.
What is the permitted leverage at IC Markets?
IC Markets permits leverage ratios of up to 1:500 in the MT4 and MT5 trading platforms. This means that very high leverages can be applied in your own trading style, enabling large gains to be made even with little capital (naturally conditional to a greater risk).
This is also interesting because of a new ESMA (European Securities and Market Authority) regulation for CFD trading with leveraged products in the EU, in force since the beginning of 2018. In it, the authority basically distinguishes between retail clients and professional clients. As small investors (retail clients) are meant to be protected from risks, no higher leverage than 1:30 is available to this customer group from now on.
IC Markets is not subject to this new regulation, however, as the company's registered office is located in Australia.
IC Markets partnerships
IC Markets offer a range of partnership models you can benefit from. See below for a brief outline of the various partnership programmes.
"IB" – Introducing Broker
The current "Introducing Broker" (IB) programme is designed to reward the referral of new customers, with no limits on the number of referred new clients or trading volumes. IC Markets list the following aspects as key features of the IB programme, amongst others:
Attractive rebate programme
ASIC-licenced and regulated broker
Personal IB account managers
Real-time commissions payment into trading accounts
Marketing material in several languages
Cookie tracking and web reporting
All clicks, impressions and registrations can be tracked
For more information, the IC Markets website also offers a brochure explaining further details of the partnership programme.
"Money Manager"
The "Money Manager" (MAM) partnership programme of IC Markets enables asset managers to manage their client's funds based on market-leading pricing and execution.
The true ECN model ensures that money managers can have their trades executed at the prices they request, even with large orders. This enables greater returns, while putting money managers in control of their fees, optimizing the returns for all parties.
Here follows a list of several other features of the Money Manager programme:
All trading conditions (spreads, commissions, performance fees, etc.) are customizable
Commissions and performance fees are automatically calculated
Broad product range
Reporting analytics that can be shown to the clients
Solutions for manual traders
"White Label"
The "White Label" partnership programme allows the liquidity and technology of IC Markets to be tapped for little cost and risk. Alternatively, you can also choose to take their liquidity using only one of their many connectivity options.
As the White Label programme has been conceived for start-ups with a detailed business plan and established brokerages, the requirements for taking part in it include a monthly minimum volume of USD 500 million and an established customer base.
Affiliate programmes
In addition to these, IC Markets also offers an Affiliate programme, which rewards the referral of customers with profit shares, commissions, and bonuses. You can only benefit from this if you have registered for the IC Markets "Introducing Broker" programme first. Further advantages besides the manageable customer onboarding include the real-time payment of commissions and provision of marketing materials in ten different languages.
Regional partnerships
Not least of all, there is also the option of entering into a regional partnership, given the corresponding funds.
IC Markets advertises its ability to help regional businesses grow by offering comprehensive support and training.
This way, business partners can benefit from a hybrid revenue share model and global brand recognition.
What are the upskilling options at IC Markets?
Over and beyond this, IC Markets also offer various further training options for use.
Besides an extensive blog with articles about trading basics and news from the financial markets, there are also video tutorials on offer.
Traders are simultaneously also meant to be trained in handling the trading platform. The video tutorials will for example provide you with an overview of how to install MetaTrader 4, and how various types of order can be placed.
Further links
Read more: