The US Dollar to Canadian Dollar (USD/CAD) exchange rate is a Forex major pair and one of the world's most traded currency pairings.
In this article we make a US-Dollar / Canadian Dollar price prediction and long-term forecast. We would like to give an assessment of the further price development of US-Dollar / Canadian Dollar. We look at the long term charts for USD/CAD, which are the yearly and quarterly. The basis of our analysis is the Price Action and Technical Chart Analysis.
The charts used are from TradingView and the prices are from FXCM.
USD/CAD Quarterly Chart
If we look at the quarterly chart of the USD/CAD currency pair, we see a long-term uptrend that originated at the 2007 low at 0.9057. The last swing high of the uptrend is 1.4689 at the high of 2016.
The following years are showing a trading range with sideways price action. USD/CAD is moving inside the price range of the year 2017.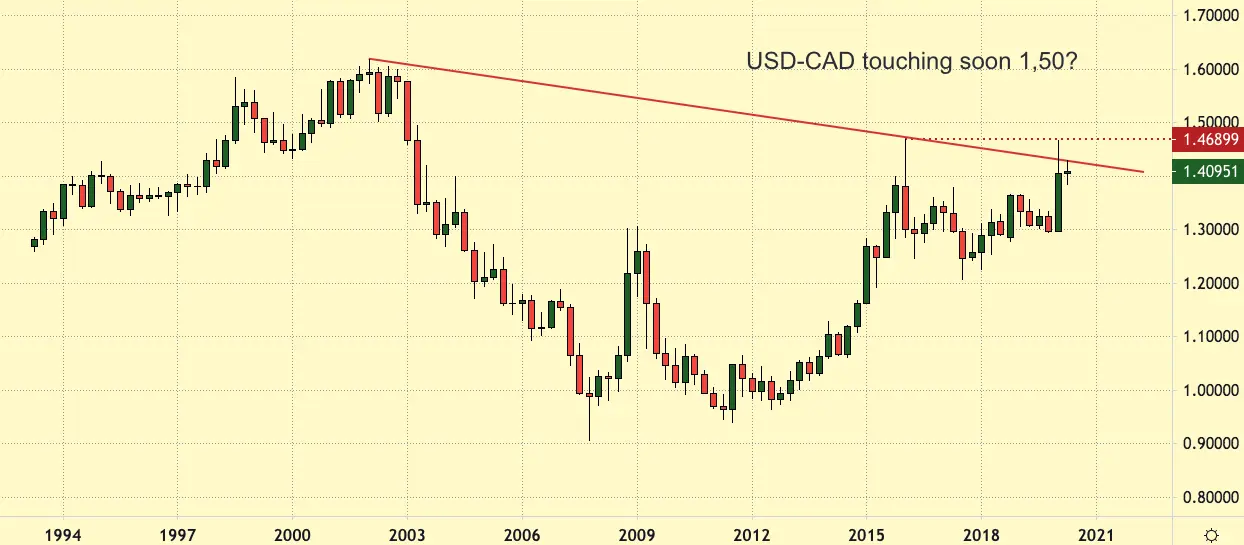 Important highs and lows of USD/CAD
| | |
| --- | --- |
| Highs | Lows |
| 1.469 – January 20, 2016 | 1.2061 – September 8, 2017 |
| 1.3664 – December 31, 2018 | 1.2951 – December 31, 2019 |
USD/CAD price prediction and long-term forecast for 2020
The forex currency pair USD/CAD is in a stable sideways trend sind 2016 on the the quarterly chart.
As long as USD/CAD remains above the 2019 low of 1.2951, the long-term forecast remains positive. Only a price increase well below 1.2951 would turn the forecast to cautiously negative.
What is the current price of USD/CAD ?
The current price of USD/CAD you can see here.
About USD/CAD
The Currency Pair USD/CAD is the shortened term for the US-Dollar against Canadian Dollar, or cross for the currencies of the United States (USD) and Canada (CAD). For example, if the pair is trading at 1.3300, it means it takes 1.3300 Canadian Dollar to buy 1 US-Dollar.
*This price prediction is based on the data collected from various sources. This should not be considered as an investing parameter and user should do their own research before investing.
Do you think our predictions are accurate? What are your thoughts on the methods used to reach our conclusions? Let us know in the comments below.