Software comparison – Which is the best? In this article we introduce Volfix.
Volfix.net is one of the most popular trading platforms with a focus on order flow and volume analysis.
An overview of Volfix software
The main features of the software are as follows:
Dynamic interactive DOM on chart
Integrated trading including risk management & one-click trading
Charts & studies
Ability to connect to over 100 brokers
Training in order-flow analysis and volume trading
Order flow tools & charting
The trading software is particularly popular among order-flow and volume traders. This also happens to be Volfix's focus.
Thus, Volfix offers some tools for order-flow analysis and volume trading.
In addition to the box charts, there are additional tools for analyzing the order flow, such as cluster charts and reverse charts.
Cluster charts allow you to see the inside of the candle charts, so to speak. They can show the volume, bids/asks and the deltas per candle.
The platform has all the common drawing tools. Charts and layouts can be configured as required.
Trading & integrated sim account
The integrated one-click trading function is very useful for trading. This makes it possible to act extremely quickly. The platform also has all the common order types and a bracket function. Stop loss, take profit and trailing stop can be entered directly. These can be specified either in pips/ticks, as a percentage or in $.
A sim account (demo account for simulated trading) is also integrated in the platform. Here you have the opportunity to get to know and test the platform at your own pace under real market conditions.
A risk management tool is also included. This tool is very helpful and supports traders in keeping their risk limits in control. Here you can set the daily loss limit, the loss per ticker/trade and the time. Risk management can also be implemented automatically. This means that as soon as the limit has been reached, the positions are automatically closed.
It is also possible to connect multiple accounts.
There is also the "Arbitrage" function. This allows you to trade two different positions and time the orders.
Statistics
With this tool you can show various statistics on volume, time & sales, delta, etc.
These tools are very helpful, for example to identify important levels. As an example, you can show the highest volume level of the month, week, day, etc. In my opinion, this is one of the most important tools in Volfix.
The filter allows you filter the time & sales for large orders.
Here you can see the largest volume levels. In this example you can see the largest volume levels in the gold future from May 16th, 2018.
Social
Volfix also has its own social network. Here you can see the best traders and their statistics. There is a chat function to exchange ideas with other traders.
There is also a news function. With the help of the news function, you can either show news for a specific ticker or search for news that contains specific terms. There is also a news calendar.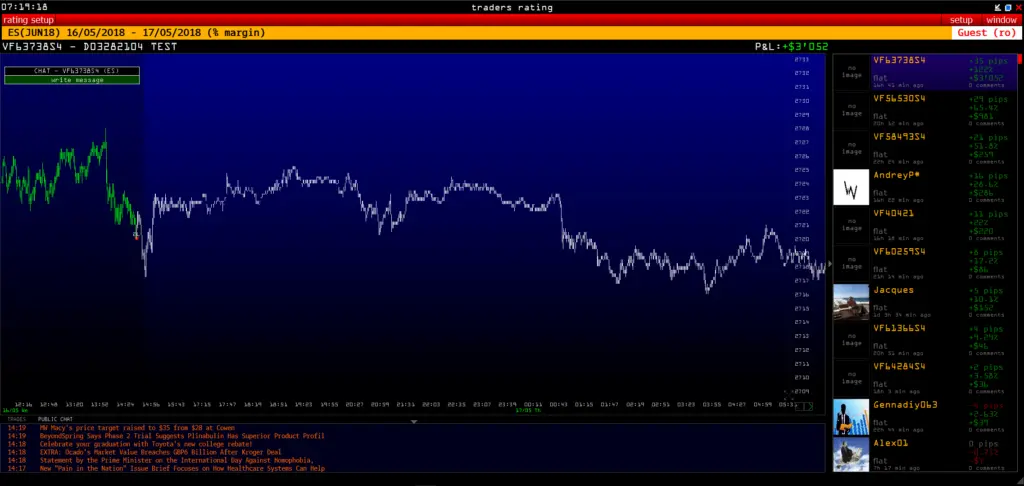 Broker & data feed
Over 100 brokers can be used with Volfix. In general, you can trade with Volfix through any broker if it supports one of the following data feeds:
Price
Prices start at $120 a month. But, if you also use the common futures such as ES, GC, etc. in addition to the FX futures, it will cost you $150 a month. The monthly price decreases significantly with a longer term. If you pay for one year in advance, you save over 55% of the monthly price. Then the cost is only $66 a month.
If you also want to use the order window with the tools mentioned above, such as risk management or brackets, this costs another $40. Since you will likely use these tools from time to time, there is a good chance that you will need pay the extra $40.
The exchange data fees are separate.
Support
Support is available via Skype and email, and in my opinion, it's just fine. In addition to technical support, there is also educational support.
Education
Volfix has an extra education area.
There are three different courses:
Basic – four-week trading course and costs $400.
Advanced – four-week trading course building on the basic course and costs $600.
Expert – this course is currently only available in Russian and costs €1,500.
In addition to the three trading courses offered, there are also regular webinars and numerous videos that are available for free. There are also many German-language videos on YouTube from one of the Volfix partners in German-speaking countries. By now there are more than enough Volfix partners. Whether they are really that helpful for your own trading is another question entirely, but they definitely exist.
Conclusion of this introduction of Volfix software
Volfix is a good platform for order flow and volume analysis as well as trading.
The platform is also suitable for inexperienced traders due to the large number of videos and educational offers. But the platform takes a lot of getting used to and, compared to other platforms, its design is somewhat particular.
The design is based on Bloomberg, but Bloomberg is far better and easier to use. The Bloomberg-like design should make the platform look more professional, but this is not actually the case. Anyone who has really used Bloomberg will only be put off by the imitation design.
In addition, there is not even the option to purchase a lifetime version, which generates unnecessary costs, especially in the long term.
For traders who are well versed in chart techniques, the platform also does not offer candlestick charts or common technical indicators. Other platforms that also focus on order flow and volume analysis do however offer this. Even if you don't trade with charts and chart techniques, these tools are simply standard for every platform.
Read more: