Teletrader is an information platform for institutional traders and investors. It offers real-time quotes, historical prices, news, fundamental data, charts, technical analysis, and much more.
TeleTraderSoftware GmbH, headquartered in Vienna, developed the software and web-based applications and provides the financial data. Many financial websites use the programs and data from this software company.
Features of TeleTrader
Worldwide stock exchanges and other markets
Real-time prices
Automatic push updating of all price data
Historical tick and daily data
Extensive search and screening capabilities
Market depth and time & sales
Stocks, indexes, bonds, mutual funds, ETFs, futures, commodities, currencies, interest rates, structured products, and much more
Mutual fund comparisons including closed-end funds
Watch lists, portfolios, alerts
Data export and printing
Real-time Excel link via RTD
TeleTrader products
TeleTrader offers a variety of products:
WebStation
The TeleTrader WebStation is an information platform for institutional users. In addition to real-time quotes and historical data, it offers news, fundamental data, charts, and technical analysis. The browser-based design makes it easy to provide data to large, distributed user groups. It is supported by a permission system in which users, exchanges, and data sources can be activated on a group or individual basis. 
WorkStation
TeleTrader WorkStation combines state-of-the-art technical analysis with fast and reliable price data delivery from exchanges around the world. Thanks to workstation customization, the wide range of analysis tools, and extensive news and fundamental data, the TeleTrader WorkStation is an essential platform for professional and retail traders and investors.

WebStation NOW!
WebStation NOW! comes with a free license and opens TeleTrader directly in your browser.
Market data
TeleTrader provides high-quality market data for all asset classes. In addition to price data, company profiles, and a mutual fund database, it offers a large selection of special sources providing OTC, forex, interest rate, and money market data.
Price data covers stocks, bonds, futures, options, structured products, warrants, indexes, forex, mutual funds, ETFs, and much more. Level 2 (market depth), real-time, delayed, and end-of-day data are available, as are extensive historical daily, intraday, and tick data (going back up to 50 years). Global coverage includes the most important North American stock and futures markets, a broad range of European exchanges, and selected Asian markets.
For mutual funds and ETFs, there is a comprehensive premium database containing more than 20,000 funds and in-depth fund profiles. You can calculate fund ratios and view the asset structure, documents and fact sheets for all funds, as well as benchmark comparisons.
Profiles are available for more than 4,000 companies. In addition, there are real-time updates of company filings with the US Securities and Exchange Commission (SEC). You can view quartlerly and annual reporting data as well as balance sheets, income statements, cash flow statements, key ratios, and corporate calendars. Altogether there are more than 250 data fields.
The platform provides direct connections to global and regional news sources, ad hoc services, and analyst recommendations.
Data delivery includes a comprehensive set of innovative streaming and request-based APIs.
There is also an XML web service.
Apps
TeleTrader offers several apps.
The free StockMarkets app provides you with access to live quotes and push data from exchanges around the world. Using this app, you can view interactive charts, real-time stock scanners, personalized price lists, sample portfolios, and much more. It also supports AppleWatch.
If you already have a user account with TeleTrader, you can log in with the same user data, activate the same data sources, and gain access to your own WorkStation section.
If you already have a user account with TeleTrader, you can log in with the same user data, activate the same data sources, and gain access to your own WorkStation section.
The CryptoMarktes app provides real-rime prices for all major cryptocurrencies and exchanges worldwide. You can view all the top coins and tokens by market capitalization and create a watchlist. In addition, you can read the most important news about the crypto market and display charts in different time frames. With the converter, you can quickly calculate the exchange rate for various cryptocurrencies.
With the Currency Converter app, you can easily calculate the current exchange rates for major world currencies (including Bitcoin).
"Breaking the News" is an app for important news about stocks, financial markets, politics, business, and technology.
Charts and technical analysis
You can display eleven different chart types:
Line chart
Bar chart
Candlestick chart
Point chart
Histogram chart
Stair step chart 
Point & figure chart
Three line break chart
Renko chart
Kagi chart
Heikin Ashi chart
Various time frames are available: tick, intraday, daily, weekly, or monthly. You can display spreads and show different markets in a chart.
When it comes to technical analysis, TeleTrader leaves nothing to be desired. It contains the most popular drawing tools, including trend channels, text, Fibonacci retracements, and much more. There are more than 200 programmable technical indicators and studies. In addition, the software recognizes candlestick patterns and displays pivot points in charts.
Additional features include:
Study columns in price windows and Excel (via RTD)
Intersection alerts for the crossover of chart objects
Study alerts for finding good entry and exit points
News and fundamental data
Thanks to directly sourced global and regional news, you can display all news in real-time. You can also set up news filters and alerts and show news in price windows.
In addition to analysts' reports and recommendations, you have access to extensive fundamental data on global companies, as well as company and fund profiles and company calendars.
You can create and export current PDF fact sheets.
Connections to all major news sources are possible, which currently include:
dpa-AFX services
APA Services
Dow Jones Services
AWP Service
Screener
With the help of the screener, you can select various filter criteria and combine price and fundamental data with technical indicators. The results of the different screening criteria can be compared.
If you're interested in fundamental data, you can scan for key figures such as market capitalization, performance, and P/E ratio. If you're a technical trader, you can work with criteria such as moving averages, RSI, and CCI, or scan for the most important candlestick patterns such as hammer, morning star, or dark cloud. You can filter not only by performance and volume, but also by analyst recommendations such as upgrades and downgrades on changed profit outlooks.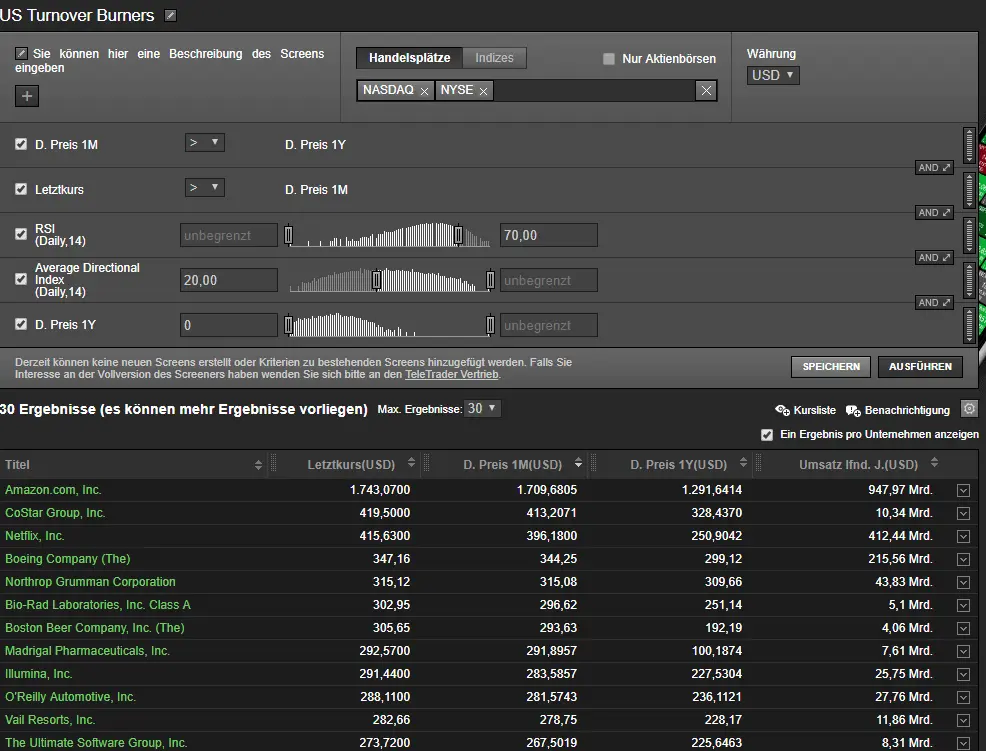 Support
TeleTrader has a competent, experienced customer support team that can be reached by email or phone. All of my queries were answered the same day I submitted them, and telephone queries were answered in a friendly, polite way too.
You have the option to contact customer service directly from the platform. There you can track the status of your query.
Broker
The following brokers are currently supported:
Prices
The TeleTrader Workstation costs 69 EUR a month for private customers and 150 EUR a month for institutional traders. The package includes a large amount of real-time data as well as 15-minute delayed data.
The TeleTrader Webstation costs 399 EUR a month.
On top of this, you incur the cost of any real-time data, news sources, or additional services you need.
A price schedule for data, news, and additional services can be found here.
The TeleTrader software: conclusion
TeleTrader is an excellent platform, especially if you want to view different markets at the same time and keep an eye on the big picture. The data are of a high quality and also available for exotic markets such as bonds and the money market.
The WebStation and WorkStation are very user-friendly and have all the important features needed for trading.
The only criticism I have is that only four brokerages are currently supported, none of which are very interesting.
But as an analysis and research tool, the software is extremely good. You can see why it used by many institutional players.
Read similiar articles: