Broker comparison – who is the best? In this article, we are introducing NSBroker.
NSBroker background information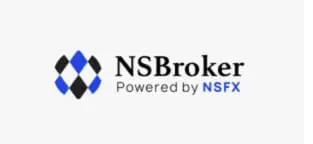 This article is about the modern online broker NSBroker, which is run by a company called NSFX Ltd. The finance experts of this company have been active in online trading for over 9 years already and primarily aim to offer all retail and institutional investors around the globe high-quality services in the investment sector. In doing so, the online broker works with clients from over 20 countries in the European Union. 
In addition to which the online broker also has an interest in ensuring a transparent trading environment. According to the company, all this is to be enabled by the three approaches detailed below:
Provision of an innovative trading platform
Expansion of the trade instruments
Fair trading conditions
The online broker is headquartered in Malta. At the time of this review, NSBroker enables trading with over 400 different assets, and gives you direct access to the forex market.
Regulation and deposit protection at NSBroker
Before taking a closer look at the online broker's offers and services, a short outline of how NSBroker is regulated and the deposit protection there seems in order here first.
As already mentioned, the main office of the online broker is located in Malta. Which means that the company is also correspondingly supervised and regulated by the Maltese financial supervisory authority MFSA.
In Germany, NSBroker is additionally also regulated by the Federal Financial Supervisory Authority BaFin. This regulation also ensures that deposited client funds are kept in segregated accounts and are therefore not at risk in the event of an insolvency.
Assets available for trading at the online broker
The tradable financial instruments on offer naturally always have a key role to play in the selection of a suitable provider. To be able to cater to the interests of many different traders, the online broker offers its clients a varied range of assets to choose from, which are to be briefly introduced below.
Forex
The first to be mentioned in this context is the Forex trading. In comparison to other online brokers, the range of currencies on offer here is meanwhile relatively meagre: NSBroker's clients are provided with access to 40 CFDs on global currency pairs. Besides the majors, NSBroker will also let you trade Minors and exotic currency pairs. The table below maps all the currency pairs available for trading at this online broker at this point in time.
| | | |
| --- | --- | --- |
| Majors | Minors | Exoten |
| EUR/USD | AUD/CAD | EUR/NOK |
| GBP/USD | AUD/CHF | EUR/PLN |
| USD/CHF | AUD/JPY | EUR/SEK |
| USD/JPY | AUD/NZD | EUR/TRY |
| CAD/CHF | AUD/USD | USD/DKK |
| CAD/JPY | EUR/AUD | USD/HUF |
| USD/CAD | EUR/NZD | USD/NOK |
| CHF/JPY | GBP/AUD | USD/PLN |
| EUR/CAD | GBP/NZD | USD/SEK |
| EUR/CHF | NZD/CAD | USD/SGD |
| EUR/GBP | NZD/CHF | USD/TRY |
| EUR/JPY | NZD/JPY | USD/ZAR |
| GBP/CAD | NZD/USD | |
| GBP/CHF | | |
| GBP/JPY | | |
Forex pairs available for trading at NSBroker
Professional traders are permitted to trade these currency pairs with leverages of up to 1:100.
Stock indices
Besides this, the online broker also enables its clients to trade stock indices. Interested investors and traders can trade the most popular indices at NSBroker without needing to pay any commission if they invest 100 euros or more.  Retail traders can trade with leverages of up to 1:20.
The top Index CFDs available for trading at NSBroker also include the AUS200, FRA40, and UK100, amongst others.
Precious metals
The range of tradable instruments at NSBroker further includes various precious metals, with the provider enabling its clients to trade the popular spot metals gold and silver. In doing so, XAU/USD can be traded with leverages up to 1:20, and XAG/USD with leverages of up to 1:10.
Energy sources
For anyone interested in diversifying their trading portfolio, NSBroker offers energy CFDs for trading as well. In this category, clients can trade spot energies such as Brent and WTI with leverages of up to 1:10.
Cryptocurrencies
NSBroker finally has a whole range to offer for all investors with a special interest in Cryptocurrencies. The online broker enables its clients to trade CFDs on popular cryptocurrencies such as Bitcoin, Ethereum, Litecoin and many others. These digital currencies can be traded 24/7 with leverages of up to 1:2.
Deposit and withdrawal options at NSBroker
Once you have registered for their live account, you need to capitalize it in the next step. The online broker principally offers two different deposit options for this.
One of these options is the classic bank transfer. This is free of charge, with the money taking 1-3 banking days to arrive as a rule. 
The other option are deposits by VISA, MasterCard or Maestro. This is also free of charge, with the payment deposited immediately.
Withdrawals go by the same route as the deposits made, and are also free of charge. NSBroker will usually process and initiate the payment of withdrawal requests within a day.
It should also be noted, however, that NSBroker requires a minimum amount to open an account. This comes to US$ 300, or a corresponding amount in EUR or GBP.
The trading platforms at NSBroker
The online broker provides its clients with the sophisticated MetaTrader 5 (MT5) trading platform for their trades. This software is available for PC as well as mobile devices. 
FX MT5 Desktop
The successor of the popular MT4 trading software is known for its great performance and user-friendliness. In addition to which FX MT5 also offers a great variety of helpful functions and tools. Amongst others, the software will provide its users with the following benefits:
Up to 100 charts can be opened at the same time
Charting system with 21 time frames
More than 40 graphic objects
More than 50 Technical indicators
4 different scaling modes
17 different display styles for client indicators
The software is available for Windows as well as Mac.
FX MT5 app
For all traders preferring to trade on the go, there is also a mobile version called FX MT5 app. This offers the same functions as the desktop version with a user interface adjusted for mobile. The app is available for IOS as well as Android. Its installation on smartphones, tablets or other mobile devices is free of charge.
NSBroker fees
Now we turn to another key rating factor for NSBroker: the fees. NSBroker is an ECN broker, meaning that the online broker does not provide quotes of its own, but only forwards orders to its partner banks and liquidity providers accordingly. The liquidity providers NSBroker works with include Dukascopy, Barclays Credit Suisse, Citi and UBS, amongst others.
The spreads are also variable for this reason. More detailed information on the respective spreads for the various assets are always available from the website, however. 
Forex
The spreads for trading currency pairs depend on whether these are composed of majors, minors or exotics. While major currency pairs such as EUR/USD or EUR/GBP can be traded for spreads starting from as little as 0.3 pips (floating), the spreads for minors start from 0.5 pips. Whereas the spreads for exotic currency pairs start from 1.9 pips.
In addition, forex trading is also subject to a commission of US$ 8 per lot. Majors can be traded with leverages of up to 1:30, minors and exotics up to 1:20 (with higher leverages available to professional traders).
Precious metals
There is also a commission payable for trading precious metals, which amounts to US$ 8 per lot. The spreads for XAU/USD start from US$ 1.5, and those for XAG/USD from as little as US$ 0.02.
Index CFDs
Index CFD trades are subject to a commission of 0.05 %, with spreads depending on the respectively traded asset.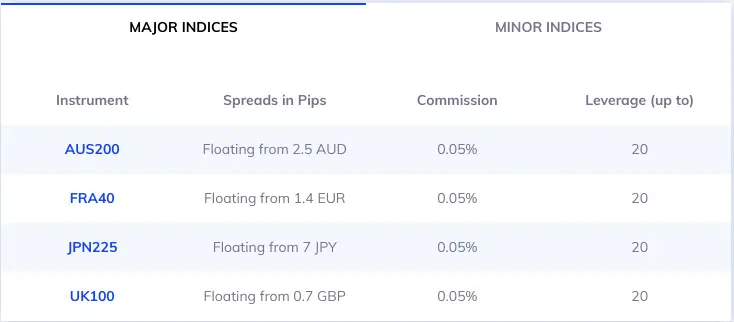 Oil trading
The conditions for oil trading (Brent oil and WTI oil) with NSBroker shape up as follows:
| | |
| --- | --- |
| Brent oil | WTI oil |
| Leverages up to 1:10 | Leverages up to 1:10 |
| Commission – US$ 8/lot | Commission – US$ 8/lot |
| Spreads in pips – floating from US$ 0.04 | Spreads in pips – floating from US$ 0.12 |
Cryptocurrencies
The NSBroker website unfortunately fails to provide any detailed information on the spreads for cryptocurrency trading. Only the 0.05 % commission due is mentioned there.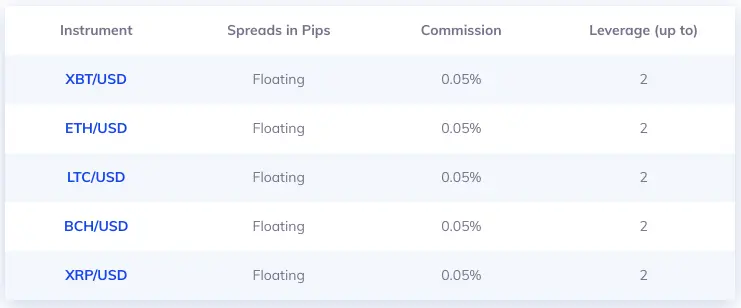 These analysis tools are available at NSBroker
Another interesting feature of the NSBroker website is the Analytics section, where investors can find various tools and means for improving their trading processes.
Technical analyses
The first to be mentioned in this context is the Technical analysis section, where current analyses and the latest news for specific assets are published every week. The individual analyses principally reflect the opinions of NSBroker's stock market experts and include weekly currency forecasts.
Investment strategies
The Investment strategies section gives investors access to a variety of detailed trading strategies. These are designed to support the traders' decision-making by providing for specific rules and behaviours. New articles are published at regular intervals here, but unfortunately only available in English so far.
Economic calendar
Another important tool that modern trading would be inconceivable without these days is the Economic calendar, which is also to be found at NSBroker for this reason. This calendar provides investors with an overview of many different events and indicators, and is updated regularly.   
The economic calendar helps traders prepare for upcoming events of relevance for the stock market, and engage in the corresponding transactions in financial markets. The provision of economic indicators is designed to help them view their trades in relation to specific economic events, and thus gain a better understanding of price developments.
In addition to which the economic calendar also offers a filter function, enabling interested investors and traders to filter upcoming events by country, date and influence.
Market news
Another section available at the NSBroker website is called Financial news, which not only publishes the latest of these, but also provides investors with insights into the fundamental analysis by NSBroker's experts. As a result. this primarily concerns the responses of prices to specific upcoming and/or current events.
Training and upskilling options at NSBroker
Especially for novices to trading – but also more experienced traders – the  website also offers various education and training options to choose from. 
The Forex and Trading Glossary features a list of definitions and explanations of the most important trading terms. Trading novices should have an understanding of the terms defined here as they are important foundations. The glossary defines more than 150 trading terms in 12 different languages. The terms are listed alphabetically.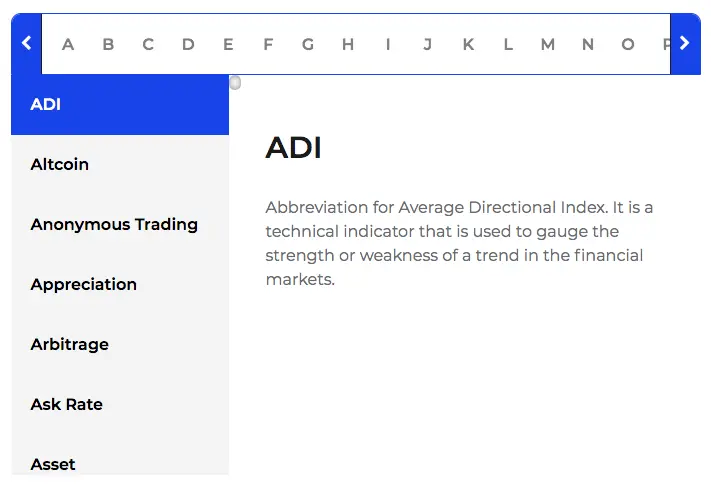 A far larger part of the Education is devoted to forex and trading courses with video lessons, however. The video courses treat of various trading strategies and features enabling a better understanding of the financial markets.
Accessing the various video contents requires previous registration with NSBroker, however.
Upon your successful registration, you can choose from the following three courses:
Market analysis
Trading psychology
Forex strategies
The individual courses are composed of short video clips presenting the most important information briefly in a condensed manner.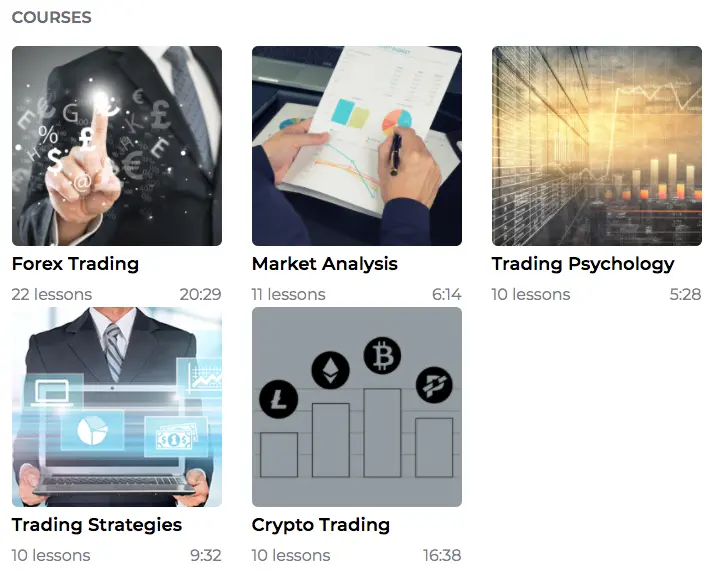 Once you have finished the individual courses, each has a corresponding test to briefly check up on what you have learnt. Completing these tests will earn you extra points that can in turn be used to access premium contents.
In addition, NSBroker also provides a number of e-books on its website that most of all deal with forex and CFD trading.
And last but not least, there is also a rubric called Guides, where you can download PDF documents on various subjects (Introduction to Forex Trading, Knowing the traits of successful traders, etc.).
The NSBroker demo account
Before opting for an online broker, it is usually recommended to try out the respective provider's demo account first. NSBroker fortunately offers such a Demo account as well. Traders can familiarize themselves with the trading platform's functions here, and practice under real market conditions without needing to take any financial risk at first.  The buying and selling prices are displayed live, with a fictitious credit of US$ 20,000 provided. 
The demo account is thus particularly recommended for novices to trading, enabling them to try out their newly learnt trading strategies without risking any real capital. 
Customer service at NSBroker
In conclusion, we should also briefly delve into the customer service at NSBroker. If there are any questions or problems, there are several options for contacting their support.
A ready-made contact form can be used to formulate the respective concerns, and forward them directly to the service team. For contacts by telephone, the website lists three different numbers –   namely a British, Maltese and Austrian one.
The support is meanwhile available from 8 a.m. to 8 p.m. on banking days.
The final option provided for contacting the service team is their live chat. 
Experiences with NSBroker so far as published online
NSBroker is an officially regulated online broker – meaning that fraud can be excluded. Positive online ratings praise the highly accessible education area and the possibility of using a free demo account. But some voices on the internet also say that the fees of NSBroker are not exactly low in comparison with other providers. 
Further reading: