This article will primarily focus on what Myfxbook is and how you can use the various services. Of course, I will also discuss the pros and cons of this well-known tracking tool for forex traders. The topics discussed in this article are listed here:
What exactly is Myfxbook and why do so many forex traders use it?
Myfxbook is a website that offers likely the most popular tracking tool for forex traders. By connecting your broker to the platform you get direct access to an analytical evaluation of your own trading account.
There is also an economic calendar and a chart plug-in from Tradingview. These can all be used directly on the website without having to deal with any annoying downloads. The service offered by Myfxbook is free and financed exclusively by advertising.
In addition to the tracking tool, Myfxbook also offers a platform for traders where they can communicate with one another.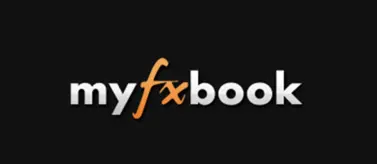 You can share your own performance as well as observing, analyzing and even copying other histories. Through the large number of brokers Myfxbook also enables what is known as copy trading. This allows customers and signal providers to come together a lot easier – more on that later.
Most forex traders use the website to show their performance in detail and to evaluate their trading results with the help of the many key figures. That means no more Excel tables and having to document every little detail.
With just a few clicks, you can see important key data in numerous diagrams (see next picture). This includes the average return, the holding period of a trade and the profit factor.
Furthermore, many professional traders and signal providers use the website to show their impressive performance and to sell their services.
How do I show my own performance?
It doesn't take a lot of work to show your own performance. But there are a couple things that should be taken into consideration.
After you have registered, you can connect to your broker account under the "Portfolio" tab. There are different ways that Myfxbook processes the data from your broker account.
For me, the easiest way for me is through Metatrader 4 (Auto Update). This means that my history is automatically updated on the website after a certain period of time and I can simply continue to trade as usual.
Usually it takes an hour before the latest trades can be seen in the history. Then you will be asked for your broker, your account number, the broker server and the investor password. This data is usually available from the back office of your broker.
Then you can start – you can either share your personal performance "publicly" with the community or use it "privately."
If you prefer to show off your trading skills publicly, it is recommended that you double-verify your account. When the investor password is entered and "Track Record Verified" is shown, it guarantees that the data is securely evaluated and also offers the watchers some security.
Theoretically, every investor in a broker account could have access to the account data plus the investor password and sell the account on Myfxbook as their own. That's why there is the second authentication "Trading Privileges Verified" (see picture). This is confirmed in the trading account with a limit order and a comment selected by Myfxbook. After the confirmation, this checkmark will also appear green. The account is then fully verified.

Which data and facts are important for my performance?
Now, of course, it is important to clarify which numbers are actually important. What numbers does Myfxbook provide? And how do I gain deeper insight into my account and my trading behavior?
The three most important values, if you ask traders, are arguably the total return, the drawdown and the average monthly return. These values are also shown in the account window directly on the left.
In addition, not only can you follow the entire performance as a graphical curve, but also the profit, the account balance and the drawdown. Further down in the window the account balance and withdrawals are shown.
Then there are two important features: First, the window shows when the performance was last updated. This is a particularly important function when it comes to signing up for a signal service or doing copy trading. After all, you want to know what the current account balance is in order to make an informed decision when choosing from the various providers.
The second feature is called "tracking" and it tells you how many customers are currently copying this performance to their own trading account. This is another important figure when it comes to selecting a trader to copy.
In the first part of the window you can clearly see whether the trader or the performance is any good.
The details, though, are located a little further down on the page under the tab "Advanced Statistics" (see picture). There you can see in detail which patterns the trader follows in order to achieve their performance.
In addition to the total number of trades and the total number of pips, average values for the hit rate and the win/loss trades are shown. The "profit factor," which can be seen at the top right of the picture, is particularly interesting for potential customers. This divides the total profit of the won trades by the total loss of all loss trades. So for this stat, the higher the value, the better.
The same goes for "expectancy." This shows the average expectation you can have for each trade.
If the system is profitable, this value will be positive. For example, if a value of 61.9/34.30 is shown, as can be seen in the picture on the right, the system makes an average of 61.9 pips per trade or 34.30 EUR profit per trade.
Finally, the performance also includes a bar chart, where the individual months and the return are shown. Here, too, it is easy for an observer to see the return for each individual month. With just a mouse click, you can choose a month to examine in great detail.
Only data will be shown that relate to the selected month. Below you can see the traded instruments and the risk-to-profit ratio.
Copy trading/autotrading on Myfxbook
Once you've clicked through the individual performances of the community members, you'll quickly notice that you can copy popular systems to your own account.
You can even get suggestions for partner brokers under the "Autotrade" tab. If you have an account there, you can start autotrading, or, if you don't yet have an account, you can open one.
A demo account is also offered for 30 days.
The autotrading system runs fully automatically over the Myfxbook servers. The trades are then copied to your own trading account in real time. Once you have selected a successful system from among the dozen, you can start copying the trades within two business days. The great thing here is that everything runs through the Myfxbook website.
An unlimited number of systems can be followed and you can set a risk factor for each one individually.
Myfxbook offers support with detailed "Help" instructions for setting up the account and the connection.
Another useful tool for autotrading with Myfxbook is the "simulator."
As the name suggests, a selected system is simulated in real time. What's special here is that an individual account balance and a desired time period can be chosen. This makes it very easy to see how the selected system would have performed with the desired deposit and a specific time period.
Experience report with my own performance
For over a year now I've allowed Myfxbook and other providers like FX Blue to track my accounts. Myfxbook, probably the best known provider, was also my first tracking tool. I especially liked how simple it was to set up an account here.
The performance was visible within a few minutes, and whenever the individual steps were not entirely clear, I was able to quickly figure it out thanks to the helpful instructions. I also installed the app for iOS devices at the same time. Since I am often on the go, I can easily see my performance on my mobile phone.
Advertisements sometimes appear, but, for a free service, it is overall very pleasant to use and the ads can be closed with a click.
As the months passed, I checked my account history every day. Unfortunately, I did notice a few discrepancies regarding my favorite gold pair (XAUUSD). Here the pip number is not read correctly by Myfxbook and more pips are shown in the account than there actually are.
In addition, some days my performance was not updated regularly. It could be that the history was two working days behind the trading account.
This was only the case on some days, but of course you want to see your latest trades in the performance as soon as possible. The problem could also be related to the heavy load on the Myfxbook server.
Nevertheless, my personal experience of tracking my own performance with Myfxbook has been consistently positive. I haven't noticed any other problems over the last year.
I think that, at the very least ,a graph showing one's own performance is useful for everyone.
Especially when it comes to trading development and strategy adjustment, it is important to be informed of certain key data regarding your account.
That's why I can really only advise everyone to use a tracking tool, at least privately. Doing so will help you to recognize whether the strategy used is profitable at all in the long term.
Experience report on copy trading/autotrading
Autotrading/copy trading is nice if, and we can all agree, the system is profitable and consistent in the long term.
With the multitude of systems out there it's easy to feel a bit lost. That's why it's all the more important to choose a system for yourself that fits with your own risk and expectations.
In order to be able to determine whether and how the system works, you will also need a track record.
A wide variety of Expert Advisors (EAs) and traders can be found on Myfxbook. Potential customers can use these to get a detailed look into the system. Myfxbook even provides a list of the best systems. Be careful here and don't let greed get the best of you.
The first numbers of the top performers under the tab "Systems > Most Popular" are impressive (+ 486.35% gain), but caution should be exercised.
Myfxbook does track data and present it in a visually attractive way, but, unfortunately, from my experience there are one or two small errors. These are used by fraudsters to deliberately manipulate their performance.
Let's take a closer look at one of the aforementioned, high-return systems.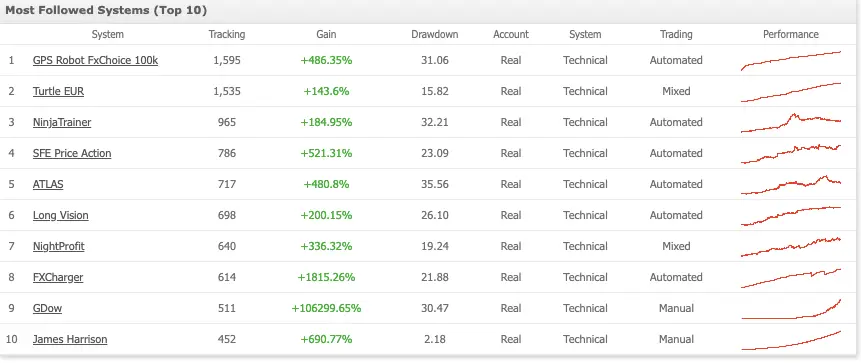 At first glance everything looks very good, more than good, somehow a bit too good. Very low drawdown. A steadily increasing yield curve.
However, if you take a closer look at the trade history, you will notice that withdrawals and deposits have been made again and again. Myfxbook counts the deposits under "Absolute Gain," which is why this number is not necessarily meaningful.
It is also possible to artificially manipulate the history, although I don't see this error in Myfxbook.
The problem is rather the various vendors who are trying to sell their system. I came across another system, which was listed as one of the top 10 and reportedly had generated 690% with a drawdown of 2.18% in the last two years.
I think you can see what I'm getting at: Don't let greed get the better of you. I myself don't know exactly how the manipulation of the performance shown is done. But through friends and acquaintances I have heard of a type of "deposit/withdrawal play."
In addition, some things can likely be changed with the broker. I am currently not aware of any other options.
Personally, I haven't copied any other accounts, which may also be due to the fact that I prefer to trade myself.
Nevertheless, keep in mind that the individual top performers are not necessarily credible, so exercise caution when deciding where and how much money to invest. More about this in the next section, the conclusion.
Conclusion about Myfxbook
Myfxbook is definitely a useful tool for forex traders. However, it is important to distinguish between the three different areas of application. I will summarize the essential services here again:
1. Do you use the tracking tool for your own private use and analyze your own history?
2. Do you want to make your history public and possibly win potential customers or partners with it?
3. Do you want to use the autotrading/copy trading features offered?
If you use the tracking tool and track your own performance, then I can give you a positive report. In general, I recommend that everyone document their trading account in some way. Especially since, at the beginning, key figures can clarify whether the system will be feasible in the long term.
The key data on the holding period and on how much commission is actually paid to the broker are also particularly useful. It's up to you whether you do this with Myfxbook, another provider like FXBlue or the simply in an Excel spreadsheet. Using one of these providers, though, is much easier and saves quite a bit of time, so it is definitely advantageous to use one.
Myfxbook offers a simple, free tool for private use. If you use Myfxbook to impress potential customers with your performance, there are also simple ways to do that here.
You can simply switch your history to "public" and then send the link to interested people. They then get a complete overview and every figure they need to make an informed purchase decision.
I would highly recommend using every possible verification by Myfxbook so that you don't take the customer's trust for granted. That brings us to autotrading/copy trading. Here it is especially important to pay attention to the details of the history.
Verification is of particular importance for this type of trading – ultimately it's your hard-earned money at stake. I wouldn't trust any provider if all the verifications weren't confirmed.
In addition, all the other data must also make a credible impression. Apparently it's still too easy to falsify performance. To be on the safe side in such a case, I would always request a second independent track record, for example from FXBlue.
All in all, Myfxbook is a good tool when it comes to your own performance. In the case of public providers or third-party performances, however, you should definitely take a close look and, if necessary, ask for additional verifiable results.
Read more: