Software comparison – which is the best? In this article we introduce MotiveWave.
Because of the positive response I received to my last article about trading platforms, I'd like to describe the platform I use in greater detail – MotiveWave.
The main reason I first became interested in MotiveWave was its excellent tools for technical analysis.
MotiveWave – the company and its trading software
MotiveWave is a privately held company based in Kelowna, BC, Canada. Software development began in 2008 after the founder of MotiveWave tried to find an Elliott Wave program with all the features he wanted. Because none existed, he started programming himself.
MotiveWave was officially founded in 2010. Since then it has regularly released software updates and constantly expanded platform features, which continues to be its stated goal. The latest version is version 6.2.
In Elliot Wave theory, "motive waves" – also called impulse waves – are price movements in the direction of the current trend.
A comparison of the six different editions
There are currently 6 different editions of the software. These build on each other, with each edition offering extras:
Community – FREE Charting & Simulation Platform
Standard – Trading Platform – 245 USD for a lifetime License
Order Flow – Full Featured Trading Platform – 595 USD for a lifetime License
PRO – Advanced Trading Platform – 1,495 USD for a lifetime license
Elliott Wave Lite – Elliott Wave Trading Platform – 1,395 USD for a lifetime license
Ultimate – Full-Features Advanced Trading & Elliott Wave Platform – 2,295 USD for a lifetime license
For all paid editions MotiveWave also offers interesting lease options.
The Community Edition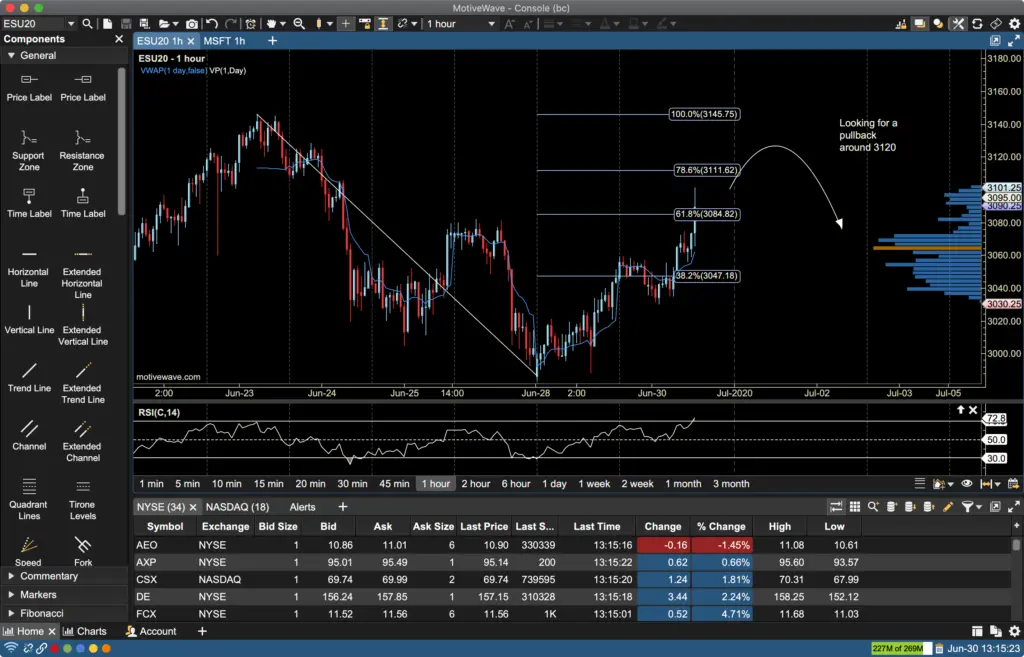 The MotiveWave FREE Community Edition charting software has high quality charting, Replay Mode & built-in trade simulation. MotiveWave Community Edition comes with a comprehensive set of charting tools including:
283+ Built-in Studies, including Volume Profile and VWAP
19 Standard Linear Bar Types
General Analysis Tools (Lines, Channels, Forks, and many more)
Advanced Commentary and Marker Tools
Chart Templates and Chart Linking
Fibonacci Tools: Retracement, Extension, Expansion, Fan, Circle, Arc
Practice your trading and test out new trading ideas in MotiveWave's Replay Mode using the built-in simulated account.
Replay Mode enables you to go back to a specific date and time to replay market data
Link charts for use in Replay Mode to have multiple charts step forward together in Replay Mode
See your simulated positions, orders, and trade history
Note: There is no live trading functionality in the Community Edition. Trading capability is available in the MotiveWave Standard, Order Flow, Elliott Wave Lite, Professional, and Ultimate Editions, giving you the ability to place trades through the MotiveWave platform back to your connected broker.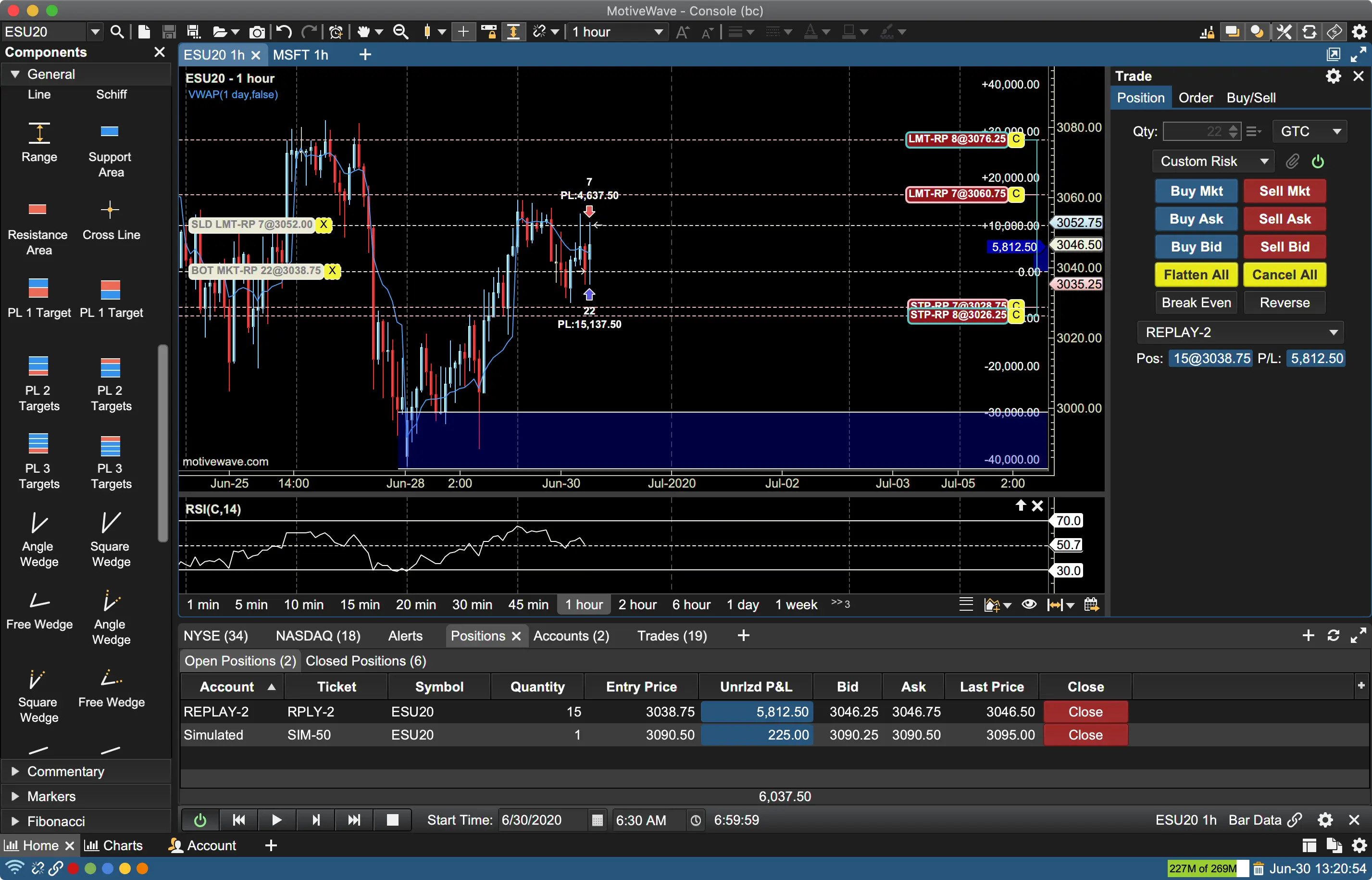 MotiveWave is broker and data feed neutral. More than 30 brokers and data service providers are integrated, and more are always being added. This gives you maximum flexibility to choose as many connections as you want. Yes, you can connect to as many as you want.
Develop custom indicators and strategies: MotiveWave has a free Java Software Development Kit (SDK) that enables you to build and develop your own indicators and automated strategies. Or you can use 3rd party add-ons to enhance your MotiveWave platform. 
Cross Platform Software: MotiveWave runs on Windows, macOS and Linux without having to run parallels. Simply choose the OS you want when downloading MotiveWave. MotiveWave can be installed on multiple computers (Windows, macOS and Linux), but you can only use MotiveWave on one computer at a time with one license.
Community Edition Support: Support for the Community Edition is provided by the User Community. The MotiveWave Forum is your place to ask questions about, and get help with, the Community Edition from other MotiveWave Users. There's a special Community Edition section where you can post your questions. Join other MotiveWave users to discuss the MotiveWave charting platform, the financial markets, and get help and tips from other users.
How do you get the community edition?
Sign up for the MotiveWave 14 Day Free Trial. Join over 50,000 registered users around the world. Once your free trial ends, if you do not purchase any MotiveWave product, you will be automatically switched over to the FREE Community Edition. You'll have full access to all of the trading software features found in the Ultimate Edition during the trial. MotiveWave does not ask for any credit card information.
The Standard Edition
MotiveWave Standard Edition contains the full range of studies/indicators (more than 290), making it one of the most comprehensive of all trading platforms. In addition, you can create an infinite number of chart templates and create studies for different time frames in one chart. Harmonic Tools Pack, Gann Tools Pack and DOM (deph of market) are additonial features of Standard.
Also included are cloud workspaces, which are hosted on MotiveWave's server and can be accessed from any computer using the same license key. Cloud workspaces hold all of their data in the MotiveWave cloud (including settings, instruments analysis etc) but also hold a local copy so that the workspace can be opened in "offline" mode. Any changes that are made to the workspace in "offline" mode will be synchronized with the cloud workspace the next time you open the workspace in "online" mode.
MotiveWave allows you to create unlimited Workspaces, which are the connection to a broker or data service provider. Each Workspace is a separate instance of MotiveWave with its own local database.
One Broker or Data Feeed per Worspace:
In the Community, Standard, Order Flow, and Elliott Wave Lite Editions, you can only have one connection per Workspace.
If you would like to have several broker or data feed connections, you would create a separate Workspace for each one.
Standard and Elliott Wave Lite Editions currently have 290+ built-in studies and indicators, with more always being added.
Includes Multiple Time Frame Studies, Multiple Instrument Studies (Instrument Overlay/Graph, Spread, Ratio), and ability to Choose a Different Instrument for a Study Graph
You can see the full list of studies/indicators in the software by going to Study > All Studies (from the top menu bar)
Trading capability is available in the MotiveWave Standard, Order Flow, Elliott Wave Lite, Professional, and Ultimate Editions, giving you the ability to place trades through the MotiveWave platform back to your connected broker.
The Trading Pack includes:
Trading directly from a chart or the chart axis
Trading from the Trade Panel, where you can use Exit Strategies
Trading from the DOM
Trading from Buy/Sell Boxes
Trading from Watchlists
Trading from Alerts
Placing trades from the Accounts Panel or Orders Panel
There are also plenty of Preferences and options to customize and streamline your trading in MotiveWave to match your personal trading style, like keyboard and mouse shortcuts and modifiers, and order presets.
The Order Flow Edition
The Order Flow Edition contains extensive and customizable Order Flow tools that make it easy to analyze trading activity using volume, order flow and depth of market. MotiveWave has extensive Order Flow Tools and functionality.
The Community Edition contains the following order flow tools:
Volume Profile and VWAP studies (Bar Data Only)
The Standard and Elliott Wave Lite Editions have limited Order Flow tools — they have:
Volume Profile and VWAP studies
Basic DOM – Depth of Market
The Order Flow, Professional, and Ultimate Editions have all of our Order Flow Tools, which include:
Volume Profile and VWAP Studies
Advanced DOM – Depth Of Market
Order Flow Studies Pack (11 studies): TPO, Volume Imprint, Depth of Market, Bid/Ask Volume, DOM History, Big Trades Study, DOM Power, Speed of Tape, Speed Gauge, Delta Volume, Cumulative Delta
Extra 2 Order Flow TPO and Volume Profile Components
Time and Sales
The PRO Edition
The PRO edition comes with features such as the simultaneous integration of multiple brokers and additional tools for trading and options analysis. Also Strategy Backtesting, Quote Sheets, Desktops, Gauges Panel, Option Chains, Study Scanner, Analysis Packs, Advanced Fibonacci Pack and Auto Harmonic Pack are only available in PRO and Ultimate edition.
Mulitple Brokers/Data Feeds per Workspace
In the Professional and Ultimate Editions, you can add multiple broker and data feed connections within the same Workspace.
You can still create separate Workspaces for each broker or data feed connection, if that is your preference.
Power Trading Pack
Take your trading to the next level. The Power Trading Pack is available in the Professional and Ultimate Editions only. It includes:
Configurable Trade Panel – Modify the layout of the Trade Panel to rearrange existing sections and create your own sections, add widgets/controls and customizable order buttons within the Trade Panel.
Custom Order Shortcuts – A custom order can be defined and assigned a keyboard shortcut
Custom Columns in Watch List/Quote Sheets – These columns can be defined and will display a value that is generated by a built-in or custom study (example: RSI>80, or MACD 15 Min). Formatting may also be applied to the column cells to make it easier to visualize trading opportunities.
Custom Tools – based on existing mouse tools, a custom tool allows you to configure the default properties of the component that is drawn using the tool. For example, you could create a custom trend line tool that draws a blue dashed line (instead of the default black solid line). You can add these custom tools to the tool bars in MotiveWave for quick access.
Tool Groups – Tool Groups allow you to create a custom drop down menu in a tool bar for organizing or grouping existing and custom tools. This can help to optimize the available space on the tool bar(s).
Custom Instruments – MotiveWave allows you to create custom instruments that are based on 2 or more existing instruments. There are 3 types of custom instruments:
Spread – Displays the difference between two instruments
Ratio – Displays the ratio by dividing the price of one instrument by another
Index – Allows you to combine the prices of 2 or more instruments into an index
Elliott Wave Lite Edition
Whether you're looking for a charting platform for Elliott Wave analysis, or an advanced Elliott Wave trading platform, MotiveWave has what you need.
The Elliott Wave Tools Pack is available in Elliott Wave Lite and Ultimate Editions only. MotiveWave has the most advanced Elliott Wave Software and Elliott Wave Tools available, and saves you an amazing amount of time in your Elliott Wave Analysis:
All Elliott Wave Patterns and Degrees are supported. MotiveWave allows you to easily compose or decompose wave formations to multiple levels and perform time and ratio analysis on the waves to forecast future price direction and buy / sell points.
All Elliott Wave Rules and Guidelines are enforced, which means you will see a warning if you manually place a pattern in a way that breaks a rule. This shortens your learning curve with Elliott Wave significantly and allows you to be more confident in your wave counts.
Elliott Wave labels are always automatically added for you, significantly cutting down your analysis time.
The Ultitmate Edition
The Ultimate edition contains all of the MotiveWave modules, including Elliott Waves, Scanner, Harmonic Trading, etc. The Hurst Cycles Study and the Advanced Elliott Wave Pack are also only available in the Ultimate edition.
You can also book additional updates and support every year.
If you look at the fees for the individual editions, you can see that you're getting a real bargain for your money. In addition, you can upgrade your current edition at any time simply by paying the price difference to the edition you want. The only condition is that your original purchase was made within the last twelve months. This means you can start small, get familiar with the features of your edition, improve your performance, and then expand the platform accordingly.
Getting started with MotiveWave
Getting started with MotiveWave is easy. Just go to the website, download the edition you want, and sign up for a free trial.
Platform installation and setup is also very user-friendly.
The trading platform is compatible with all brokers and data providers. This is a big advantage, since it allows you to work with your favorite brokers and data services.
The platform includes a version for Windows or Mac , which makes it appealing for Apple users, and also Linux. It is one of the few programs to offer an extra version for Mac.
On the website you'll find a detailed guide, video tutorials, and recorded webinars to help you get up to speed with the software. However, the platform is so well designed and so clearly structured that you don't necessarily need them.
The only thing I found complicated and time-consuming was setting up the Software Development Kit (SDK), which lets you program your own indicators, studies, and strategies. This is much easier on other platforms such as MultiCharts or TradeStation. MotiveWave uses Java, while these other platforms use EasyLanguage. I find EasyLanguage more intuitive, and there's more help available on the internet for this language if you need it.
So I first had to familiarize myself with the SDK and that took some time. I don't think it's a great solution and there are definitely better alternatives, but you still have the features for automated trading and the programming options related to this, as with the other trading platforms.
To summarize, I find MultiCharts and TradeStation more user-friendly and at least as good as MotiveWave in this area.
Tools for charting and technical analysis – impressive
I honestly have to say that MotiveWave leaves nothing to be desired in this area. There aren't any features that are lacking or any suggestions I'd make. You really get all the components you need to be a successful technical trader. However, a beginner might be overwhelmed at first because there's such a huge range of features.
Here is an overview of the different charting components: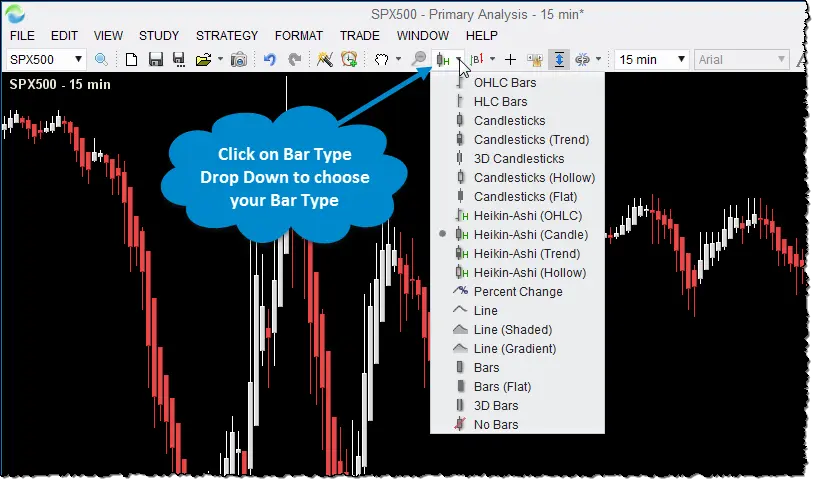 Source: MotiveWave
The charting tool is very good, and you can set the chart any way you like. All of the chart types and time frames are configurable, from candlesticks to Heikin-Ashi to 3D bars.
You can quickly and easily switch between the different time frames and merge these for chart analysis.
This means you can see, in smaller time frames, the components you've drawn in larger time frames.
You can also create different chart templates and use them for different markets or time frames.
More than 275 studies are available. In addition, you can create and save any number of chart analyses. Using them, you can work in various time frames at the same time.
Another advantage is that you can display features such as a 200-moving average for a daily chart in a 1-hour chart. This setting can be transferred to all time frames. There is also a broad range of options for setting alarms, e.g. when a trend line or the moving average is reached.
The following two images give you an idea of how charts are displayed.
Source: MotiveWave
Trading and Order Management
MotiveWave offers all the features you need for trading, such as trading from the chart or DOM and the full range of order types, including OCO, trailing stops, etc.
Trading from the chart or DOM works perfectly.
Trade analysis and documentation is okay, but better on other platforms. Since I have my own system for this, though, it isn't a major shortcoming for me.
One advantage is that you can export trades to Excel. Another useful feature is that once an alarm is triggered, you can automatically place a stop order in the market.
Automated trading
As I wrote above, compared to other platforms, it isn't very easy to set up this additional function and program your own studies.
MotiveWave works with Java, while other platforms such as TradeStation use EasyLanguage. You also need to import studies separately, which makes other platforms better suited for beginners. Nevertheless, MotiveWave gives you the same range of features as other trading platforms, and you also have extensive testing and optimization options.
For advanced traders who have some programming experience, especially with Java, MotiveWave offers many advantages. You can see at a glance that the platform is professionally designed. The only drawback, as mentioned, is that traders with little programming experience will need some time to learn the software.
But it's important to emphasize that the platform meets all the requirements in this area.
Support and updates
Customer support is very friendly and always easy to reach. So far they've answered all my questions quickly and in detail.
There have been sufficient updates and improvements since the software was first launched, which continues to be the company's stated goal.
For example, the company has made sure that the platform and the analytical tools are continually developed and meet the constantly growing demands of traders.
Check out the MotiveWave User Forum as well.
Conclusion and overall rating
MotiveWave is an unbeatable platform when it comes technical analysis and the fields of Elliott Waves and Harmonic Trading.
You get a great value for your money. Trade management, automated trading, and programming all meet the requirements of professional trading. Some things take some getting used to and could be improved, especially for inexperienced programmers. The support is very friendly and helpful.
Overall rating: 9 from 10 points
Would you like to try out MotiveWave trading platform?
Read more: