In this article, we would like to introduce the fast and inexpensive Gettex exchange to you.
What is Gettex?
Gettex is an electronic securities trading system operated by the Munich stock exchange since 19 January 2015. Nowadays, Gettex features ca. 20,000 tradable assets. The market maker for shares, funds, ETPs and bonds is the market leader amongst German market makers, Baader Bank AG. What's more, Gettex can also be used to trade around 220,000 certificates issued by  HSBC and HypoVereinsbank. 
This means that you can choose from over 240,000 international titles for trading at Gettex.
The tradable securities come from over 60 countries. Bonds are available in 20 denominations, from popular currencies like the Swiss franc, British pound or US-dollar through to more exotic alternatives like the Turkish lira, South African rand, or Indonesian rupiah.  
Gettex is the first exchange in Germany to offer currency bonds and Certificates permanently without fees and commissions.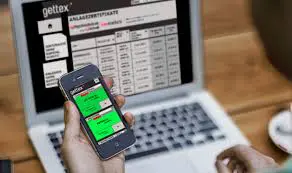 Is there a Wikipedia entry for Gettex?
Yes, there is also a German Wikipedia entry for Gettex. You can find it here.
What are the Gettex fees at Comdirect?
Investors trading at Gettex by way of Comdirect need not pay the brokerage fee customary in the industry, but only the agreed order commissions and a flat-rate charge of € 2.50.
What is the difference between Gettex and Xetra?
Xetra is the largest exchange centre in Germany by far: around 90 percent of the sales are attributable to this platform. Gettex is a lot smaller and predominantly caters to private investors. Most of the trading at Gettex takes place with so-called market makers.  
Whereas Xetra is a pure stock exchange in comparison with Gettex. The turnovers here are usually also many times higher than at Gettex.
How will Gettex benefit me?
Gettex offers the following advantages:
True real-time trading
Fast execution directly with the market makers
HypoVereinsbank onemarkets and HSBC for certificates
Baader Bank for all other securities
No brokerage fee
No exchange fee
Free real-time prices
As a first in Germany, currency bonds and certificates permanently without fees and commissions
Price quality and investor protection by trade monitoring unit & stock exchange regulations
Legal security of transactions
Full transparency before, during and after the trade
Intelligent Order types supporting your investment strategy
The greatest benefit of trading with Gettex is surely that clients are not charged any additional exchange fees, i.e. transaction or brokerage fees. This cost model is one of the reasons why Gettex is especially favoured by frequently trading clients. Another boon are the longer holding periods. 
What are the drawbacks of Gettex?
One disadvantage of Gettex is surely that the market maker can read the whole Order book. 
Clients are directly trading with the market maker here. Executions can therefore occur at worse prices. 
Direct trading means trading with the respective trading partner directly, i.e. directly with the available market maker in the case of Gettex. The order is thus executed off-market by way of Gettex. 
Further drawbacks include possible spread widening with low liquidity, which can trigger Stops. Worse execution prices can occur, especially outside Xetra trading hours. 
What are the figures of Gettex?
Gettex published its figures for the 2nd quarter of 2020 on 14/07/2020.
"After the record in the 1st quarter, the sales and order executions showed significant growth again, by 17 percent in order book sales and 25 percent in the number of trades, across both issuers", said Robert Ertl, CEO of Bayerische Börse AG.
Gettex generated order book sales of € 184 m with certificates from HVB onemarkets in the second quarter of 2020 (vs. € 172 m in the first quarter) – a plus of 7 percent.
Gettex increased the order book sales with HSBC Deutschland products to € 126 m (from € 93 m) – i.e. by another 35 percent.
The order executions (trades) for HVB onemarkets products climbed from 42,651 in the 1st quarter to 56,515 in the 2nd quarter of 2020, and from 26,818 to 30,268 for HSBC Deutschland certificates. The average order size for HVB onemarkets was € 3,263 (4,039), and € 4,176 (3,481) for HSBC.
Which order options are available at Gettex?
The order options are many.
The following order types are available:
Market order: immediate execution at the current market price
Limit order: execution at the specified price and/or time
Stop market order: execution at the next cheapest or best price
Stop limit order: execution at the next price satisfying the limit
Trailing stop order: execution once the price goes below a specific distance from the highest price
One cancels other order: With two orders issued for the same position, execution of the one will cancel the other
Where can I trade using Gettex?
You can use the following brokers for trading at Gettex:
Brokers offering Gettex trading.
1822 direkt
Baader Bank
Comdirect
Commerzbank
DAB BNP Paribas
DADAT Bank
DKB
Donner & Reuschel
dwp Bank
Flatex
Flatex at
Gratis Broker
HSBC
ING
mwb Wertpapierhandelsbank
onemarkets by HypoVereinsbank
scalable Capital
Sino
Smartbroker
Steubing AG

What are the trading hours at Gettex?
Stocks, funds, ETPs, Investment and leveraged products can be traded from 8 a.m. to 10 p.m., while bonds are tradable at Gettex from 8 a.m. to 8 p.m.
Is there a Gettex website?
Yes, there is also a website.
This website features many useful tools.
There is also an overview of the respective securities such as shares, funds, ETPs, ECNs, investment certificates, leverage certificates and bonds.
In this overview, you can view the tops and flops as well as the most frequently traded securities. 
Another features is their certificate finder to help you find the right certificate. Besides the underlying asset, you can also filter this search by strategy, type, leverage and issuer.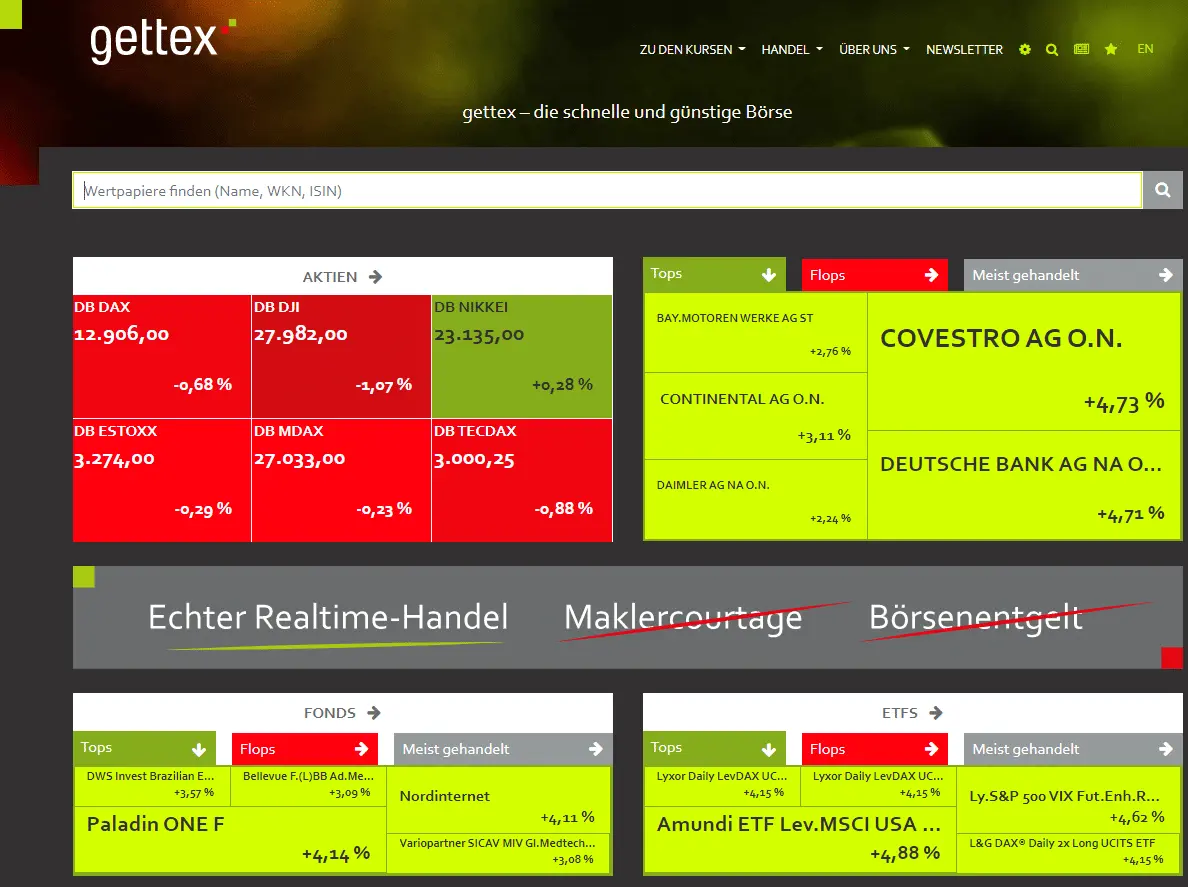 Conclusions
Gettex is a further option for direct trading of various securities.
The longer opening hours and lower fees meanwhile qualify Gettex as a good alternative to other Trading centres.
But investors should always keep in mind that one should not only compare the fees, but also the prices.
Gettex is the first exchange in Germany to permanently offer currency bonds and certificates without fees and commissions, making it a particularly suitable exchange for cost-conscious investors. 
Further reading: