When beginning your trading journey, it's important to have a strategy in place. One issue many beginning traders have, especially when starting forex, is that many investing money without testing whether their strategy actually works. This of course results in losing money. A solution to this problem is to try out a Forex testing simulator. In this article, I'm going to give you an overview of a downloadable program called Forex Tester 4.
What is Forex Tester 4?
Forex Tester 4 is a forex trading backtesting software, which allows users to test mechanical strategies. The program also has the ability to replay price action for backtesting manual strategies and allows you to set your percentage risk on each trade. Forex Tester, which its founders created to help them improve their own trading skills, has been available on the market for 14 years with 4 different types of software, which are numbered 1 to 4. They have also held the leading position on the market since 2006, which means that the creators know exactly what traders are looking for, so you can be certain that this software will have the necessary functions for your testing strategy journey.
I recommend you get the newest version which is Forex Tester 4, due to its advanced new features. I will go into the new features a bit later in more detail. The program can be simply downloaded onto your computer, but if you would like to test it before purchasin, you can use a free month.
How do I use Forex Tester 4?
Forex Tester 4 is easy to use. Simply download the program, which you can do here, and start creating your testing strategies. Once downloaded, it will automatically have one month of historical data to view on 16 different currency pairs as well as gold, silver and one month of USD historical data. There are 3 things you must do when you first start: download more data, start a test and start a project. Now I'll explain how to do each of these.
Download more data – Click on the data center, select a currency pair and update the server.

Begin a test – Start by clicking the start test button. You can pause the test at any time and you can change the speed, timeframe and size of the tick package.
Start a project – Click the start project button, enter your projects name, choose the currencies and then choose to either add an automated calculation, apply time settings or select forward testing only mode if you want a realistic trading experience. Once this project is created, your test will start automatically.

What features does Forex Tester 4 have?
Forex Tester 4 comes with brand new features that were not available in the previous versions, one of the biggest being the risk calculation. The software features include:
Historical News Service
Every trader knows how political and economic events can have a negative effect on their trades. With this feature, you can gain an insight into how previous events have impacted trades and use this knowledge to predict the impact of future events, e.g Brexit happening in January 2021.
The details you will be able to see include: time when the news occurred, currency it affected, the time when the news had maximum impact and basic financial expert comments. You can schedule notifications to hear about news for currencies you are most interested and you can get an overview of the news. If the news line is green, then this news will have a strong impact on your trade!
Visual Strategy Builder
Visual Strategy Builder is a separate tool which allows you to build out EAs and indicator and test out your trading ideas. Simply drag and drop your idea elements onto the tool and it will help create a filter to use for your strategy. Elements which you are able to implement are: indicators, value, price and time. It is also possible to easily set operations for your strategy to perform your desired actions.
Risk Calculator
This feature is one which a lot of traders really like. The risk calculator allows you to enter how much risk you are willing to take on a trade and the software will tell you just how much you could win or lose depending on the number you've entered. This is especially useful for beginner traders to accurately and quickly see results and can be extremely useful for when you move on to real trades.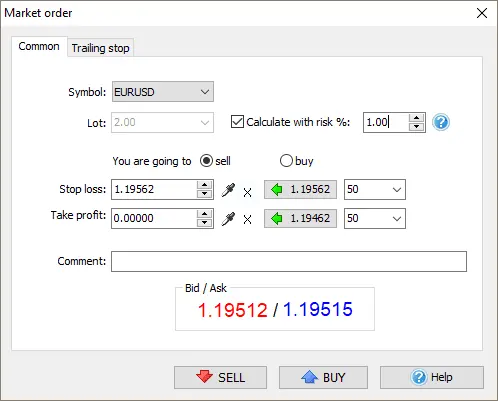 Multiple Testing
The main purpose of Forex Tester 4 is of course to test your trading strategies. On the software you can easily test multiple strategies, currencies and time frames by using any combination of the three and they will be displayed clearly on a graph. What I really liked about this, is that I could test multiple strategies at one time and I could see them clearly. Seeing my multiple strategies play out meant that I could easily learn from my mistakes and understand which strategy worked best and why.
Statistics
Forex Tester 4 makes learning from your mistakes pretty simple. One way it does this is by showing you statistical results. Forex Tester can analyze your strategy results automatically and show a number of results such as:
the number of total profit and loss trades
maximum profit and loss trade
net profit
profit per month
average profitable and losing trade
maximum drawdown
What I also liked was that I could download my results onto a spreadsheet and see them easily at any time. This was great for checking my results and comparing to see how much I have actually learnt.
Another feature that shows your statistics is the profit chart. This is different from the equity chart, which you can easily add by clicking on file, add profit chart. The profit chart was extremely easy to read once I understood what each coloured line meant along with the candlesticks showing equity. The different lines are:
Green – This indicates your balance and shows your deposit changes
Red – The drawdown line
Grey – Your margin line
Candlesticks – These show your equity, which allows you to see how your equity is changing over time.
Something that is quite important to remember is that the balance line can only be built once the trade has closed, whereas your equity line will run whilst the trade is live and show all changes.
Historical Data
Forex Tester allows you to gain access to historical data, which is crucial for optimising trading strategies. There are 3 different package options to view the historical data. Those being:
Basic – This is free and available to anyone who has purchased Forex Tester 4. You can see up to 18 years worth of data and this is enough to get you started.
Standard – If you'd like to know more about small price fluctuations for your trading strategies, this is probably a good option for you. With the paid service you get 800+ symbols, accurate data, daily updates and 5-digit data.
VIP – With the VIP subscription, you will get all the same bonuses that the standard membership has but also gain access to tick data with floating spread, which shows you the smallest price changes.
The historical data includes:
7 majors
28 cross pairs
22 commodities
16 metals
60 exotic pairs
111 indexes
2 futures
4 cryptocurrencies
and 568 stocks
For me, the free package was enough but I advise anyone looking to gain more insight into their trading strategies to purchase one of the paid subscriptions.
Automated Strategies
Just like the name suggests – Forex Tester 4 allows you to create and use automatic strategies. Advantages for using these are:
Easily see how well strategies are doing in real-time
Backtest strategies using different/multiple currency pairs and time frames
Pause at any time to analyse and learn from results
Test multiple strategies at once to compare winning results
With the automatic strategies you can also combine manual strategies, for example by entering your strategy manually and letting the programme exit automatically. This is great for saving time and can help beginners understand when to do so appropriately.
Indicators & Oscillators
Whilst there are many premade indicators and oscillators, you can also create your own custom indicator. If you're not up to creating your own, don't worry! There are five different subelements of indicators and oscillators to choose from, containing a total of 61 different varieties. The different premade indicators and oscillators include trend indicators, oscillators, volume indicators, volatility indicators and adaptive indicators.
What are the advantages of Forex Tester 4?
I personally liked Forex Tester 4 more than I thought I would, if I'm being honest. After reading in reviews that the 3rd edition had a lot of faults, I was a bit worried before starting. I'll sum up my three favourite elements of the programme.
Risk Calculator
This is a feature which most traders would agree is a great addition to the software. Having the ability to easily set your risk and have it worked out for you is something which makes making strategies just that little bit easier.
Easy to use and get started
Forex Tester 4 was pretty simple to use. As I mentioned, once you download the software, you can begin by downloading more data, starting a test and starting a project. Getting started is easy because all of these tasks are located in the task bar. In addition to everything being easy to locate, there are also easy to follow video tutorials available along with an email address for support and forums available if you do run into problems along the way.
Ability to create EAs and indicators
Being able to manually create EAs and indicators without having to manually code them is another big feature of the software. This is also really simple to use and allows you to use different combinations in order to create exactly what you're looking for.
What are the disadvantages of Forex Tester 4?
Whilst I liked this software, I did find one major disadvantage: the software does not work on Mac, it only works on Windows. If, like myself, you work mostly on a Mac, this is a major downside. However, you can install virtual machines onto your Mac which should allow you to use the software.
Another downside is the fact that you do have to pay for extra historical data. Whilst the free version one is fine for beginners, depending on what exactly you are looking to create a strategy for, you may need to get the paid subscription, which, of course costs extra on top of already purchasing the initial software.
Online reviews for Forex Tester
Whilst there are various reviews online and on Youtube, the reviews that are easy to read and to the point are actually already available to view on the Forex Tester site. The reviews mention key features such as the risk calculator, which I have also mentioned as my personal favourite, along with reviewers suggesting that "every trader give it a try".
What trading level should use Forex Tester 4?
Whilst the software is easy to use, I do believe that this software is best suited for those who have an intermediate level of trading experience. You are, after all, testing your trading strategies to ensure that when you go to trade with actual money, you can be sure that your trades are most successful.
For traders interested in learning the basics of trading, I would suggest first using websites such as Babypips (you can check out my review here) and then giving Forex Tester a try. However, if you are a beginner, don't be afraid to try it out. The support available from the forums, video tutorials along with email support are all extremely good.
How do I rate Forex Tester 4?
To sum up my review, I'm going to review the software based on three different elements: ease of use, detail and amusement.
Ease of use – I'll give this 4 stars. Forex Tester 4 is easy to use and every feature has detailed explanations or video tutorials to show how to use each feature, but I have taken away one star purely because, in my opinion, you do need to have a basic understanding of trading before beginning.
Detail – I'll give this 5 stars. I loved all the features on this software and I found the the Historical News Service being extremely useful in order to learn how to build great strategies.
Amusement – I'll give this 4. I did have fun using this, but I also noticed some small bugs. For example, when I was trying to download my data, it would not work on the first go and then suddenly I'd downloaded it twice, but this is of course a minor fault. The graphs are easy to read and I enjoyed the ability to make EA's and Indicators.
Overall, I enjoyed this software and do recommend it for traders looking to test out their strategies before making the leap to real trades. You can follow Forex Trader on Facebook, Twitter, Instagram and my personal favorite social channel of theirs Youtube.
Read more: