There's no better way to learn trading skills than to speak to real-life traders. Elitetrader is a website that allows you to connect with over 100,000 traders who are open to having meaningful conversations with you in order to help you develop new skills, make new relationships and, most importantly, learn how to avoid costly mistakes. With over 250,000 forums for you to explore, it can be hard to know where to start. In this article, I'll be giving you all the details on Elitetrader.com. 
What is Elitetrader.com?
Elitetrader is an online forum site that brings traders together from around the world to discuss their strategies and develop new skills. It's one of the oldest trading-related websites in existence, having been created in the 1990s and prides itself on having a strong reputation within the trading industry. The site's main goal is to help traders understand the market and have conversations with like-minded traders about strategies and techniques for profitable trading. 
When you visit the site, you'll see five different tabs for navigation, which are pictured below. Each tab has useful information, which I'll discuss in greater depth now..

What features does Elitetrader have?
Forums
The forums on Elitetrader are the perfect place for any trader to go to gain a fountain of knowledge on all things trading-related. Those that are initiated by the Elitetrader members themselves can be easily filtered according to the criteria "newest," "this week's most viewed," "new off-topic threads," and "threads with a recent post." In my opinion, these forums are a great way to get quick answers from fellow traders on anything from trading strategies to the best platforms to use. 
Along with forums by members, there are additional categories created by sponsors of the Elitetrader site. The topics include:
Sponsor Info:
Here Elitetrader staff and sponsors can announce new products, services and events.
General Topics: 
Here you'll discover forums that allow you to discuss basic trading-related topics, from journals to trading strategies. This is a great place to make friends with fellow Elitetrader members.
Markets:
This section is dedicated to all markets, including forex, cryptocurrencies, and options. The forum subsections allow you to discuss with traders who are interested in specific markets. 
Technical Topics: 
The technical topics section allows you to explore areas in which you may need help, such as trading strategies and technical analysis. It even addresses the psychology surrounding trading, providing insights into how to improve discipline and handle fear whilst trading. 
Brokerage Firms: 
Here you can explore threads about recommended brokers, discuss the benefits of using specific brokers, and learn which proprietary trading firms allow you to trade with the firm's capital. 
Company Specific:
This is the place on Elitetrader where you can discuss Interactive Brokers software and services. 
Tools of the Trade: 
Discuss trading platforms, hardware, educational resources along with data sets and feeds. If you're looking for a trading education resource or software, I've reviewed sites such as Babypips and Earn2Trade (educational resources) and Forex Tester (software) to give you further information.
The Business of Trading: 
Here you can start conversations as an aspiring hedge fund manager, CTA or RIA, and get the inside scoop on licensing, trader exams, business entities, and much more. There's also a taxes and accounting subforum where you can discuss issues such as tax compliance. 
Community Lounge:  
In my opinion, this isn't the forum you should visit if you want to discuss anything trading related. It's a place where members can get to know each other on a more personal level. The forum didn't appeal to me as I'm only looking for trading information, but it might be something for you. 
Site Support: 
As the name suggests, this is where you can go if you want to give feedback to the Elitetrader staff. Again, like the Community Lounge forum, it wasn't for me, but it was nice to know that staff do care and value the members' opinio
Resources
Clicking on the resources tab, you'll be directed to a section where you can explore the different clickable resources the site has to offer, as shown below.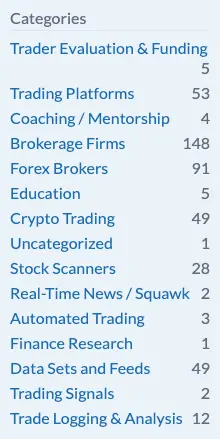 As you can see, some categories have more resources than others. For example, Brokerage Firms has 148 resources, whilst Education only has 5. This is due to the fact that resources are created predominately by the site's members. What I did notice about the categories is that whilst some lack content, the most active ones and those I trust are Brokerage Firms and Trading Platforms. I thought the Education category could have included sites such as Babypips, and that the Trading Platforms category to be different to the Software tab at the top, but maybe that's being too picky. 
Another salient point is that when you click on the Brokerage Firms category, there is no difference to the Brokers tab at the top. However, I can see why they have the Brokers tab separate as this is probably one of the most-used elements of the site. 
Brokers
If you're looking to find a broker, this is a great place to start. I liked how the brokers could be ranked according to a clear star rating system, with five stars being the best. 

I found it disappointing to see that, of the 148 brokers listed on the site, only five had been rated. This was quite frustrating as I had to go to other sites to find information on the brokers I was interested in. Nevertheless, the site does provide a basic overview of the services each broker offers. Still, I think that Elitetrader could do more to unlock its potential in this category. 
Software
Before I clicked on the Software tab, I thought it would be the Trading Platform category. I was slightly disappointed to learn it wasn't, because I thought I would be getting new information. One further criticism of this tab is that it lacks a lot of very popular software such as Forex Trade Copier. Like the other tabs, it allows you to filter the software according to a useful star rating. You can also filter by price, which I thought was an extremely good feature. 
Members
The last tab is the Members section, which allows you to learn more about the members of the site. You can filter them according to the following criteria: 
Most messages
Most likes
Most resources
Staff members
Most followers
What are the benefits of Elitetrader?
The main reason I'd advise traders to use Elitetrader is to use the forums. Whilst the forums can be useful and are fairly active due to the large user base, I do, however, think you can find better forum sites. If you're looking specifically for forums, I'd recommend Reddit.
What are the negatives of Elitetrader?
I personally found the site to be lacking material. There were very few educational resources, and the software list included only half of the great products I know. If want to find out which software to use, you're better off watching YouTube videos or doing some Google research and reading reviews. 
What do the reviews say about Elitetrader?
It was quite hard to find reviews of Elitetrader, and the ones I did find were rather negative. Most of the reviews were by Reddit users and there was also one on the ThinkTrade site. The review on ThinkTrade gave Elitetrader three out of five stars and also expressed the same disappointment I had. It states: "Elite Trader is a major disappointment. Basically, 99% of the posts are crap and 1% is great."Whilst I agree the Elitetrader is a disappointment, it's my experience that whatever site you visit, you usually have to search through a large number of forums to find quality information. 

Who should use Elitetrader?
I hate sounding negative about sites, but I wouldn't recommend Elitetrader to any trader. Whilst the forums are good, they're nothing special or as good as other resources. For this reason, I'd only recommend the site to those who want to chat with other traders.
How would I rate Elitetrader?
In all my reviews, I like to rate websites on a scale of one to five in three categories: detail, ease of use, and fun factor.
Detail – I'd give Elitetrader two out of five. The detail on the site is poor, and other sites are able to give you the same amount of information or a great deal more.
Ease of use – The site is easy to navigate, so I'll give it a five. I liked how the forums were clearly labelled and how you could find out exactly what each forum and subforum was all about.

Fun factor – I'll give it a two, as in the "detail" category. I didn't really enjoy my experience on Elitetrader and, based on reviews by traders on other sites, I can see that I'm not the only person who thinks this way.
Overall, I'd give this site a pass and explore others such as ForexFactory or my personal favorite, Babypips.