Learning the basics of trading can be complicated, especially when you're trying to find the best place to go for the education you need at the beginning of your career. On your search you may have heard about the site Earn2Trade, but perhaps you're wondering: is it really worth it? You've come to the right place to learn all about Earn2Trade, as I'll be reviewing the popular site in this article.
What is Earn2Trade?
Launched in 2017 and featured on the Forbes, Entrepreneur and Babypips websites, Earn2Trade is an education company that teaches you how to become the best future trader possible. The site works by teaching you everything there is to know, and once you've acquired the necessary skills, Earn2Trade will match you with a proprietary trading firm. 
As part of your training, you'll explore and learn in personalized education programs, mentoring sessions and webinars, as well as from hands-on experience with a trading simulator. If you successfully complete the Earn2Trade Bootcamp or Gauntlet evaluation, you'll receive a guaranteed offer from a partner of the site.
Three simple steps are needed to start your Earn2Trade journey:
Three simple steps are needed to start your Earn2Trade journey:
Bootcamp – the four-month Bootcamp features weekly mentorship sessions to help you develop the necessary skills to be a trader.
The Gauntlet – lasting 60 days, the Gauntlet determines if you have everything it takes to be a professional trader. 
You can be confident that you'll be taught by the best traders on Earn2Trade, which is supported by a team of professional traders, educators and developers. 
What features does Earn2Trade offer?
Earn2Trade consists of four main features:
The Gauntlet Mini
The Gauntlet Mini is a trading exam that, upon successful completion, guarantees funding for a live trading account at one of Earn2Trade's trading partners. The Gauntlet Mini evaluates your trading performance using a set of rules you follow until you've traded for at least 15 days and reached the profit target specified by your account size.
The rules include some limits on your daily and total losses, as well as on the number of contracts traded. However, there is no time limit imposed. The Gauntlet Mini exam is based on a paid subscription and lasts until you reach your target or cancel the plan. You can view the subscription prices in the following table: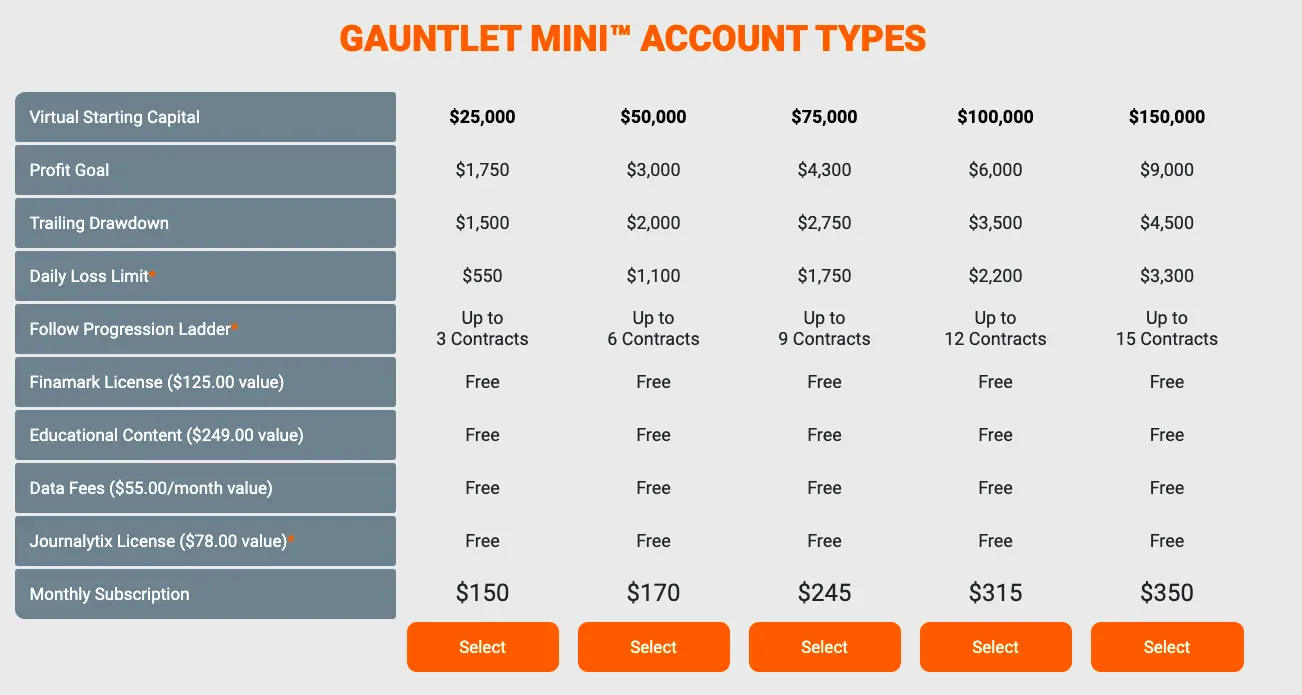 Curious about the Gauntlet Mini rules? Here they are: 
Trade a minimum of 15 trading days
Do not reach or dip below the daily loss
Do not exceed the maximum position size (progression ladder)
Do not reach or dip below the trailing drawdown
Only trade during approved times
Maintain consistency
Beginner Crash Course
The Beginner Crash Course consists of 60 videos, each lasting anywhere from six to ten minutes. They cover the basic and advanced concepts necessary for trading. Each video ends with a quiz.
The crash course is an entry-level program that teaches you about the market and general market conditions, risk management and technical trading. The lessons deliver complex concepts in an easy-to-understand format and illustrate topics with a simple example.
The crash course covers three different areas:
The Fundamentals – this course provides you with a solid understanding of the basics needed for trading.
Advanced – this course teaches you about the market and places emphasis on technical issues and trading.
Webinars – this catalogue of content-rich presentations showcases specific topics to help you become an advanced trader.
Bootcamp
The Bootcamp is a six-month beginner-level trading course that teaches you about markets, risk management and technical trading. Once you complete it, Earn2Trade will pair you with a trading firm.
The course begins with an introduction to your personal mentor, who will guide you through a video course and webinar catalogue in weekly one-on-one sessions. Upon finishing the course and the webinars, you'll start working with a trading simulator, and your mentor will monitor your performance. The Bootcamp is rounded off by a supervised evaluation in the Gauntlet.
The Bootcamp consists of three parts:
Learn to trade – a mentoring-based educational program in which you're supported by professional traders and educators. 
Advanced – the advanced area provides you with a realistic environment in which you can see if you have what it takes to trade professionally. 
Webinars – after the successful completion of the education program, you will'll get an offer from a partner company.

The Bootcamp costs $2,499 but there are regular discounts for email subscribers, so my advice us to sign up for the email list if you're interested. 
The Gauntlet
The Gauntlet is a trading tool created to help you determine if you're ready to trade live in the futures market. Once you pass the program, you'll be ready to trade by yourself. Evaluation is based on a few rules that give you the maximum flexibility needed to pursue your preferred trading strategy. It's recommended after you finish the Beginner Crash Course and have spent time on a trading simulator. If you've already reached an intermediate level of trading, you can also attempt to pass the Gauntlet.
Earn2Trade has partnered with proprietary trading firms to validate your Gauntlet performance. Once you've successfully completed the Gauntlet, your results will be sent to a trading partner, who will bring you on as a funded trading partner at their firm. Earn2Trade will also issue you a certificate.
There are five Gauntlet rules:
1) Manage a $25,000 virtual account over a 60-day period
2) Submit a trading plan to the Dashboard
3) Trade a minimum of 30 calendar days and at least once a week.
4) Reach a 10 percent profit target by the end of the Gauntlet.
5) Never exceed the 10 percent maximum drawdown.
The one-time fee for the Gauntlet is $429.
What are the benefits of Earn2Trade?
Earn2Trade is extremely well known and offers an excellent course that provides the basic skills needed to trade. If you're serious about wanting to trade, I highly recommend checking it out. 
In my opinion, the knowledge you gain is worth the price. Remember, these are skills you take with you on your trading journey. 
What are the negatives of Earn2Trade?
In my opinion, there are two negatives to Earn2Trade: the cost of the lessons and no option for a trial. However, although the price is steep, it's definitely a worthwhile investment. To lower the cost, I highly recommend joining the email newsletter before making a purchase, as they regularly offer discount. 
What do the reviewers say about Earn2Trade?
Because Earn2Trade has been featured in well-known publications such as Forbes, you can have confidence that the lessons are of a high standard. In addition to being recognized by Forbes, its TrustPilot features 501 reviews, with 85 percent awarding five stars. The overall rating on TrustPilot is 4.6 (where "5" is the highest), which is an extremely high score. 
The reviews on TrustPilot praise the resources available on the site, with one reviewer writing, "If you are an aspiring future trader, Earn2Trade is a top service where you can't go wrong." I believe that this can make you feel confident about investing in the courses. 
In addition to the TrustPilot reviews, there are many positive comments by members directly on the site. Here's one:
Who should use Earn2Trade?
I'd advise any serious beginner trader to invest in Earn2Trade! The resources are excellent, and the lessons teach you things that you can't easily learn in forums. As you can tell from my review so far, I'm extremely impressed with the site. 
How would I rate Earn2Trade?
In all my reviews, I like to rate websites on a scale of one to five in three categories: detail, ease of use, and fun factor.
Detail – I'll give Earn2Trade top marks, a five. The resources are honestly ones you rarely find elsewhere. This site truly teaches you everything you need to know about trading in a simple fun way.
Ease of use – The lessons are fun and enjoyable and also convey a great deal of knowledge. For this, I'll give the site a five.
Fun Factor – as I've mentioned several times in this review, the lessons are extremely easy to watch and give you a great amount of information. I can imagine that every trader will enjoy the lessons and have fun whilst learning. Again, a five! 
Overall, I'd say I love Earn2Trade and would advise any beginner trader to invest in their future by taking these courses. You can follow Earn2Trade on the socials, as they are active on every platform, including  Facebook, Twitter, Instagram, Youtube and even LinkedIn.
Read more: