Broker comparison – who is the best? In this article, we are introducing AMP Global.
What is AMP Global?
AMP Global is made up of AMP Global Clearing LLC (aka AMP Futures or AMP USA), which is based in Chicago (USA), and AMP Global LTD (AMP Europe), based in Cyprus (Europe).
AMP Futures (AMP Global Clearing LLC) was the origin of AMP Global as AMP Global LTD was only founded later and builds on the know-how of AMP Futures and AMP Global USA, respectively.
Since 2010, AMP Global USA has been a futures commission merchant (FCM) that is based in Chicago (USA) and offers retailers, brokers, CTAs, third-party providers, and API developers direct access to global electronic futures markets.
The Chicago office is located on the 25th floor of the LaSalle/Wacker Building.
What is AMP Global Europe?
AMP Global Europe is the AMP Global LTD business unit and offers CFD trading too, in contrast to AMP USA. The office address of AMP Global LTD in Cyprus is as follows:
1 Kaminion Street, 2nd floor, Athanasios 4100 Agio, Limassol.
Which markets can be traded?
AMP Global USA enables futures and futures options trading at the following exchanges:
Chicago Mercantile Exchange
Commodity Exchange (COMEX)
Intercontinental Exchange ICE Futures Europe (IPE)
New York Mercantile Exchange
Eurex
Singapore Exchange
Sydney Futures Exchange (ASX SFE)
Hong Kong Futures Exchange (HKEX)
Mini-Nikkei 225 – Osaka-Japan (JPX)
CBOE Volatility Index (VX) – "VIX"
This means that all the popular futures markets can be traded. 
In addition to futures, AMP Global Europe (AMP Global LTD) also permits CFD trading.
CFDs are currently tradable in the following markets:
Stock indexes
Currencies
Commodities
Cryptocurrencies
Shares 
All the popular currencies can be traded in forex. The selection of stock indexes is also just about satisfactory, with 13 major indexes tradable. Whereas the commodity selection looks a bit weaker so far, with gold, Brent oil, crude oil, US natural gas and silver available. And the ten American shares that are currently tradable make for a very small offering as yet. With the cryptocurrencies, you can choose from five at this moment in time – bitcoin cash, bitcoin USD, Ethereum USD, Litecoin USD and Ripple USD).
Which data feeds are available at AMP Global?
TradingView
AMP is one of currently 12 brokers where the popular TradingView trading platform can be used.
What is the minimum deposit?
The minimum deposit is $ 100.
The margin would only let you trade Micro futures and/or CFDs in this case, however.
How is AMP Global regulated?
AMP Global Clearing LLC – AMP Global (USA) is a licenced futures clearing merchant (FCM) under the supervision of the National Futures Association and Commodity Futures Trading Commission with the licence number 0412490.
AMP Global LTD – AMP Global (Europe) is licensed as a Cypriot investment firm (CIF) that is regulated by the Cyprus Securities and Exchange Commission, with license number 360/18 .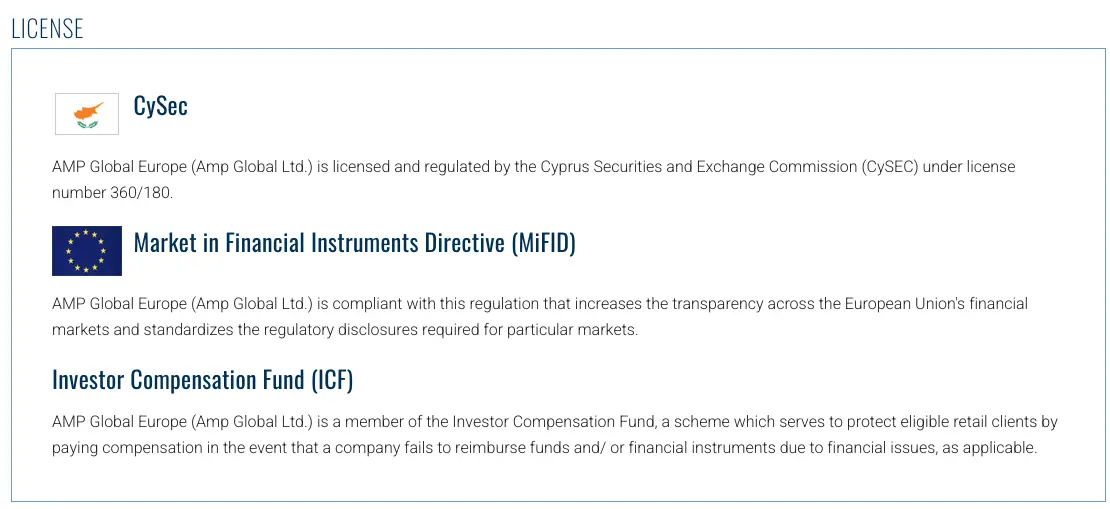 Is there a deposit guarantee?
AMP Global USA offers no deposit guarantee.
The deposit guarantee at AMP Global Europe amounts to € 20,000.
As required by the Market in Financial Instruments Directive (MiFID), client funds are held in segregated bank accounts and insured via the Investors Compensation Fund.
The rules and regulations of the ICF prevent the total compensation paid every covered client from exceeding € 20,000 irrespective of the number of accounts they hold, the currency, and the place where the investment services are offered.
Where can I register for a demo account?
You can register for an AMP USA Demo account directly on the website.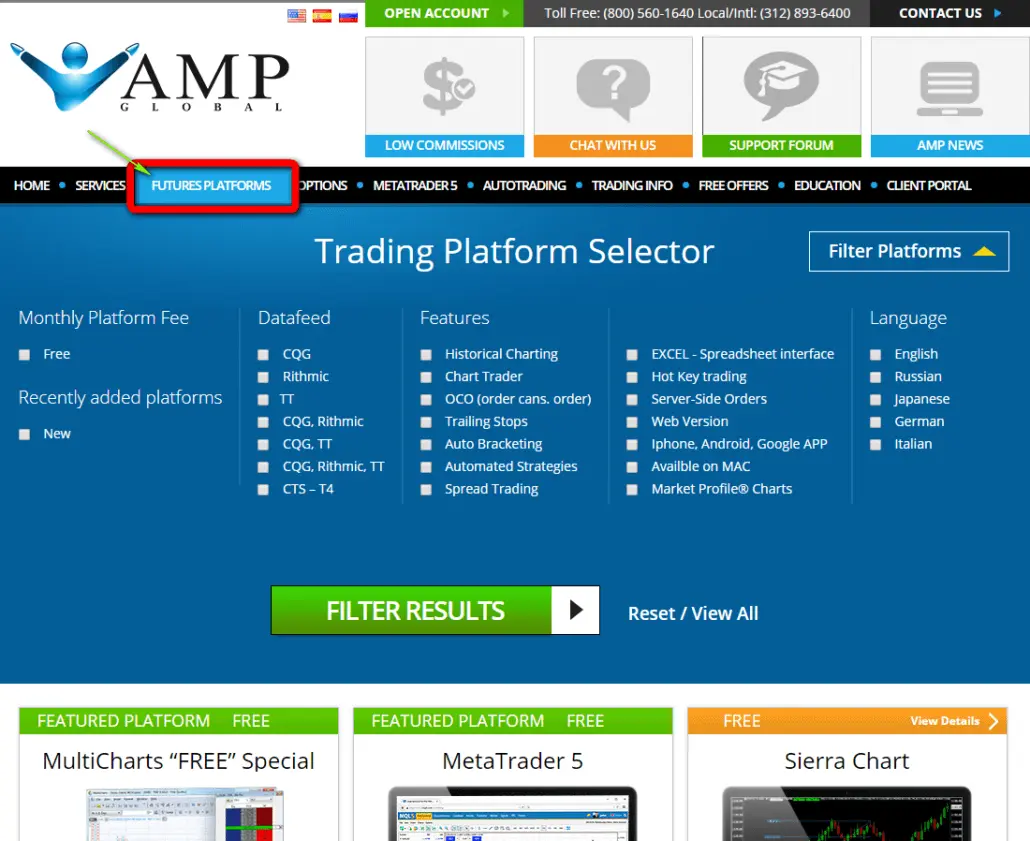 You will need to choose a trading platform immediately, and can then simulate trading, too.
Alternatively, you can also open a real money account and then select the simulated account there.
Registration for an AMP Europe demo account is also conveniently possible by way of their website.
How can I open an account at AMP Global?
Accounts are quick and easy to open. 
Simply enter your personal data after clicking on the "Open account and/or live account" button.  
The whole process takes less than ten minutes.
What are the conditions like at AMP Global?
The conditions at AMP Global are amongst the best worldwide. 
There are two models for the conditions at AMP Global USA:
The Flat Rate model will give you the same conditions irrespective of your trading volume. This is only available from a minimum deposit of $ 10,000, however. 
A round turn in the E-mini S&P 500 index will then set you back a mere $ 0,74. The round turn for DAX-Futures comes to $ 2.84. Added to this are routing fees of $ 0.00 – 0.25 per contract, depending on the data provider. 
The Volume-Tiered model is available from a minimum deposit of $ 100.
There are four tiers here, depending on the traded volume:
Less than 1,000 contracts per month
1,001 – 4,999 contracts per month
5,000 – 9,999 contracts per month
Over 10,000 contracts per month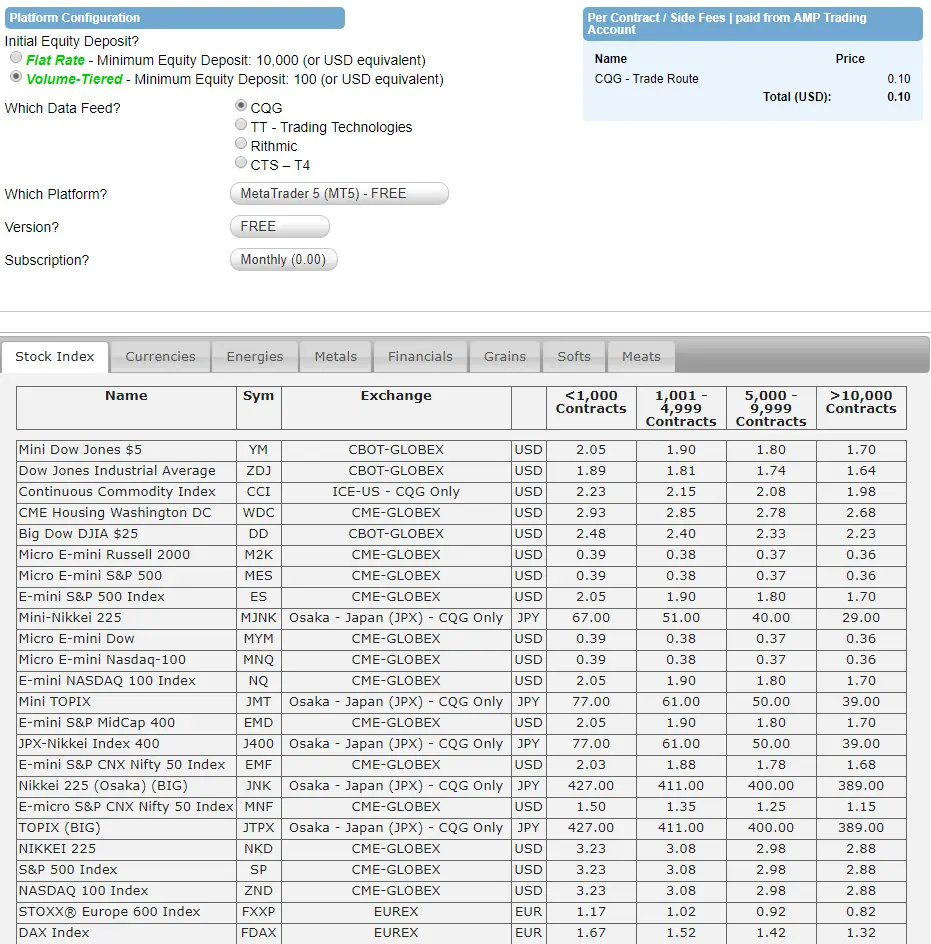 AMP Global is so convinced of its unique conditions that they will even give you 20 free trades if you find a broker with better ones.
AMP Global Europe offers three account types for trading:
Trading Account
Islamic Account
Corporate Account
What are the margin requirements at AMP Global?
The margin requirements are very low. AMP Global also numbers amongst the leading providers in this regard. 
The maintenance margin is set by the exchange and outside AMP's sphere of influence. This is the margin needing to be deposited when a position is held overnight. 
The day trade margins can be set by the company itself, however, with AMP offering extremely low margins here.
The margin for the E-mini S&P 500 Index comes to $ 500. 
The day trade margin for the DAX-Future amounts to $ 2,500.

What is the AMP Global experience like?
The experiences with AMP Global are good.
Particularly popular are the favourable conditions, low margins, and large selection of  Trading platforms.
The customer service is also easy to reach as a rule, with questions competently answered.
In addition to which the process of opening an account has been given an uncomplicated and easily understandable design.
How can I contact AMP Global?
AMP Global can be contacted by telephone, e-mail, and live chat.
The response times are usually ok.
The first reply is often somewhat compact, but continued enquiry will then also yield further details. 
There is also a 24h support. This is available from Sun 4:45 p.m. to Fri 5 p.m. CST. All the markets' trading hours are shown in U. S. Central Time (Chicago).
During US trading hours, the 24h support desk is staffed with 15 consultants, but outside them there are only 4. The trading desk is staffed with 4 consultants during US trading hours, and 2 consultants outside them. The 24h risk department has similar staff levels to the trading desk.
How do I make transfers, deposits, and withdrawals?
AMP Global USA will only permit deposits and withdrawals by bank transfer. 
The money will usually be credited to the account within 1-3 working days.
Whereas all popular methods are available for in-and outpayment at AMP Global Europe.
Besides Visa, Mastercard, Skrill and Neteller, there are also a variety of other payment providers that can be used for deposits and withdrawals with AMP.
Is AMP Futures also available in German?
Yes, AMP Global has recently also become available in German. A German-language version is provided at AMP Global Europe.
The other available languages include Spanish, Russian, French, Italian, Polish, Portuguese, Swedish and Czech.
Is NinjaTrader also available?
No, NinjaTrader is sadly not available as a trading platform.
Can AMP Global also be combined with MetaTrader 5?
MetaTrader 5 can also be combined with AMP Global. 
Which other trading platforms are available at AMP Global?
At this moment in time, AMP Global Europe only offers MetaTrader 5 and StereoTrader 2.5.
Whereas AMP Global USA offers a whole range of Trading platforms, with interested traders able to choose from over 60 of them.

Some chargeable trading platforms are even free to use for AMP Global clients.
The best-known trading platforms provided are:
Market Delta
MetaTrader 5
Jigsaw Trading
VeloxPro – BookMap
eSignal
R Trader
Zlantrader
TigerTrade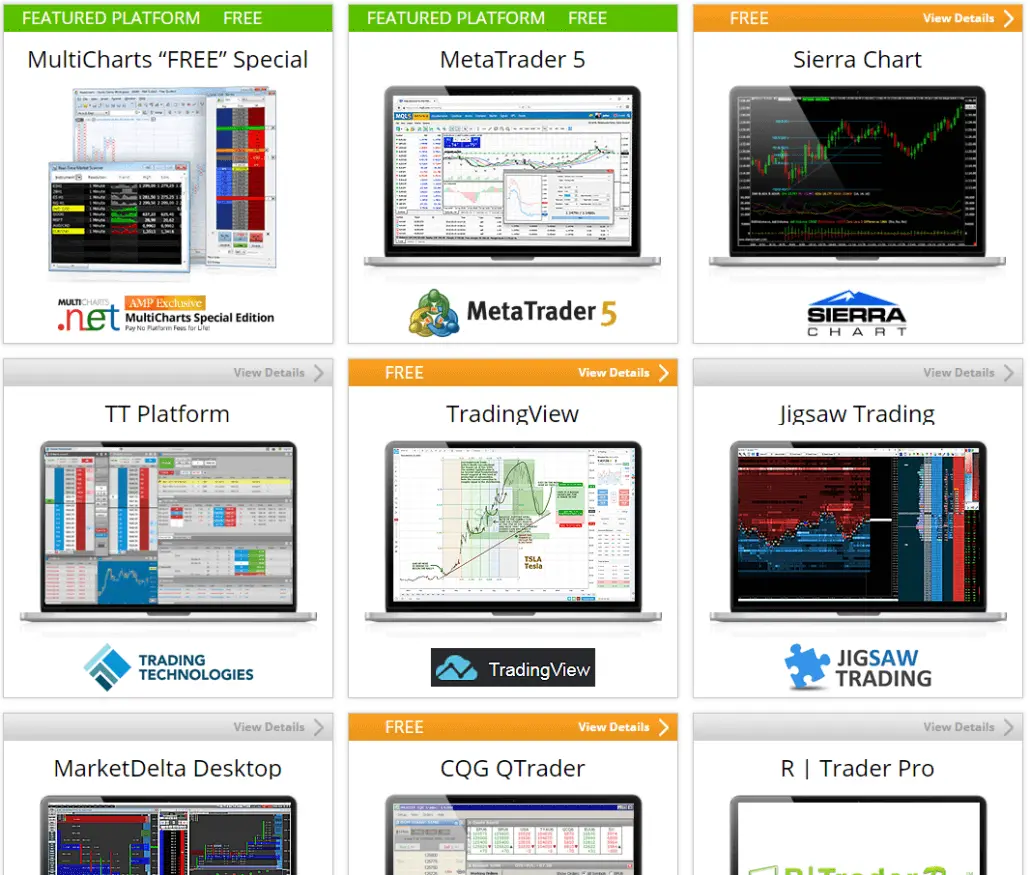 What is ISystems at AMP Global?
ISystems is a selection of  automated trading systems available for use against a monthly fee. 
Various trading systems can be selected, depending on the size of the account.
The costs usually start from $ 25 a month.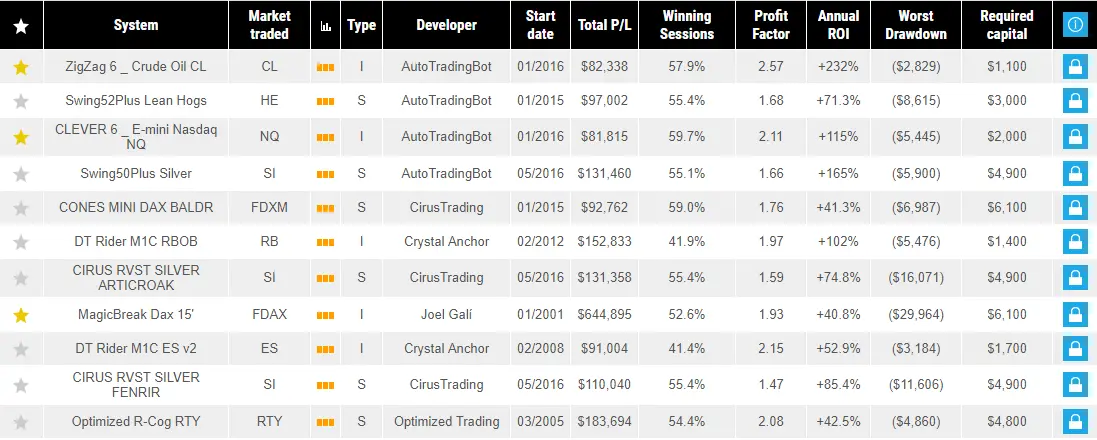 What are the fees for CQG?
The CQG fees amount to $ 0.10 per contact.
Does AMP Global offer a training section?
There is also a training section embracing various areas. 
With various trading tools available free of charge on the one hand, and the basics of futures explained on the other.
The following tools can be used:
Free Learn to Trade Futures information kit
Futures trading resources
Support & resistance levels
S&P500 Futures squawk box
Futures 101 lessons – understanding the futures markets
Pivot point calculator
Futures 101 booklet
Free simulated trading
The training addresses all aspects of futures trading, highlighting the order types, risks, and the history of futures.
In addition to which there are also a video library and YouTube channel in the pipeline. Both channels are still lacking content as yet. Webinars are also planned.
Various videos about MetaTrader 5 are available already.
Where can I find the AMP Global app?
AMP Global has no own app, but offers a number of trading platforms that include one. The MetaTrader 5 app, for example, is perfect for trading on the go.
And then there is also the option of web trading, meaning that you can also trade using your smartphone or tablet/iPad.
Conclusions
AMP Global is a good broker with favourable conditions and a great selection of trading platforms.
Ever since the inception of AMP Global Europe, AMP Global has even been establishing itself as an all-in-one broker for European clients. The selection of tradeable CFD instruments may still be a bit small as yet, but is certain to be expanded further over time. 
Given the low margin and minimum deposit, AMP is particularly popular amongst less capitalized traders. 
The selection of trading platforms at AMP Global USA is very extensive already, and all platforms are available for choosing. Two very good trading platforms are meanwhile available at AMP Global Europe already with MetaTrader 5 and StereoTrader.
The support is easily reached, even if the waiting times are occasionally on the long side due to the busy customer traffic.
Given the low minimum deposit guarantee, AMP Global may be not that recommendable for traders with less capital, however.
But anyone searching for a good broker with low margins and favorable conditions will find themselves in good hands with AMP Global in any case.
Read more: